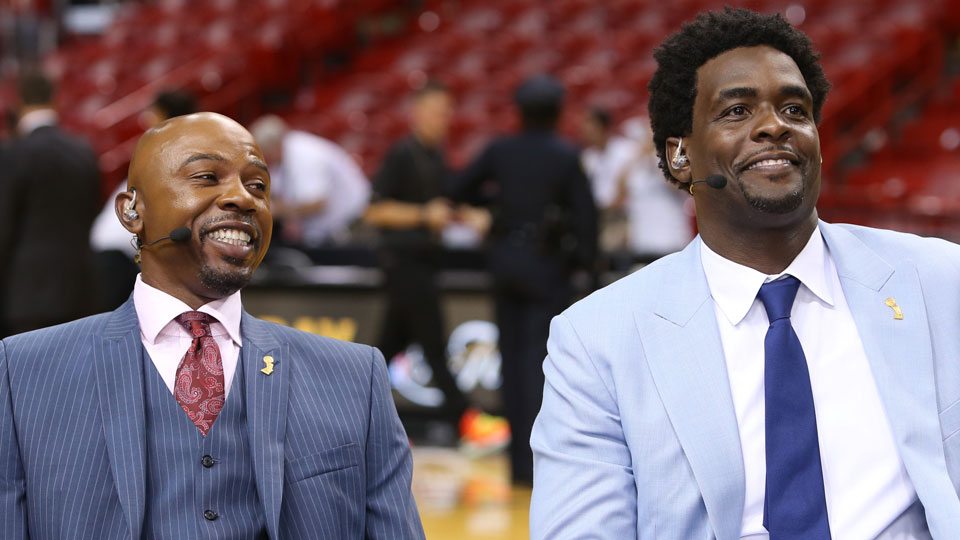 NBA on TNT will soon undergo their March Madness coverage and with that comes a need for some top broadcasters to call some of the most exciting basketball moments of the year. Kevin Harlan, Marv Albert, and Ian Eagle are just a few of the big names slated to call the college hoops games. Guys like Charles Barkley, Kenny 'The Jet' Smith, and Ernie Johnson will will leave their usual 'Inside the NBA' duties to host some special pre and post game shows for the March Madness events. On top of that, Shaquille O'Neal is slated to be a part-time member of the WWE when Wrestlemania 33 arrives in late March. Now it's time to pull out some legends to broadcast some games.
NBA on TNT is bringing out some legendary players like Kevin McHale, Lisa Leslie, and Grant Hill will be members of the new NBA on TNT's 'Players Only' broadcast roster.
The Turner Sports public relations team announced the news in a press release.
Turner's TNT will debut a brand-new NBA Monday night franchise titled Players Only, five consecutive weeks of doubleheader action centered on showcasing the game exclusively through the unique lens of the professional basketball player, beginning Monday, Feb. 27, at 7 p.m. ET. TNT's innovative approach to the new Monday series will incorporate a more conversational delivery and broader NBA player integrations into the telecasts to offer viewers an entertaining narrative and deeper insights into the game directly from the athlete's perspective.

All commentator roles for TNT's Players Only will be comprised of former professional basketball players, including those in more traditional play-by-play, studio host and reporter positions. TNT's Players Only roster will include two game commentator teams – Brent Barry (primary host and play-by-play) with Derek Fisher and Grant Hill; and Greg Anthony (primary host and play-by-play) with Kevin McHale and Richard "Rip" Hamilton – along with reporters Lisa Leslie and Dennis Scott. Additional NBA players will also contribute to Players Only throughout the five-week span.

Studio coverage from Atlanta will be anchored by Chris Webber with Isiah Thomas and Baron Davis. Additionally, segments from Area 21 with TNT analyst Kevin Garnett, joined by special guests each week, will be incorporated into the game and studio coverage throughout the evening.

"Our new Players Only franchise will allow us to provide a unique and compelling narrative surrounding the game through the distinct perspective and collective experiences of the former NBA player," said Craig Barry, Executive Vice President, and Chief Content Officer, Turner Sports. "We believe this original approach will offer deeper insights into the game, both on and off the court, along with broader access that will be entertaining for our passionate fans."