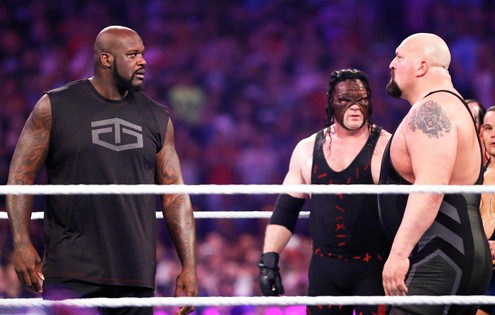 Well, it took seven years, but it looks like the clash of the Giants is finally happening. The Big Show, a 7-foot giant who's spent over two decades with World Wrestling Entertainment, is set to take on one of the most dominant forces in Basketball's history, fellow 7-footer Shaquille O'Neal.
The clash is set to take place during Wrestling's top yearly event, WrestleMania 33, according to the Big Show (who's real name is Paul Wight):
"We'll have one heck of a match and we'll see what's up", Wight told Shanghai Daily in a recent interview. "We'll give the fans a treat."
The rivalry between the two Goliaths first stemmed from an episode of Monday Night Raw back in 2009.
WWE has been teasing the possibility of a clash ever since:

You may recall the Big Show calling out Shaquille O'Neal last month at the ESPY's, challenging him to a match at the "grandest stage of them all", WrestleMania. A story seven years in the books, we may finally get to see two of the largest athletes in the Worlds compete against each other in the ring this upcoming April.