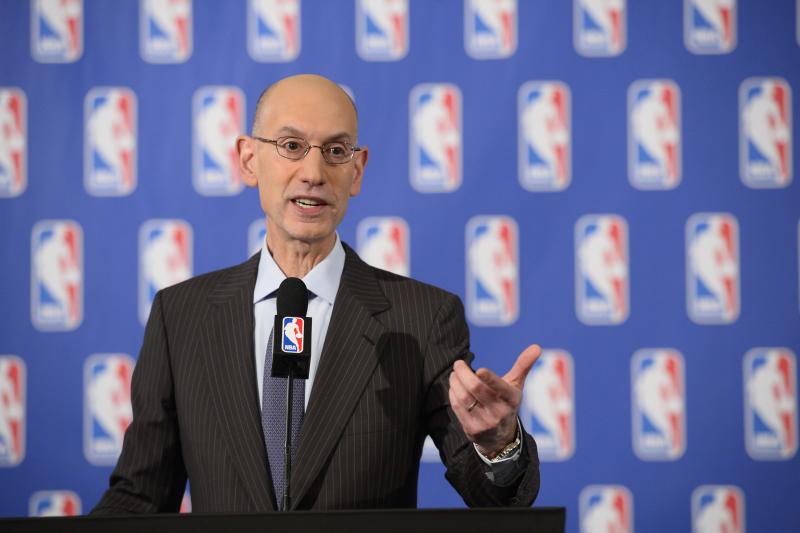 The NBA and the Players Association are reportedly discussing scenarios for withholding a portion of player salaries should the remaining regular-season games be canceled according to ESPN's Adrian Wojnarowski. They are looking to withhold 25% of players remaining salaries in a league escrow, according to ESPN.
After Rudy Gobert tested positive for COVID-19, the NBA suspended its season. While the league remains hopeful that regular season and playoff games will resume in some fashion, the possibility that everything will be canceled remains a possibility.
The Collective Bargaining Agreement says that players will lose 1% of salary per canceled game through a Force Majeure provision. That provision covers catastrophic events such as pandemics and epidemics.
Players lose approximately 1 percent of salary per cancelled game based on Force Majeure provision, which covers several catastrophic circumstances, including epidemics/pandemics. Once/if there's a cancellation of games, Force Majeure automatically triggers under language of CBA. https://t.co/JWbj9q7Can

— Adrian Wojnarowski (@wojespn) April 1, 2020
If NBA does lose games and trigger the Force Majeure, it provides the league an option within 60 days of re-opening and renegotiating CBA with NBPA. Deal runs through 2025. The NBA's expressed no interest in executing that option under these current circumstances, sources said. https://t.co/JWbj9q7Can

— Adrian Wojnarowski (@wojespn) April 1, 2020
Commissioner Adam Silver, Players Association Executive Director Michele Roberts, and several union and league lawyers have discussed how to handle the potential loss of revenue and the impact on player salaries, per ESPN. The league has committed to paying players in full on April 1, but there are more discussions to redistribute salaries should the rest of the season be canceled.
Silver, along with several other high-ranking league executives, took 20% base pay reductions according to ESPN. That is expected to continue through the global COVID-19 pandemic.