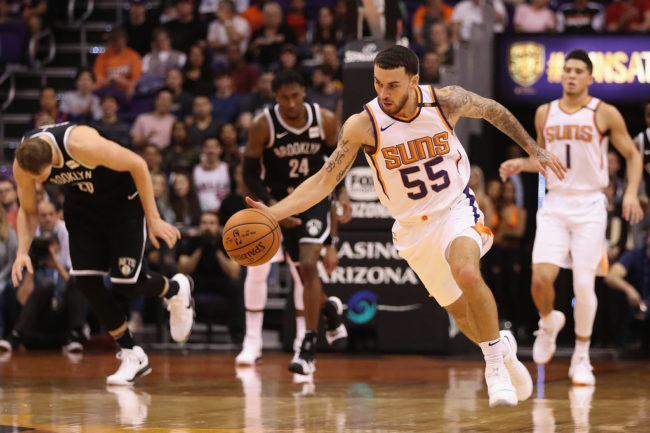 Former Lamar alum Mike James returns to Europe after his first NBA experience. The point guard has signed a deal with Panathinaikos, the team announced today. Panathinaikos is definitely not something new for Mike James, the point guard spent last season with 'The Greens', winning both Greek League and Greek Cup, averaging 12 points and 2.8 assists per game in Greek League.
After last season with Panathinaikos, James played the Summer League with the Phoenix Suns last summer and gained a two-way contract thanks to his amazing performances. During the Summer League, James averaged 20.5 points and 5 assists per game, shooting 53.8% from the court. James immediately started to gain minutes in Suns' rotations and became the starting point guard at the end of October under the new head coach Jay Triano. On November 26, James had his career high against the Minnesota Timberwolves, scoring 26 points. After such great performances, Suns decided to convert James' two-way contract in a regular one-year contract. But just two weeks after signing his first regular NBA deal, James was waived by the Suns, who decided to replace him with Isaiah Canaan.
In January James found a new team, signing a two-way deal with the Pelicans. But his experience in New Orleans didn't last long, in fact, he was waived just a couple of weeks later after appearing in four games. James ended his first NBA season averaging 9.3 points, 3.5 assists, 2.5 rebounds but shooting only 38%.
Mike James is officially back with Panathinaikos. One of the best undrafted rookies in recent NBA history with 9.3 PPG, 3.5 APG (and ultimately disrespected by Phoenix Suns) should be an additional guarantee of Pao's top 4 seed in the #Euroleague

— Dmitry Planidin (@DmitryPlanidin) February 13, 2018
The point guard is no stranger to European basketball and has seen many countries and teams in his career, including Baskonia, KK Zagreb, and Paffoni Omegna. This is definitely a crucial moment in Panathinaikos season, especially in Euroleague. The president of the team, Dimitris Giannakopoulos, was recently banned from all Euroleague arenas for 12 months after several complaints against the referees and Euroleague institution. James will find another former NBA player in the team, Adreian Payne, who signed a deal with Panathinaikos on February 5th.