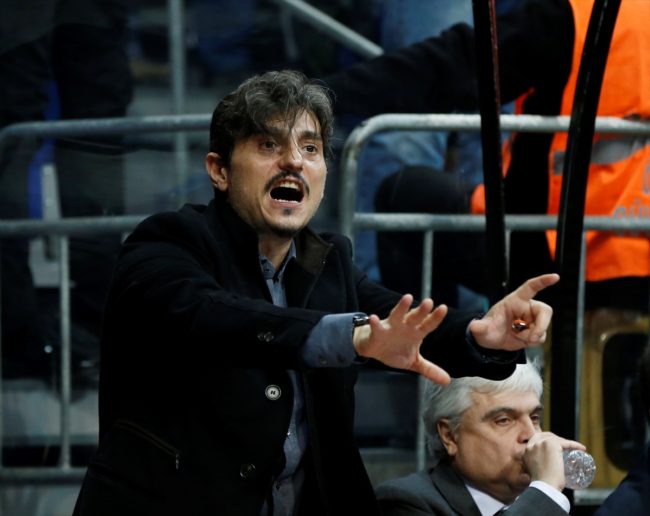 EuroLeague's Greek club Panathinaikos' president Dimitris Giannakopoulos was banned for 12-month from EuroLeague arenas, the organization announced.
Last year, Panathinaikos faced Turkish club Fenerbahce and all of this case started in this Playoff series. In OAKA (home court of Panathinaikos) Panathinaikos, which is not easily defeated in playoffs, but teams former coach Zeljko Obradovic and his new team Fenerbahce won both games in OAKA. After this result, Giannakopoulos started trash talking with Turkish fans. The President also talks bad about Zeljko Obradovic and Fenerbahce.
Last month's game in Istanbul, Obradovic's Fenerbahce defeated Panathinaikos once again, and Giannakopoulos started trash talking with Turkish side once again. After this word battle, the President made an announcement about all of this situation. (He deleted that after Turk's reactions.)
Also, in this announcement, Giannakopoulos used several offensive terms. After these "bad words" EuroLeague discipline board, started an investigation about Panathinaikos' President. In December, Giannakopoulos complained about the referees, stating that his team was often mistreated. This was definitely not the first time that Giannakopoulos complained about how the Euroleague games are handled by the referees. The president of Panathinaikos, in fact, he's well known for his temperament, often off the charts. Euroleague's board was worried about this kind of attitude and decided to take action with a very severe measure. The Euroleague has his own internal disciplinary code that every owner or team representative should respect.
As a result of the investigation, Giannakopoulos was banned for 12-months for EuroLeague arenas.
EuroLeague's announcement about the President:
Euroleague Basketball has announced disciplinary sanctions.

Mr. Dimitris Giannakopoulos of Panathinaikos Superfoods Athens has been sanctioned with a 12-month ban from accessing areas where Euroleague Basketball competitions are being played due to his public statements endangering duly harmonious relationships among clubs and being detrimental to the sport of basketball in accordance with Article 24.1.g) of the Disciplinary Code.