The Miami Heat have been a team many have avoided watching over the past year. Many point to the lack of star talent on a roster and the team's low ceiling as their reasons for not taking their spectatorship to South Beach. As one of the few people who watched every Miami Heat game, I do get their concerns. This isn't a team with any player in the top 30, and a team without a sudden influx of young talent. But there is something quite beautiful about the Miami Heat. They are a team that maximise their role players and have hit on some young workman-like players such as Josh Richardson and Bam Adebayo.
Let's make one thing clear- this team is not the one for you if you enjoy watching star talent and highlight plays. But if you enjoy tough defense, blue-collar performances and a well schemed offensive playbook, then tune in more.
The Heat's off-season was uneventful, and I mean that quite literally. Their first-round pick went to the Phoenix Suns as part of the Goran Dragic trade and their second-rounder went to the Houston Rockets in the Dillon Brooks trade via the Memphis Grizzlies in the Brian Roberts-Courtney Lee trade. Miami also entered the off-season with no cap room and some awful contracts that are not easy to shift. Because of this, the Miami Heat genuinely signed no one that will play a part in their rotation this year. The only player of note they lost was Jordan Mickey, who did play some sort of a role towards the end of the year.
In something that really doesn't happen often in the modern NBA, the Miami Heat will enter the 18-19 season with the exact same playing rotation that they used last year. The question is, how will this harm them, and how likely is internal improvement with this squad?
The Heat will likely roll into the season with this group as their starting lineup:
PG- Goran Dragic
SG- Dion Waiters
SF- Josh Richardson
PF- James Johnson
C- Hassan Whiteside
It makes sense to begin with Dion Waiters, who is the only real change for this team. The Waiters Island phenomena was overhyped by some, but under hyped by many. In the second half of the 16-17 season when the Heat went 31-10, Waiters was a legitimately good player who fitted the Miami Heat's drive and kick philosophy. The Heat were first in drives in the 16-17 season, and Waiters played at an above average level at an isolation level as he ranked in the 54th percentile. This was impressive given the Heat's ordinary spacing on some of their lineups.
The question everyone is asking is does Dion Waiters move the needle for Miami? For me- the answer is complicated.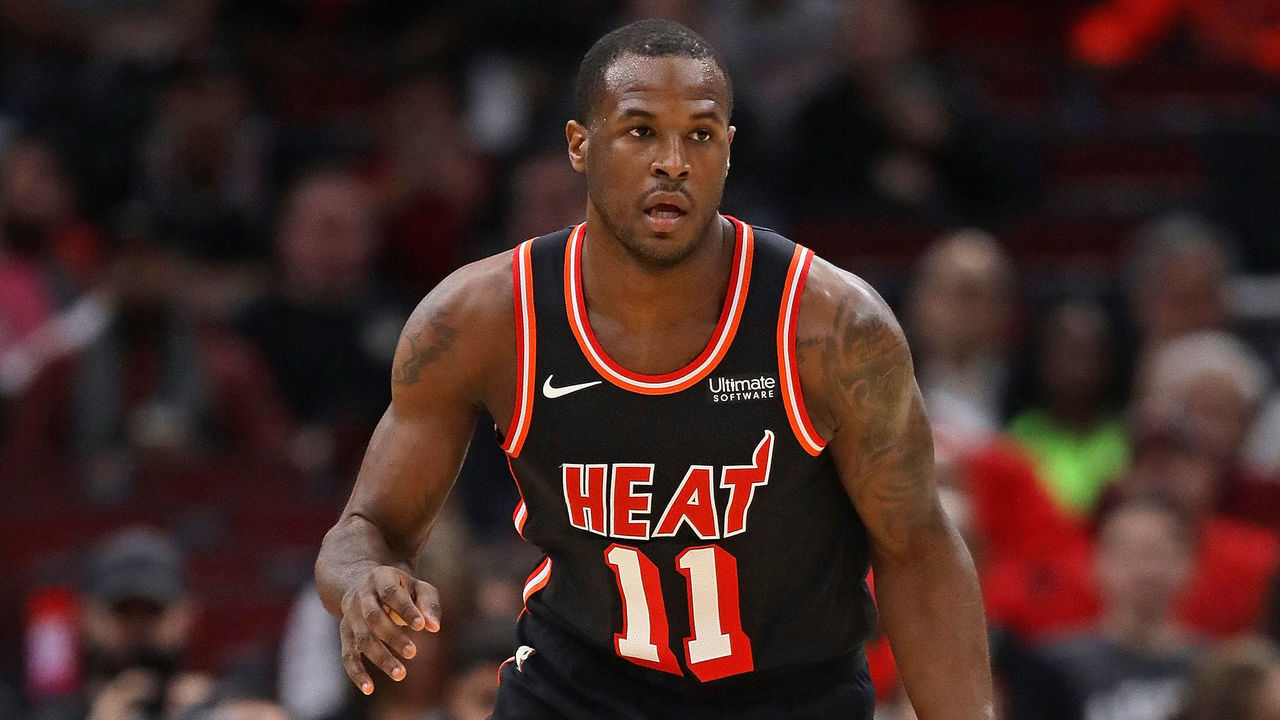 Waiters adds another one-on-one option for Miami, and his defense has legitimately improved under the coaching of Erik Spoelstra. His natural athleticism is a good fit in the Heat's aggressive defensive scheme that looks to attack the perimeter and funnel opposing guards into Hassan Whiteside and Bam Adebayo. Offensively his game is criticised for a lack of efficiency, but his genuine ability to win one on one on the outside is key in a Heat system that is highly reliant on collapsing a defense to create good looks. The play below is a great example of this.
The Heat run a couple of core actions, but the Heat aggressively defended the paint because they know that Miami will live and die by their ability to get into the paint. This is not a team that really uses back screens and other things to create easier looks, they will generate nearly all of their three-point looks from forcing teams to constrict on the interior.
Dion Waiters was good at the back end of the 16-17 season of playing with confidence and winning one on one, therefore creating more three-point attempts. The fact the Heat's eFG was .27% higher with Waiters on the floor in that year proves this. He is not a great player, but I think schematically, he is going to allow the Heat to do some things that they struggled to do at times last season. His shot selection can be iffy, but he still forces defensive motion in ways that other Heat players don't.
While Dion Waiters could potentially move the needle slightly, the Heat will be relying on internal improvement from many on their roster. One guy many are tipping to make a jump, is Josh Richardson.
Many will read the next bit and think I am down on Richardson, and I want to make it clear that I am not. I rate him to be a top five defender in the NBA, and an efficient scorer who has improved as a playmaker. His three-point percentage jumped from 33% to 38% this year, and he appeared to become better at decision making. Offensively, he is not a player who projects as a high volume scorer, and that is why I do not see him improving.
Richardson is already a top tier defender who shoots well from beyond the arc. The term '3 and D' is thrown around way too often these days, but he absolutely fits the bill and might be the best in the business at it. He can defend positions 1-4, and he moves well off the ball. But he is not a guy who can create one on one consistently, and he struggles as a pick and roll ball handler as he ranked in the 43rd percentile here. The logical next step for a three-and-D wing would be to give them more volume, but doing this would completely negate and contradict the Heat's philosophy. The Heat's O is based on quick ball movement and also creating favourable one on one matchups for Goran Dragic and Dion Waiters. If Richardson was to demand more touches, I do not think the results would be great, and it would take him away from playing off the ball, which suits him and suits the Heat a lot better. The Heat were fourth in potential assists last year, I feel that number drops rapidly if you try and crowbar Richardson into a bell-cow style offensive role.
So on the whole, while Richardson is only 24 years old and can improve, I'm not sure he profiles as the type of player who can hold down a big offensive role and contribute within that for the good of the team. He struggles in isolation and as a PnR ball handler, and those are not really things that can be fixed quickly. Defensively, everything he does well, he does at an elite level.
Holy moly, what a block from Josh Richardson.

He was 1 of just 4 players 6-foot-6 or shorter to average 1.5+ steals and 0.8+ blocks per night last season (min. 50 games) pic.twitter.com/JNgXrhPtzu

— Jackson Frank (@jackfrank_jjf) September 14, 2018
Finally, it makes sense to look at the Miami Heat big men. One of my closest friends posed a question on Twitter earlier this week- Should Bam Adebayo start for the Miami Heat this year?
Starting Adebayo makes sense for Miami, right?

I'm not crazy for thinking that?

— Jackson Frank (@jackfrank_jjf) September 13, 2018
The replies were mostly saying yes, and quite resoundingly.
Like the Waiters issue, this question is more complicated than people think. Another take of mine, is that Bam Adebayo is a generational defensive talent. Not only is he a brutal blocker on the interior, but his perimeter defense is amongst the best I've ever seen from a big man. He routinely locked down bigs when he was switched onto the perimeter, and his defensive value in the 2018 NBA absolutely dwarfs that of Hassan Whiteside.
Bam Adebayo's offensive game was nearly non-existent in his rookie year. He struggled as a jump shooter and he struggled as a roll man, ranking in the 33rd percentile. His touch around the rim was below average as he shot 40.6% on layups. He also was not extended out to mid-range or three-point range, which is a good thing as it did allow him to focus on other aspects of his game.
We can expect his offensive profile to become more rounded out this year, which does increase the positives that would come with him being in the starting lineup. My overall answer to the question though, is that starting Adebayo alone won't reap the rewards that many will be expecting. Instead, he needs to be paired with Justise Winslow or Kelly Olynyk in the starting lineup, which would mean Erik Spoelstra would be making two changes to his starting lineup. On the whole this is unlikely to happen from day one. Bam Adebayo and James Johnson didn't mesh well at all. Adebayo does have a tendency to clog the lane, and James Johnson is the type of player who really needs a clear path to the basket. His slow style of play also didn't really fit with Bam, whose main offensive weapon was as a lob threat or as a dunker in his rookie year.
So while Adebayo starting does make a lot of sense on the surface, the move alone won't really reap any rewards. The offense would be chronic unless you paired him with a stretch big such as Kelly Olynyk or an improving perimeter threat in Justise Winslow. Winslow has been playing more of his minutes at the four in the last 12 months, so the potential is there for the Heat to roll with a Dragic-Waiters-Richardson-Winslow-Adebayo starting lineup. Again though, this isn't likely to happen, but exploring the 'Should Adebayo start' question is essential when discussing the Miami Heat.
The Hassan Whiteside conundrum is also something that is worthy of talk entering the new season. I have written in length about this subject, and ultimately came to the conclusion that there is no obvious solution for the problem. Whiteside's contract is no trade-able, which means he will be around for the near future.
The issue with Whiteside is not that he is necessarily a bad player, but he is a horrendous fit with the rest of the Heat roster. He doesn't play well with any of the Heat's big men, and his inability to defend out in space is a bad fit with a Heat roster stacked with switchable wings. The offensive game is one dimensional and would be maximised on a team that always runs a four-out scheme, but the Heat generate their best offensive plays when he isn't on the court.
Hassan Whiteside's minutes need to be slashed almost entirely, but it sadly isn't going to happen. The Heat have two bigs who could cover all 48 minutes in Bam Adebayo and Kelly Olynyk, and both play well with others. Many point to the Timofey Mozgov trades as 'proof' that any contract can be traded. The difference with Mozgov is that he will happily accept a role sitting at the end of the bench. Hassan Whiteside has not done this quietly, and it means he could potentially be weighing this team down heading into the new season.
On the whole, this Miami Heat team isn't interesting many people, but they should slide into the playoffs again with relative ease. They will need internal improvement to compensate for the fact that teams such as the Pistons and the Knicks will improve, but Erik Spoelstra surprised people last year and he should come close to doing it again.