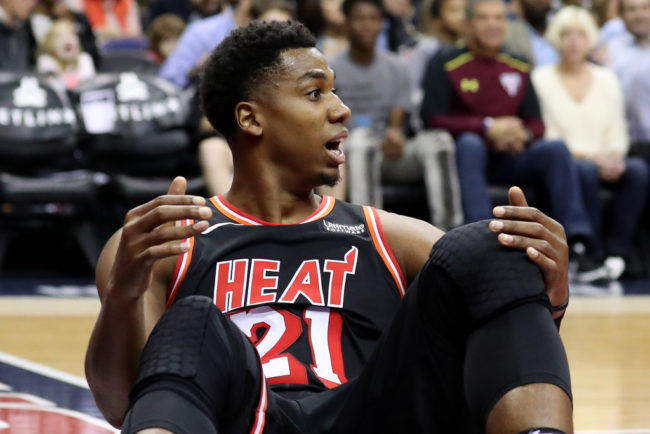 "It's bullshit", shouted Hassan Whiteside in an expletive-filled rant after his Miami Heat side lost in bizarre fashion to the Brooklyn Nets on March 31st. Whiteside only played 20 of the 53 available minutes in the overtime loss against the Nets, and he was not used at all down the stretch. Head Coach Erik Spoelstra instead went with ultra-small lineups with James Johnson as the de-facto center. Hassan Whiteside's minutes have been gradually decreasing throughout the season, and he has averaged seven fewer minutes per game than he did last season.
To his credit, Whiteside has generally not been an outspoken critic of the way he has been used this year. But he snapped on that fateful Saturday night, which puts doubt over his future in Miami. Whiteside simply could not comprehend why the Heat coaching staff was not countering the Nets ultra-small lineup, with Rondae Hollis-Jefferson at center, by using him.
Whiteside dropped hints he was frustrated around a month ago as he essentially took a dig at Pat Riley by suggesting that the gradual decrease in minutes is "what they wanted" for Whiteside. He pointed to the fact that the team drafted Bam Adebayo, and signed stretch-five Kelly Olynyk to a long-term deal in free agency. Whiteside clearly believes he is the franchise center in Miami, and he is frustrated that he is not being used as such.
As an avid watcher of the Miami Heat, watching Hassan Whiteside's growth has been fun. But the simple reality at the moment is that he is the third most valuable center on the Heat roster. This is because Kelly Olynyk offers good floor spacing, and Bam Adebayo offers similarly effective defense to Whiteside (while on a rookie contract, might I add). Whiteside is a good defender; when he is on the court, the Miami Heat's plan is to essentially aggressively attack the three-point line and funnel opposing guards towards Whiteside. However, the issue with Whiteside is on the offensive side of the ball. His generally slow style of play does not fit well with the rest of the Heat roster.
The Miami Heat simply do not have many natural shot creators. The majority of their playbook is based on a drive-and-kick type philosophy, and this is where Whiteside does not really fit. Hassan is a player who wants to stay in the paint and take his time when he gets the ball. His low level of pace means that the offense stagnates when he is on the court. The Heat have an offensive rating of 104.2 with Whiteside on the court. That number skyrockets to 109.3 when he sits.
Miami does not really have a natural pick and roll ball handler outside of Goran Dragic, and the pick and roll is Hassan Whiteside's strongest skill on the offensive side of the ball. If Whiteside is clogging the paint or simply standing at the elbow, the Heat offense struggles to penetrate the defense since it doesn't really have an elite offensive creator. In addition to this, Whiteside is just an average post-up player, ranking in the 61st percentile. Post-ups are detrimental to the Heat offense because the team is better when the ball is moving and when people are attacking the paint, as opposed to remaining stationary within it. Whiteside helps none of this.
You could sympathize with Whiteside's comments on the Nets' loss for one reason, and that is that the Miami Heat are a terrible team when they go with an ultra-small lineup. The sample size is small, but James Johnson at the center position causes the Heat to yield a defensive rating of 124.6, and though the offensive rating is at a reasonable 115.1, the net rating is appallingly bad. However, Whiteside is simply not the right man down the stretch for Miami because they really struggle to create open looks when he is clogging the paint. This is because Whiteside essentially forces a team to play at a slow pace, and to win in a half-court offense, you need top individual offensive players. The Heat have none of those.
Kelly Olynyk was seen as a free agency overpay by many, but he has become a pivotal player for the Heat because he creates spacing for a roster that desperately needs it. The Heat score 11 more points per 100 possessions with Olynyk on the court, and the space he generates has allowed the Heat to run fun lineups with multiple ball handlers, such as Tyler Johnson, Justise Winslow, and Josh Richardson, all at the same time. In addition to this, four of the Miami Heat's top five lineups in net rating contain Kelly Olynyk, and three of those are with him as the sole center on the floor.
The issue with Whiteside moving forward is that he is only good when he is the only big on the floor. But unfortunately, the rest of the team doesn't play well when that is the case. Whiteside's best five-man lineups come with Justise Winslow at the four, but Whiteside's best lineup with Justise Winslow is still inferior to the majority of five-man lineups that include Kelly Olynyk. Whiteside does not really play well with any of the other Heat bigs, as shown in the table below:
It must be noted that Hassan Whiteside is still a good NBA player with a case for being a top 50 hooper. His defense is legitimately great, and if he is surrounded by high-powered guards and good shooters, he can be a very valuable offensive player. He is a lob threat, and if a team was able to run a four-out system, Whiteside could easily take advantage on the interior, especially in late-clock situations. However, the Miami Heat do not have many elite offensive players who can carry a large load, so they need to maximize their spacing, and this is why Whiteside simply isn't that valuable for this team.
This is where many are wrongly analyzing the situation, Whiteside is probably better than both Kelly Olynyk and Bam Adebayo. But for this Miami team, Olynyk might be the more valuable player because of the gravity he creates, which is allowing young players to get to the rim and develop their offensive games.
Hassan Whiteside is absolutely overvaluing himself though. In the Nets game, he was bullied in the first quarter by Jarrett Allen. In addition to this, putting him in against the Nets ultra-small lineup would have been a trap, as the Heat would have essentially been relying on post-ups, which are notoriously inefficient. Whiteside's lack of lateral quickness as an outside defender would have also been exposed playing against a team with a hybrid wing at the center position.
The Nets were rolling with a five-out system in order to try and exploit the Heat's lack of natural quickness. Kenny Atkinson forced the Heat to put James Johnson in, as Hassan Whiteside is not the player you want against a team who is primarily running all of their actions on the perimeter. The Nets game perhaps best summarised the issues the Heat have with him, and although Whiteside does have some positives over the other two centers, such as touch at the rim and excellent rebounding, they aren't enough to outweigh the spacing and inability to go out and defend the perimeter.
In terms of moving Whiteside to a team where he would have more value, this is largely difficult because of his contract. The Heat decided to make him the 19th highest paid player in the entire League, and he has a player option after the 18-19 campaign which puts a cloud over any trade scenario. Whiteside would likely opt-in if he joined a team that appreciated and maximized his talents, as he simply will not earn $27 million playing for any other team. If the Heat were to trade him, they likely wouldn't get much in return because Erik Spoelstra and Pat Riley have made it obvious to everyone that he has serious limitations. The salary dump on its own would provide a great deal of value for the Heat, although it must be noted that Whiteside's departure alone won't create enough room for the Heat to make an aggressive run at a loaded free agency class in 2019, as Barry Jackson of the Miami Herald notes.
On the whole, Hassan Whiteside's frustration is slightly understandable, as he was paid like a franchise player and thus expects to be played as a franchise player. But his limitations are a serious problem for the Heat roster in its current state, and sulking isn't going to do a lot of good. Whiteside is a good player, but the main issue with him is that when things don't go his way, he doesn't fight through it. Instead, he drops his head, and hooking him from the game becomes the only choice.
Though Erik Spoelstra played down Whiteside's recent comments, the actions will just push Spo further towards Bam Adebayo and Kelly Olynyk, which is the best direction for this team anyway. Many Heat fans think these problems are fixable. But a personality cannot be fixed, and poor spacing cannot be ignored in 2018. Something needs to change.