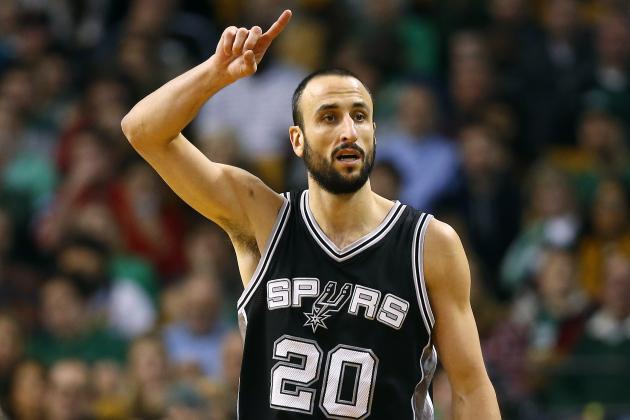 Although the San Antonio Spurs lost Tim Duncan to retirement this week, they will return another member of their former Big Three. Manu Ginobili had already committed to playing one more year with the Spurs. Now, it is becoming official.
According to Marc Stein of ESPN, the Spurs and Ginobili are nearing agreement on a one-year deal:
The Spurs and Manu Ginobili are discussing a one-year deal in the $10 million range, according to league sources

— Marc Stein (@ESPNSteinLine) July 14, 2016
The deal will likely not go through for some time, however, as the Spurs will want to maximize their cap space before re-signing him:
Ginobili has already committed to playing one more season; San Antonio must use up all of its cap space before exceeding the cap to ink Manu

— Marc Stein (@ESPNSteinLine) July 14, 2016
Last season, Ginobili played a career low 19.6 minutes per game. He will likely see another dip in his playing time next year as he is soon to turn 39 years old.
Ginobili does not offer much on the court anymore outside of the occasional flashes of brilliant playmaking. However, as far as a veteran presence goes, he is one of the best. The Spurs are in an in-between stage as they look to keep contending while getting younger. Manu Ginobili can provide help in both of these scenarios, namely as a veteran mentor.
Update: Manu Ginobili is signing with Spurs for $14 million after the Philadelphia 76ers offered the veteran guard a 2 year contract worth $30 million according to Sham Charania of the Vertical.
Vertical Sources: Manu Ginobili has signed a one-year, $14 million deal to return to the San Antonio Spurs.

— Shams Charania (@ShamsCharania) July 14, 2016