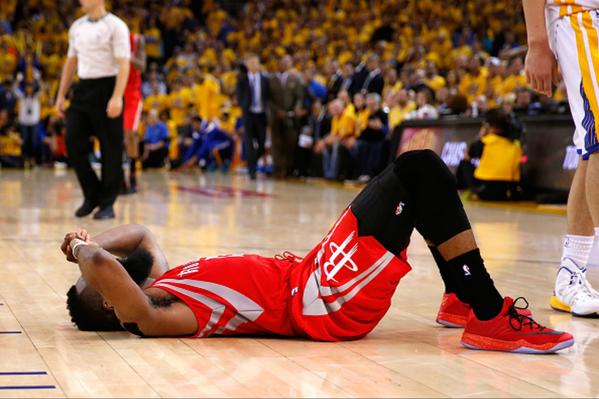 In one of the odd post-season stories, rapper Lil B has been a big side story not only because he is a Golden State Warriors fan, but he's been involved with the storyline of James Harden who had his share of success and hardships in the post-season.
Today on ESPN's SportsNation they had the California native on to play a game of "Cursed or Not Cursed" which the rapper donned a very interesting outfit.
Thankfully Rockets fans next season will be happy to know the curse was lifted from James Harden after his struggles against the Golden State Warriors with a late turnover in Game 2 and finally losing to the Golden State Warriors in Game 5.
Oklahoma City Thunder fans should hope that star small forward Kevin Durant will accept Lil B's challenge to play one-on-one, and that's the only way the "Based God" will lift the curse off Durant.
The one player Lil B will not curse is LeBron James, which is a surprise that the "Based God" would have a limitation on the curse.
So far though things are going Lil B's way in the NBA Finals as his team has a 3-2 lead on the Cleveland Cavaliers, and they look to close them out Tuesday night in Cleveland.
The story of Lil B has been so out of the ordinary, but an interesting one as the rapper has cursed a few players and they've had their struggles from Harden's turnovers in Game 5 to Mareese Speights missed dunk which could have blown the game.
With the outcomes of the players Lil B has cursed, if you're superstitious then I'd suggest you don't mess with the "Based God".