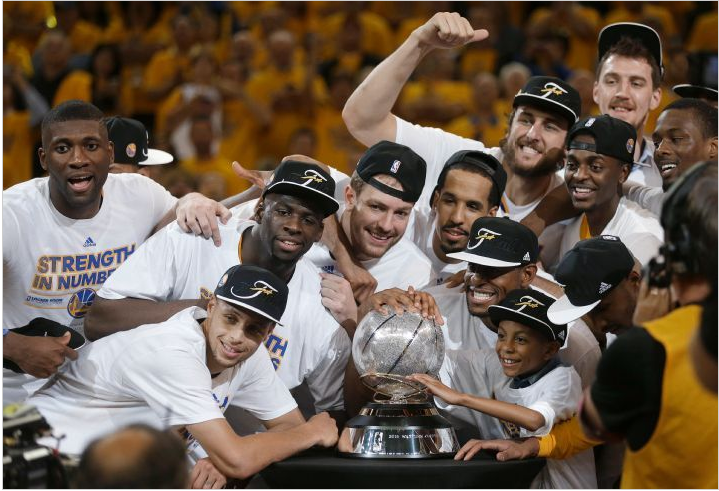 After the Houston Rockets amazing Game 4 performance, some people actually thought they had a chance at breaking the 3-0 playoff curse. That did not happen in Game 5. The Golden State Warriors are going to the NBA Finals for the first time since 1975. That means the NBA Finals is Stephen Curry vs. LeBron James. Kyrie Irving vs. Klay Thompson. Tristan Thompson vs. Draymond Green. Fun and interesting match-ups. But first, let's talk about the Game 5 that will be in Houston Rockets fans memories for a long time.
The first half was bad for both sides as the Warriors only scored 17 points in the first quarter. James Harden didn't start off the game too strong, and didn't end the game well either. He finished off the game with 13 turnovers and nothing special in the other columns. Dwight Howard started the game off with good energy, and finished off the game with 18 points and 16 rebounds. 3 Golden State Warriors were had 20+ points, Harrison Barnes, Stephen Curry and Klay Thompson. Despite being a bad game for Harden, the Rockets caught up and even led at points, but could not gain a good enough advantage. The Warriors are now going to the NBA Finals after a game 5 104-90 win.
For the Houston Rockets, this means they head to the off-season. So now Josh Smith, Jason Terry and Corey Brewer are UFA, which means that 3 key Playoff players may not be Rockets anymore. The Rockets depth sometimes helped them throughout the Playoffs, and they need some additions, not subtraction.
For the Golden State Warriors they will play the Cleveland Cavaliers, and that means one thing only, they are playing LeBron James. Game 1 will be on June 4th in the Oracle and I don't think we will ever hear a louder Oakland crowd. LeBron James will prepare his team for the Finals though, and they will be experienced, something the young and fun Warriors don't have. Both teams shoot a lot of 3's and the star power in this series is crazy, LeBron James, Stephen Curry, Kyrie Irving, Klay Thompson, J.R Smith, and Draymond Green. The Finals are going to be full of drama and exciting Playoff basketball. Oh, and this is the first time ever that two rookie coaches are going head to head in the NBA Finals. Well.. not ever, it happened the first time the NBA (used to be BBA) started, which is obvious.