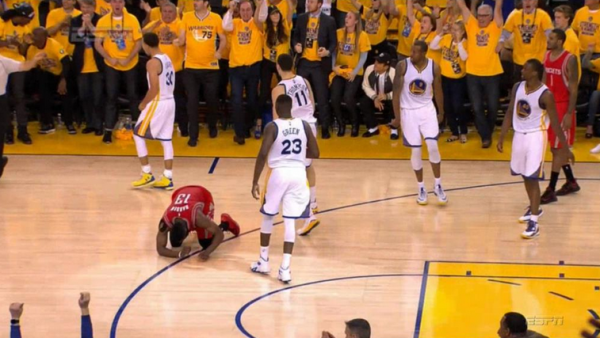 The Golden State Warriors follow up their game one performance with another win beating the Houston Rocket 99-98. Steph Curry finished as the Warriors leading scorer with 33 points, five of them coming from deep, and six assists. James Harden finished with a game-high 38 points, he was close to a triple-double with 10 rebounds and nine assists. Dwight Howard continued his excellent postseason play and brought in a double-double recording 19 points and 17 rebounds.
James Harden and Dwight Howard rallied the Rockets on a 8-2 run in the final 1:31. Harden scored six of those final eight but he also had a horrible turnover in the final seconds after being trapped by Curry and Klay Thompson sealing the Rockets fate.
Both teams got off to a quick start but the Warriors edged out the Rockets in the first 36-28 behind three three's from Chef Curry himself.
Warriors started to pull away early in the second leading 49-32 at one point, thanks to contributions from role players Harrison Barnes and Shaun Livingston. Harden stepped up and got the game tied at 55 a piece going into halftime.
Turnovers were a big problem for the Warriors in game two, they gave the ball away 16 times. Six of those came from the MVP Curry.
In the second half every time the Warriors began to pull away James Harden found ways to get that whistle blown and get to the line. He went 9-10 from the charity stripe.
The Rockets played hard all night. Despite Harden carrying most of the offensive load the Rockets played great defense and Ariza and Josh Smith are due for better performances.  Although the Warriors are up 2-0 this series could swing back the other way quick if Harden continues to cook and Curry is forced into another heavy turnover game.
Game 3 is Saturday 9 PM ESPN.