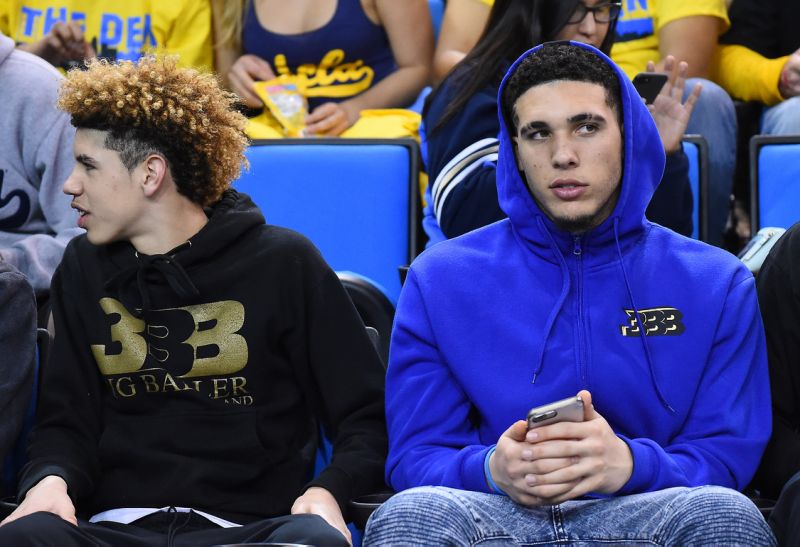 LiAngelo Ball and his younger brother LaMelo Ball recently both decided to leave their respective schools under two different circumstances. 16-year-old LaMelo Ball departed Chino Hills following some issues between the school and his father LaVar. LiAngelo Ball left UCLA amid an indefinite suspension following his shoplifting incident in China.
Now just under a week after the boys decided to end their amateur career and sign with their brother's agent Harrison Gaines, the duo has secured a contract. The Lithuanian club, Vytautas Prienai, is not a household name by any stretch of the imagination but with Ball family heading across the pond, it might be on the top of everyone's must-watch list very soon.
Following comes from Shams Charania of The Vertical.
LaMelo and LiAngelo Ball have turned pro, agreeing to one-year contracts with Vytautas Prienai in the first-division Lithuanian league, sources told Yahoo Sports.

LaMelo, 16, and LiAngelo Ball, 19, agreed to deals with Vytautas that will allow the two prospects to start their careers in a competitive professional league with a history of producing NBA players and focus on development. Both will report to the team in early January, sources told Yahoo Sports.

Over the past week, Harrison Gaines, the representative for LaMelo and LiAngelo, fielded multiple offers and worked to finalize the finer details of a unique contract situation. For LaMelo and LiAngelo, the opportunity to play meaningful minutes in each potential level of play for Vytautas was as important as the flexibility of their one-year agreements.

"We engaged in serious talks with several teams, and Vytautas made the most sense as LaMelo and LiAngelo work to develop as professionals and set a foundation for their careers," Gaines said. "It was critical to find a situation in a competitive league that works with both of their short- and long-term goals."
Lithuanian team Vytautas' statement on signing LaMelo and LiAngelo Ball to one-year deals: "Our club is excited for the arrival of LiAngelo and LaMelo Ball. We are committed to their long-term success and development as professional basketball players."

— Shams Charania (@ShamsCharania) December 11, 2017