If you like weird, wild and downright bizarre trends and storylines, the 2018-19 NBA season is for you. There's James Harden scoring 50 points every night like it's a minor chore on his to-do list. There's the absurd 14-team playoff race in the Western Conference, which doesn't seem to be slowing down anytime soon. And there's Nikola Jokic throwing dimes in bunches like a petty customer who doesn't want to pay by credit or debit.
With some of the best talent the league has ever seen, yet another stacked rookie class and no clear second-best team behind Golden State, it's easy to ignore little things while thinking about the bigger picture. But let's take a moment to look at one oddity that's emerged in the free throw form of Kyrie Irving, who's been in the news recently for plenty of other reasons.
This popped out to me as pretty strange when watching the Celtics' loss to the Orlando Magic on January 12:
Notice Irving's feet there. They're very far apart, much further than he ever has them on his jump shot. Irving almost always manages to square up his feet and get them somewhat close together on his jumper. Often, they're even narrower than most other players' feet would be. Look at some of these set shots over the years: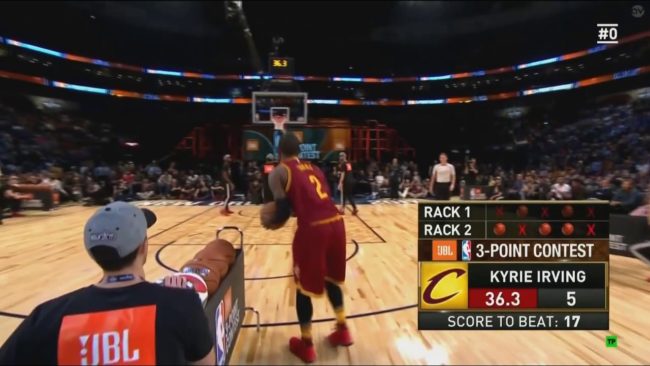 Even when he's off balance or on the move, Irving always gets his feet much closer than he did for that free throw:
So, seeing how weird this free throw stance looked, I went back to see if Irving's feet were always this wide on his free throws. The short answer: they weren't. Just last season, in November 2017, Irving's free throw looked like this:
Somehow, in the 14 months between then and now, Irving started shooting his free throws in that strange, wider stance. I tried to work my way backward to find out when the change happened. Here's what Irving's free throw looked like on the opening night of this season:
Irving's feet were pretty far apart there, just more than three months ago. Since he didn't play in last year's playoffs, we have to go back to March 2018 to find some of Irving's last free throws from the 2017-18 season, before he got hurt.
Now, that one doesn't seem as strange as the ones above, but his stance was still quite wide. Oddly enough, Irving brought his feet a bit closer together for the following free throw – one which he was trying to miss on purpose:
On that one, Irving shot it as soon as the ref passed him the ball. But it seems as though he now takes the time to bring his feet wider on most free throws.
Going back just a week earlier – the final week of February 2018 – Irving was shooting his free throws similarly, with his feet wider than on his normal shot, but again not quite as wide as they were during the recent Orlando game. Still, his right leg appears bent at a slightly awkward angle in shots during games against Memphis and Charlotte:
Compare that to a month earlier, late January 2018, when Irving's legs appeared to be much straighter and his feet closer together on his free throws in this game against the Warriors:
So, it looks like we found our match. Sometime around February 2018, Irving gradually started to widen his free throw stance. Nearly a year later, Irving seems to be shuffling his feet a whole lot until they're much wider than his regular shooting position:
So… Why does any of this matter?
Maybe it doesn't. Irving is shooting 85.4 percent from the line this year – a career-low by a little, but still an elite mark – and he hasn't shown any signs of slumping. His jump shot still looks as normal and smooth as ever. This doesn't seem to be a real "problem" of sorts.
Even given all that, it's certainly something to monitor. Irving's shooting isn't going to fall off a cliff, but maybe those few percentage points matter. Maybe he could be shooting 88 percent if he just shot his free throws normally. Maybe those occasional misses really are because of the strange way he's standing, which he never used to do.
Most coaches teach that players' feet should be about shoulder-width apart on their shot, give or take a few inches. Irving keeps his feet further apart than that now, and it's not quite clear whether the change was a conscious effort on his part. It would be odd for him to switch up his stance after shooting an elite 87.5 percent from the line over his first seven NBA seasons. Furthermore, he still doesn't shoot that way on his regular jump shot, where he keeps his feet as close together as they've always been.
Not every little trend is going to make the front page of ESPN, but it's always interesting to keep an eye on the small changes that can develop into something bigger. There's no evidence that Irving's new free throw stance has really affected his efficiency, at least not yet. But whether or not Irving purposely made the change, he should certainly hope that a step backward (or, quite literally, a sidestep) in his process doesn't lead to a step back in his results.