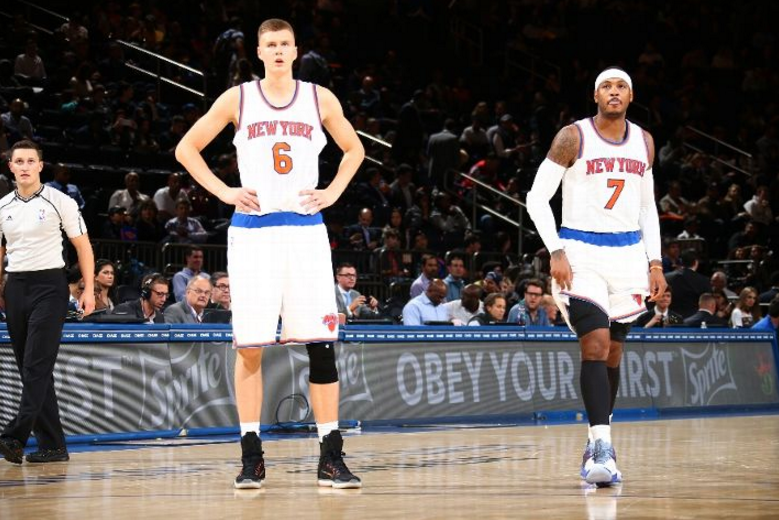 The New York Knicks continue to be a model of dysfunction this season as their 22-29 record indicates. Not only has their performance underwhelmed on the court, but off it there has been plenty of turmoil as well. Ranging from a point guard disappearance to trade rumors surrounding their best scorer in Carmelo Anthony, New York has had no shortage of difficulties this campaign.
While The front office's motive behind sending Melo packing would be to start a rebuild around Kristaps Porzingis, the Latvian 7-footer has his own opinion on a potential deal going down. Following from Stefan Bondy of NY Daily News:
"I think it would make life harder for me on the court (if Anthony was traded)," Porzingis told the Daily News. "He makes stuff easier for me."

Anthony and Porzingis have always been gracious with and accommodating of each other's talents and egos. It's really just unfortunate timing that their career arcs don't align, a condition that, more than anything, has led to Jackson's two-year teetering between rebuilding and trying to contend.
Clearly, Porzingis sticking up for his teammate shows that he has a different mindset than Knicks management does. While Carmelo Anthony is a ball-dominant scorer, Porzingis is hard to argue against, he does make things easier on the talented big man.
With the looming possibility of Porzingis becoming the primary option on offense and taking the throne as the undisputed best player on the Knicks, opposing defenses would be able to gameplan for him better. Even though Anthony is clearly on the decline of his illustrious career, people seem to forget that he can still be depended on for a solid twenty points nearly every game. His mid-range game is still one of the most lethal in the NBA and his ability to work inside and out frees things up for Porzingis.
While a Melo departure would officially kick off the Porzingis era and surely result in more touches and shots for Porz, his lack of a true sidekick would prove to be detrimental to his progress going forward.