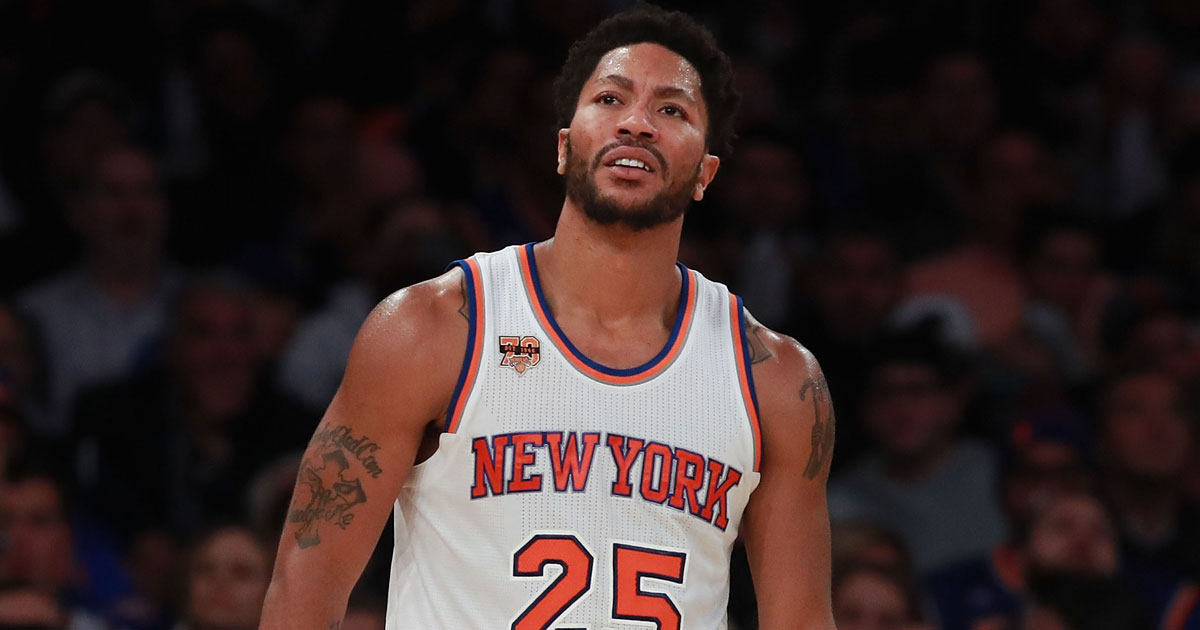 New York Knicks star point guard Derrick Rose mysteriously went missing last night. The guard was nowhere to be found by the time the Knicks home game against the New Orleans Pelicans tipped off at 7:30. It was an odd event considering Knicks head coach Jeff Hornacek said that the only player that may have a difficult time participating was a reserve forward Mindaugas Kuzminskas. The Knicks lost to the Pelicans, Carmelo Anthony and Kyle O'Quinn were ejected, but that was the least of their worries.
Rose didn't appear in the game, and everyone lost their mind. The speculation ran rampant online from both fans and media people alike on why he missed the game. Some speculated it had to do with Rose being benched in the fourth quarter during the Knicks recent win over the Milwaukee Bucks.
But Rose returned to the Knicks today. He was fined by the team and faced the media and discussed what the real issues were. He didn't go into much detail, but he did shed some light on his line of thinking for missing the game.
Following from the Knicks public relations team.
Practice pic.twitter.com/IAtoGBc2jR

— NY_KnicksPR (@NY_KnicksPR) January 10, 2017
Derrick Rose has rejoined the team and has been fined. He is expected to be in uniform tomorrow in Philadelphia.

— NY_KnicksPR (@NY_KnicksPR) January 10, 2017
Al Iannazzone of Newsday and Daniel Popper of the New York Daily News have some quotes from Rose and coach Hornacek.
Rose said he had a family issue yesterday

— Al Iannazzone (@Al_Iannazzone) January 10, 2017
Derrick Rose said he returned to Chicago because he needed to be with his mother.

— Al Iannazzone (@Al_Iannazzone) January 10, 2017
Rose said he needed to get to his family. It had nothing to do with basketball. He apologized to his teammates and organization.

— Al Iannazzone (@Al_Iannazzone) January 10, 2017
Rose said he didn't want to pick up the phone when Knicks called. He needed his "space."

— Al Iannazzone (@Al_Iannazzone) January 10, 2017
Rose said he spoke to GM Steve Mills last night and met with Phil and Mills when he got here today.

— Al Iannazzone (@Al_Iannazzone) January 10, 2017
Rose also denied any rift with Hornacek.

— Al Iannazzone (@Al_Iannazzone) January 10, 2017
Hornacek said if Rose is in the right mental state he will start tomorrow in Philly.

— Al Iannazzone (@Al_Iannazzone) January 10, 2017
Derrick Rose: "I had to be with my family." pic.twitter.com/Jj5iBi46qQ

— Daniel Popper (@danielrpopper) January 10, 2017
Jeff Hornacek: "It is what it is…Back to playing basketball." pic.twitter.com/KEojI3rQyb

— Daniel Popper (@danielrpopper) January 10, 2017