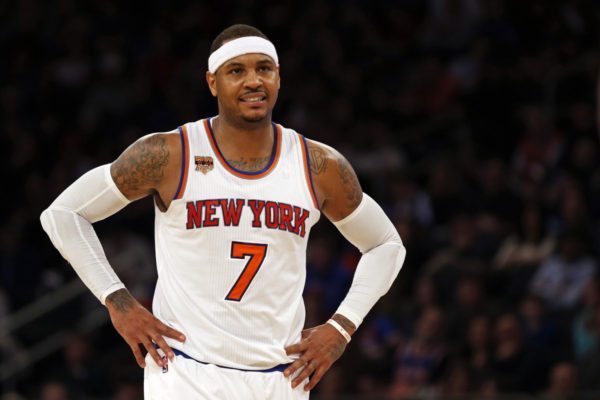 For New York Knicks forward Carmelo Anthony, showing up to work every day while constantly being reminded of how insecure his job is has become the norm.
Fluid trade rumors have flooded Anthony's mind this season, with the Knicks currently in the midst of their most underwhelming campaign in recent memory.
First it was the rumored discussions between New York and Cleveland, with Knicks president Phil Jackson gauging the Cavs' interest in a Love-for-Melo swap. Next, Boston and the Los Angeles Clippers entered the mix, complicating matters further. More recently, it was a report detailing how the Thunder are also keeping their eyes on the situation. 
"You've got to deal with that, even though I try not to read it. And everywhere you go, even if you don't hear about it, somebody is telling you about it, somebody is saying something," Anthony said of the trade rumors surrounding him and the Knicks (via ESPN). "It can be mentally draining, mentally fatiguing."
Between Phil Jackson's public criticism and the consistent trade speculation, Carmelo Anthony's 2016-17 campaign has surely been one of the most mentally taxing seasons of his 14-year career.
"You've got to be cut from a different cloth to take this day in and day out, and to deal with this all day long, every day," Anthony said. "You've got to take the good with the bad. I don't know how I do it, but I do it."
Anthony has a no-trade clause and has reiterated several times this season that he wants to stay in New York, despite publicly stating weeks ago he was open to leaving if the franchise did not want him.
The most likely scenario, as it stands, is that the Knicks will ultimately deal Carmelo before the Feb. 23 trade deadline, with the Los Angeles Clippers emerging as the most likely suitor.
For now, Anthony remains focused on contributing to this Knicks team with his sights set on making the Playoffs. But in the back of his mind, Anthony understands that he is on borrowed time as a member of the Knicks.