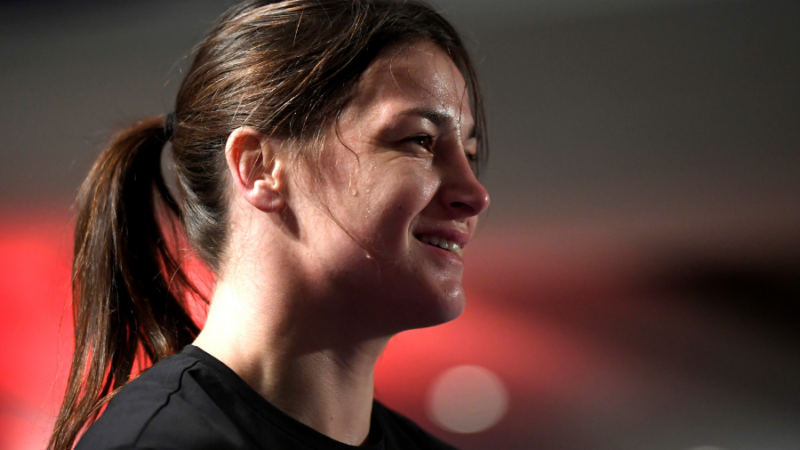 Madison Square Garden is primarily known as the home of the New York Knicks, New York Rangers and St. John's Red Storm, but it's also known as the venue where boxing champions are made. Over the years, the historic arena has hosted major fights like Ali-Frazier I and Joshua-Ruiz I while also welcoming champions such as Gennadiy Golovkin and  Joe Louis. While the crowds at Madison Square Garden have seen a lot over the years, they've never seen anything quite like this. For the first time in history, two women headline a boxing event at the venue.
Amanda Serrano and Katie Taylor entered tonight's ring in search of securing the undisputed lightweight championship. In one corner, Taylor had amassed an Olympic Gold medal to go along with an undefeated record of 20-0 with six knockouts. On the other end, Serrano had put together a record of 42-1 with 30 knockouts while picking up titles in multiple division. However, none of that mattered when the bell rang.
As expected, Amanda Serrano and Katie Taylor delivered a performance that lived up to the fight. Throughout the first three rounds, Serrano and Taylor executed their initial game plans, but things got a bit dicy in the middle rounds. Serrano managed to put pressure on Taylor and nearly put her on the canvas. However, the Puerto Rican fighter seemingly let her foot off the gas in the sixth round. From that point on, Taylor seemingly caught a second win and closed the fight out strong. In the midst of her second effort, Taylor was nearly knocked down in the final minute.
At the end of 10 rounds, the three judges handed in the following scores: 96-94 (Serrano), 97-93 (Taylor) and  96-93 (Taylor). Katie Taylor managed to keep her undefeated record and walk away the victor.
FOR HISTORY ? @KatieTaylor retains by split decision! ?

96-94 Serrano, 97-93 Taylor… 96-93 Taylor!#TaylorSerrano #ForHistory pic.twitter.com/z2T4m9F5Ak

— Matchroom Boxing (@MatchroomBoxing) May 1, 2022