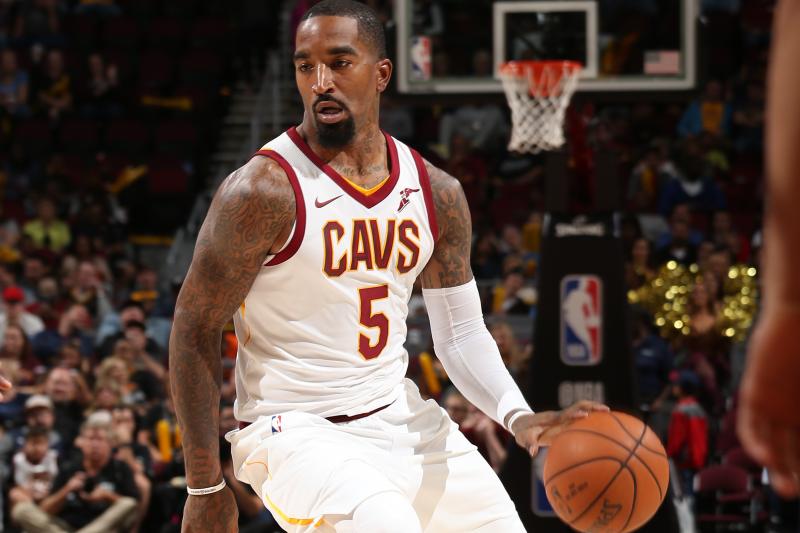 J. R. Smith was waived by the Cleveland Cavaliers last year, but is now reported to have a new landing spot. As reported by Marc Stein of The New York Times, J. R. Smith has agreed to join the Los Angeles Lakers for the NBA's resumed season at the end of next month.
The Lakers, league sources say, are expected to finalize a rest-of-the-season contract with J.R. Smith before Tuesday's 11:59 PM ET closure of the NBA's "transaction window"

Rosters for the NBA restart at Walt Disney World must be turned in to the league office Wednesday

— Marc Stein (@TheSteinLine) June 29, 2020
The reported move by the Lakers reunites Smith with his Cavs' teammate LeBron James, with both featuring on the 2016 Cleveland roster that won the NBA championship.
Adding Smith to their rotation will help the Lakers to mitigate some of the effects associated with the loss of Avery Bradley, who has chosen to sit-out for the NBA's restart plan. ESPN's Adrian Wojnarowski is reporting that the Lakers have been in communication with Smith since Bradley made clear that he didn't plan to participate.
Lakers and Smith have been in talks since Avery Bradley opted-out of the restart, and those will culminate with a deal that will include him on the roster Lakers will submit to NBA on Wednesday, per sources. https://t.co/vtiqcfBvCm

— Adrian Wojnarowski (@wojespn) June 29, 2020
Since entering the league in 2004, J. R. Smith has accumulated averages of 12.5 points, 3.2 rebounds, and 2.1 assists per game while establishing an identity as an elite sharpshooter.
The Lakers currently hold a record of 49-14 and will enter the Orlando restart as the top-seeded team in the Western Conference.