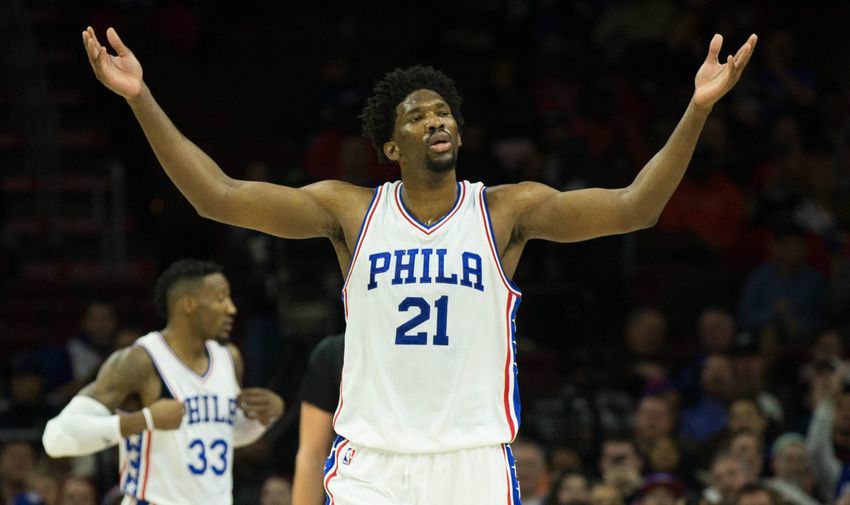 In today's NBA, there are a handful of teams in each conference with bright futures. We've seen tons of new young talent take over the league in recent years and it'll be exciting to see these promising careers unfold and how far they can take their teams. One of the teams at the forefront of the youth movement is the Philadelphia 76ers and their young centerpiece Joel Embiid. 'The Process' has swept through Philadelphia and has 76ers fans excited about what the future holds.
After the 2017 NBA Draft Lottery took place last night and the Sixers landed another top 3 pick, Embiid finally defined what exactly 'The Process' stands for. Following from Jessica Camerato of CSN Philly:
Does Joel Embiid still trust the process after the Sixers got the third pick tonight? Absolutely. pic.twitter.com/MUjBBGs8xd

— Jessica Camerato (@JCameratoCSN) May 17, 2017
Not only does Embiid have full faith in The Process, but the 23-year-old center also believes the timing of the imminent Sixers success will reach it's peak right when LeBron James and his Cleveland Cavaliers will begin to fade away. Following from Mike Sielski of the Philadelphia Inquirer:
Embiid: "We're gearing up at the right time. When we start getting good, that's when Cleveland and #LeBron will start going down." #Sixers

— Mike Sielski (@MikeSielski) May 17, 2017
LeBron's dominance in the Eastern Conference has been well-documented as his team has represented the East in six straight NBA Finals. Though James hasn't shown many signs of slowing down at age 32, it's likely we see his Cavs start to slip after a couple years, right when the Sixers core players would be hitting their primes.
With last year's first overall draft pick Ben Simmons getting closer and closer to full health and the possibility of adding elite guard talent with the third overall pick in this year's draft, the optimism Embiid has towards his team's future is warranted. Hopefully, all of Philly's key pieces will be ready to go by season's start and we get to witness the beginning of a promising era for the 76ers.