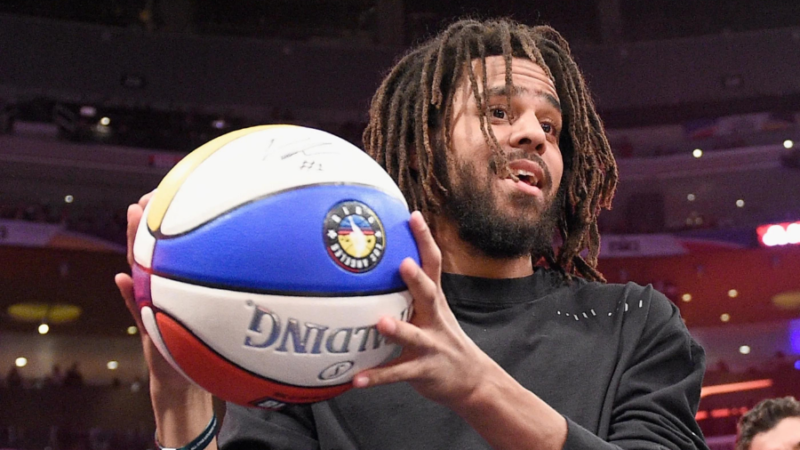 J. Cole is reportedly set to play in the Canadian Elite Basketball League this season. According to multiple reports, the 37-year-old guard will join the Scarborough Shooting Stars this season. Cole is expected to join the team as they prepare to open the season on May 26, 2022 against the Guelph Nighthawks in the Sleeman Centre.
This is not J. Cole's first foray into basketball. His athletic exploits at St. John's University are well documented. The North Carolina native attempted to make the team before pivoting and pursuing his music career more seriously. After establishing himself as an artist, he appeared in the 2012 NBA All-Star Weekend Celebrity Game. Nearly a decade later, he also assisted Dennis Smith Jr. in the 2019 NBA All-Star Dunk Contest before taking the court during halftime of the 2019 NBA All-Star Game. More recently, he played for the Rwanda Patriots BBC of the Basketball Africa League. In three games, he played 45 minutes while putting up five points and five rebounds.
Despite dedicating time to his athletic endeavors, J. Cole's music has not suffered. He recently led the 2022 Dreamville Festival and starred on his label's Gangsta Grillz mixtape. Not to mention, he put out a Grammy-nominated album while playing overseas for the Patriots. Adding on, he's appeared on records with Benny The Butcher, BIA and YG over the last few months.
From the outside looking in, it looks as if there isn't anything that J. Cole can't do.
BREAKING: @sss_cebl have signed 6'3 guard, @JColeNC. He last played professionally in @theBAL. #LetsBall #OurGame pic.twitter.com/se2kb1ExJJ

— CEBL (@CEBLeague) May 20, 2022