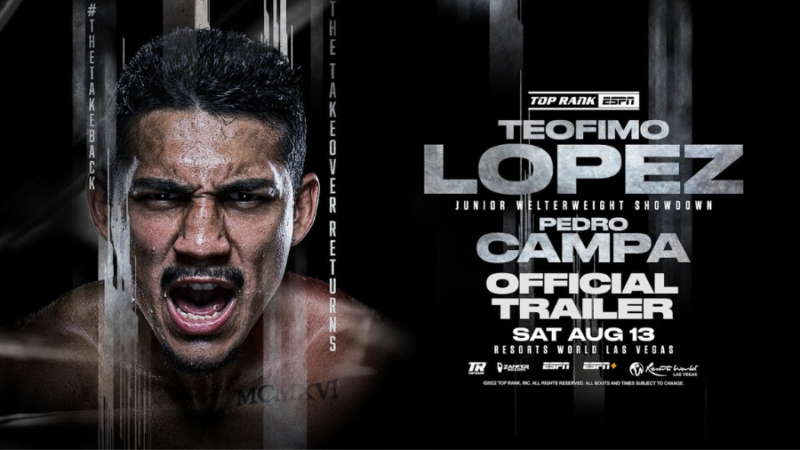 Last November, George Kambosos shocked the world when he stripped Teofimo Lopez of his undisputed lightweight title via unanimous decision at the Hulu Theater in New York. In the months that have followed that fateful night, Kambosos has gone on to lose his four titles to Devin Haney. Meanwhile, Lopez has undergone multiple surgeries and moved into a new weight class. After spending nearly a year out of the ring, it appears that Lopez is fully healthy and ready to resume his pro career.
In his first fight of 2022, Lopez will share the ring with Pedro Campa, a 30-year-old fighter from Mexico. With 11 years of pro experience, Campa has put together a record of 34-1-1 with 23 knockouts. While Lopez is looking to bounce back from an unexpected setback, Campa is looking to make a name for himself as he fights in the U.S. for the first time since 2015.
Both men have a lot on the light as they take the next step in their careers, but only one man will walk away satisfied.
How Can I Watch The Fight?
Who: Teofimo Lopez, Pedro Campa
What: Super Lightweight Bout, 10 Rounds
When: August 13, 2022 at 10 p.m. ET on ESPN
Where: Las Vegas, Nevada (Resorts World Las Vegas)
Last November, Teofimo Lopez fought George Kambosos at the Hulu Theater in his hometown of New York, New York. While the venue was not unfamiliar to him, the New York native was fighting on DAZN for the first time as he worked out contractual differences with Top Rank. This time around, he'll take the ring as Tim Bradley Jr., Andre Ward and Mark Kriegel sit ringside.
Lopez may also find himself in somewhat unfamiliar territory. Four of his last five fights have occurred on the east coast. This time around, he'll find himself out on the west coast at Resorts World Las Vegas. With that said, the biggest victory of his career occurred in October 2020 at the MGM Grand.
Who Is Teofimo Lopez?
Age: 25
Hometown: Brooklyn NY
Record: 16-1 (12 Knockouts)
Notable Victories: Vasiliy Lomachenko, Richard Commey
Last Fight: (L) UD, George Kambosos Jr. (20-0, 10 KOs)
The last two years have been a rollercoaster for Teofimo Lopez. Not only did he pick up his first world title after knocking out Richard Commey, but he also defeated former pound-for-pound king Vasiliy Lomachenko by unanimous decision. On the downside, he lost all of his world titles to George Kambosos and underwent several surgeries. Regardless of what has gone down within the last 24-30 months, the Brooklyn native's confidence has not wavered. As he begins his campaign at super lightweight, Lopez is eager to begin world titles yet again.
"I'm thankful to be back. I've been looking forward to this since my last fight," Lopez said shortly after the fight was announced.
"I've had a lot of complications, but we're looking towards the future and are on to bigger and better things. I'm here to take over the 140 lb division just like I did at 135. Like always, I'm going to bring excitement to the sport of boxing."
Who Is Pedro Campa?
The world may not know Pedro Campa's name now, but he can change all of that on August 13, 2022 at Resorts World Las Vegas. Campa enters Saturday's contest with 11 years of pro experience and a knockout percentage of more than 60 percent. While his opponents don't have the resumés that Lopez's have, the Mexican southpaw is confident that he can get the job done and change the trajectory of his pro career as he transitions from being a young 20-something to a seasoned veteran.
"I am coming ready to implement everything I have learned with my incredible trainer, Manny Robles. We've been in Southern California working hard and preparing for the best version of Teofimo Lopez," Campa said.
"I believe I can be a force at 140 lbs, and it's up to me to show that."
Who's Fighting On The Undercard?
Andres Corta vs. Abraham Montoya (Junior Lightweight)
Xander Zayas vs. Elias Espadas (Junior Middleweight)
Troy Isley vs. Victor Toney (Middleweight)
Duke Ragan vs. D'Angelo Fuentes (Featherweight)
Omar Rosario vs. Esteban Munoz (Junior Welterweight)
What are the odds?
DraftKings Sportsbook: Lopez (-2500) | Campa (+950)
FanDuel Sportsbook: Lopez (+1900) | Campa (-1200)
Note: Subject to change. Odds were obtained via Oddschecker on August 8, 2022 at 3:45 a.m. ET
Who do you think will win?
Boxers
Timothy Bradley Jr., Former Two-Division Champion | Lopez def. Campa (KO, TBD)
Media
David Kaestle, FanDuel Sportsbook | Lopez def. Campa (KO, TBD)
Ryan Shepard, Def Pen | Lopez def. Campa (KO, 3)