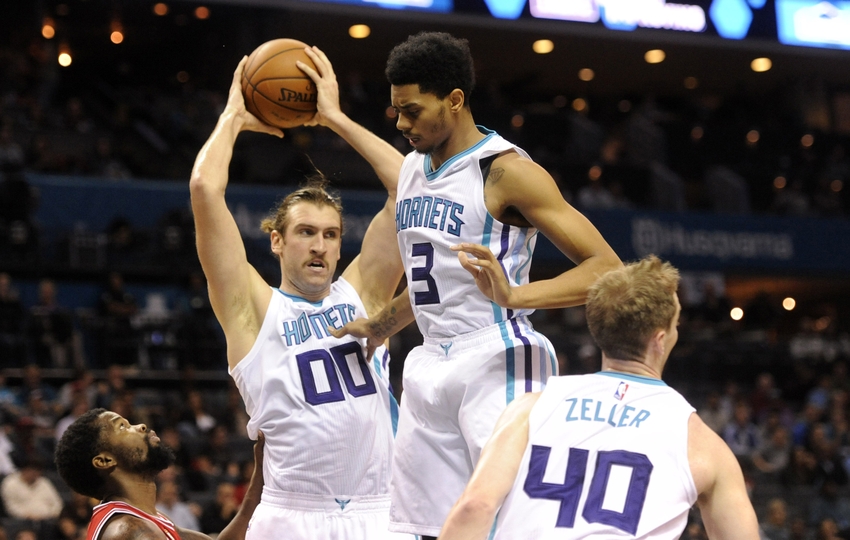 Spencer Hawes and Jeremy Lamb were acquired by the Charlotte Hornets last summer as the team was looking to bounce back into the playoffs. They succeeded and guys like Lamb and Hawes did play important parts in the teams growth. Charlotte got back to the postseason and guys like Lamb and Hawes were both parts of their playoff rotation against the Miami Heat.
Lamb was acquired in a trade which saw him move from the Oklahoma City Thunder to the 'Queen City' and he almost promptly signed an extension. Spencer Hawes was also sent to the Hornets in an offseason deal. Both players are on pretty good deals given the increase in the NBA's salary cap.
Unfortunately for them, the team appears to not be so sold on their talents. They have a litany of free agents this summer including Jeremy Lin, Nicolas Batum, Al Jefferson and Marvin Williams. Charlotte wants to bring back the important guys and in particular Batum is high on their list. But in order to bring back at least Batum and Williams, Charlotte is looking to unload the contracts of Spencer Hawes and Jeremy Lamb.
Following from Adrian Wojnarowski of The Vertical on Yahoo! Sports.
Sources: Charlotte's offering No. 22 – if team will take contract of Spencer Hawes or Jeremy Lamb. Hornets need space to re-sign free agents

— Adrian Wojnarowski (@WojVerticalNBA) June 23, 2016