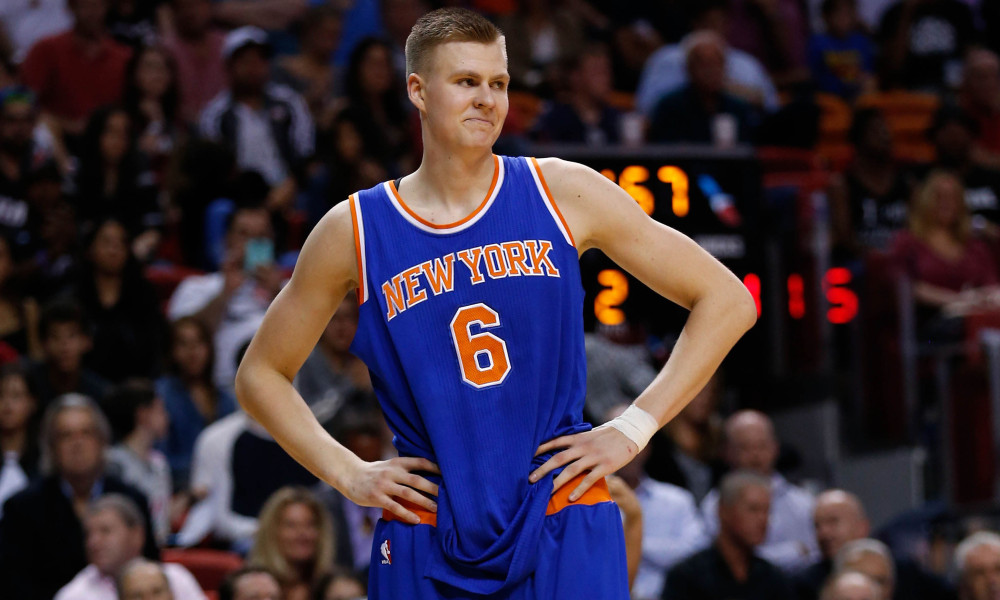 Kristaps Porzingis was a welcome surprise to the New York Knicks and their fans alike. The rookie phenom out of Latvia came in to the NBA already on a different level than most rookies. He hit the ground running and didn't look back, stealing a lot of early consideration for Rookie of the Year.
After a while, Kristaps eventually petered out and the ROY crown was KAT's to win. Karl-Anthony Towns unanimously won the Rookie of the Year award but KP did take second. Porzingis was awarded for his efforts though, being selected to the All-NBA Rookie 1st team.
There is a lot of potential with the tall forward in New York and KP's new coach Jeff Hornacek, his third head coach in his short NBA career, was gushing about the 7'3″ star during his introductory press conference yesterday.
"His ceiling -– wow," Hornacek said when asked about Porzingis' potential. "I don't want to put pressure on the kid, but let's face it: At that size and his skills and his abilities — why can't he be a top-five player in this league?

"Why can't he be the best player in this league? He'll continue to grow over these years. He's 20 years old. He's got a lot of things he'll learn just from experience, and I'm sure five to six years from now you'll be saying, 'Look how good this kid is.' He's already good."
Can Kristaps be a top 5 player in the NBA? Sure, if Stephen Curry is an example as any player in the NBA, anything is possible. While Curry had a different path laid out for him on his way to stardom, Porzingis could one day take over the league, a league that actually can work for his style of play.
Porzingis needs to improve multiple facets of his game include his strength, speed and perimeter defense but what he has now is pretty good start for a 19 year old in the NBA. He can block shots, rebound, stretch the floor, has some solid post moves and he can get down some mean putback slams as we've seen in the past. The future is bright for KP, the only question is, how bright will it be?