If you've listened to your favorite rapper's new single or album last year, you probably heard Joyce Wrice's voice. Over the last year, the California native has worked with the likes of Wale, Westside Gunn, Aminé, Remy Banks and several others. However, she doesn't limit herself to just on genre or pocket. She's also worked alongside The Free Nationals, Lucky Daye and Devin Morrison in recent months.
While the Los Angeles resident is a great team player, she has only scratched the surface of what she can be as a franchise player. Five years ago, she showed flashes of where her music could be headed with the Stay Around EP. Six songs deep, her songwriting talents shine through with the "Introduction" and "Stay Around." In 2021, she's grown from an emerging act to an artist that needs to be on every playlist and festival stage this summer. This Friday, her debut album, Overgrown, showcases her desire to weave together Rap and R&B into an audio gumbo like one of her favorite artists, Brandy, has done for decades. Making the album even more special, she has worked with GRAMMY-winners D'Mile and Kaytranada to put it together. In just 14 tracks, she sets the stage for what will be an undeniable career for years to come.
Ryan Shepard: What's up? How are you?
Joyce Wrice: I'm good. How are you doing?
I'm pretty good. I'm just happy it's Friday
Yeah, happy Friday!
First off, I just wanted to tell you that I really, really enjoyed the album. I think my favorite part about it was that it was just a smooth listen. Even with albums that I typically enjoy, I usually have to skip one or two songs. With Overgrown, it was completely smooth. I didn't have to skip anything.
That's good to hear because sequencing is so important. Cohesiveness is so important. When we were making the album, it got to a point where he had all of these great songs. But since we're making an album and not an EP or a mixtape, we needed to make sure that it's smooth and everything goes well together.
Since we're already here, I guess we can start by talking about Overgrown. I always like to ask artists about the process of turning in the album. At the end of the day, you are the one in charge. So, how do you get to a point where you know you're finished and you're not going to make any more changes to the album?
That's a really good question. I realize that I overthink things and I'm a perfectionist who has commitment issues. I have a hard time letting go of things. I also have a hard time just being consistent with what it takes to get it to where it needs to be. Sometimes I'm just overwhelmed and I want to easily give up.
It can be a lot, but with my A&R, Eddie Fourcell, my best and manager, Jasmine Collier, and my executive producer, D'Mile, I had others ears [listening to the album]. I had honest and trusting people around to help me say, "I'm done making songs for the album. Let's start picking the strongest records. All right, these needs need additional production. This doesn't. It's done. Maybe, this needs to be rewritten." We just started fine-tuning everything. It felt like we were going in the right direction. Then, it just got to a point where we were like, "This is what it needs to be." And now, we're here.
It's interesting that you mentioned the battle of overthinking things internally. Recently, I was listening to a podcast that Marc Lamont Hill did with someone. I can't remember the name of the person right now, but the conversation turned to The Autobiography of Malcolm X. While they were talking about the book, one of them mentioned an agreement between Alex Haley and Malcolm X. Haley made Malcolm X agree that once a chapter of the book had been finished, he wouldn't go back and edit it. Apparently, he made him agree to this because he knew that if he let Malcolm X keep going back and edit things that the book would never be finished. It just made me say to myself, "Wow, we all overthink things. Even the most confident people like Malcolm X overthink their work."
I love that. Because it's taken me two years to finish this album. It's been about a year and a half, almost two [years]. I remember working with different writers and talking to different musicians about the struggles that I was having. I would talk to them about how I wasn't really liking what I was making in the beginning.
This artist by the name of Bosco gave me great advice and wisdom. She said, "You have to get all of that sh*t out. Whether you like it or not, just let it out. When you let it come out, you'll start getting to this place where you'll start to feel right." So, I had to just purge and let everything come out. Now, I'm at a point where I can say, "This is great or this is what I like." When you're creating or working through ideas, there's always going to be times when you're not happy about what the product is. That's just part of the journey. It's just a part of the process. Once you can have gratitude to even be able to creating or having ideas, whether they're sh*tty or not, I feel like that's a blessing too.
When you're creating or working through ideas, there's always going to be times when you're not happy about what the product is. That's just part of the journey.
You mentioned talking to Bosco and different artists about working through different moments of trouble. I wanted to ask you about building a community of artists around you because you're in a lot of different places where people may not realize you are. For example,  Smino made a cameo in the "So So Sick" video, you appeared in Aminé's "Riri" video and you were on Westside Gunn's album. When did you start developing a community of artists that you felt comfortable bouncing ideas off of or going to for advice?
I started doing YouTube covers in high school of Nate Dogg, Pac Div, Dom Kennedy, etc. At the time, L.A. independent artists were putting a lot of music out. It was such….it was a very different time and I was fascinated by it. When I started putting those covers out, Dom Kennedy reached out to me about doing music and a producer that he worked with at the time, Polyester The Saint, also reached out. So, I started making music with them. Organically, I was just in the right places at the right time and I started meeting other artists in my community.
I think that's the beauty of being in L.A. There are a lot of people out here. This is really like where all the musicians and artists are. I've been fortunate enough to build these relationships. Sometimes we talk about music and other times we don't. Some of the people who I know, don't even know that I do music. I just go off of the vibe because being in L.A. and being in the scene, people have ulterior motives. It's really annoying. It's really frustrating and discouraging when people only want to talk to you or be around you because of who you know or what you do. I think it's really important that I create genuine friendships and relationships with people. That has allowed me to build this community of people that are down to be involved in what I'm doing. It's helped me create a safe space for us. It's been really nice. I'm grateful.
I know you're in Los Angeles now, but you're originally from San Diego. On a personal and a professional level, what has that transition been like?
On a professional level, it was the move that I needed to make. I was born and raised in San Diego and I went to college in Orange County. When it was time for me to graduate, I was very hesitant about moving because my parents were not really happy about it. They felt like pursuing music [would be difficult]. It's such a competitive industry and they wanted to know if I was capable of pushing through. They were just worried. As a result, that made me hesitant, but I grew up practicing Buddhism and I grew up with the wisdom that you want to live a life with no regret. You want to live a life where you can follow your dreams and truly, genuinely become happy. For me, that meant going after what it is that I wanted to do, especially being young. Everybody's situation is different, but when you're young, you usually don't have as many bills and other concerns. Even as you get older, I encourage anyone at any age to follow their dreams and do the things that they want to do. But when you're young, I feel like that's the best time to take risks, fail and make mistakes.
On a professional level, I knew it was the best decision I could make. It was hard, but that decision led to what I'm doing now and build the community that I enjoy today. On a personal level, it was difficult because I had no car. I was in an uncomfortable living situation. L.A. is very big and the public transportation is not reliable at all. At the time, I was working at a restaurant that barely had any customers, so they would send me home. Between trains and buses, my commute was three hours each way. It was also discouraging because I wasn't making any money and I was eating peanut butter, jelly sandwiches all of the time. It was so hard, but my Buddhist practice, my friendships and my family helped get through it and brought me to where I am now.
Taking that leap of faith is so important. I related to what you said about chasing your dreams even when you have doubts about what may or may not happen. I had a situation six months after graduating from college. I was living at home. I didn't have much money saved up and I was working a part-time job that I didn't love all the way. Then, I got the call that I had gotten a job offer down in Washington, D.C. Those first few months were hard. Luckily, I didn't have a three-hour commute. I was working 50-55 hours per week. I had to work on the weekends and I was living in this apartment that I hated. I had just gone through a break-up and I was figuring out this student loan bullsh*t. It was tough, but like you said, you've got to stick through the tough times. Look back at that point in your life, what advice would you give your past self about pushing through the tough times?
It would be to get out of my own way. Allow myself to be vulnerable and present in the moment. Don't try to control everything. Try to go to as many sessions and events as possible. Meet as many people as you can because you never know what will come out of those situations. My tendency is to care too much about what other people think, so it was very nerve-wracking to go into studio sessions with people like D'Mile who have worked with Brandy, Beyoncé, Jay-Z and Ty Dolla $ign. It's nerve-wracking to share your ideas and share your story, especially if you write from a personal viewpoint. At first, I was very hesitant and the easy decision is to just say "no" because it felt comfortable. It's a defense mechanism. But I realized that kind of thinking was not going to get me anywhere. Once I realized that, I made the decision to create the most out of every situation. Then, I just put in the work and stopped caring as much about what others think. I also started to learn more from everything I was doing and experiencing. That's when everything shifted for me.
The vulnerability and openness that you write with come through in the music. When I was listening to Overgrown, it felt like I was listening to a friend vent about going back and forth about what they want and whether or not they want to be in a particular relationship. For example, "On One" makes it seem as if your all in on this person and you want more from this situation. Then, "So So Sick" makes it seem as if you're done with this situation and you're moving on. What kind of personal experiences did you have to pull from for this album?
When I worked on the album, "On One" was the first track that I made with D'Mile and DC that felt like we're onto something sonically. At the time, I was going through what I'm talking about in that song. I believe it was 2018 or 2019…I think it was 2018. I was going through this back and forth with someone and for me, music is therapy. These sessions are opportunities to express myself musically. So, I used these sessions to let go of what I was writing in my journal. At first, it was hard. I was so embarrassed to go into a session after I made "So So Sick" and then record a song about wanting to get back with this person. You know what I mean? It was so embarrassing. It was a mess, but I'm just happy that I'm not the only one who goes through this. I'm also happy that I have the platform to tell my story and make music that can resonate with other people so we can get through this together.
What you said made me think of this running joke that I had with my friends. Through my late teens and early 20s, I used to perform poetry, travel and do shows for money. So, I and a lot of other poets that I knew always had to be working on different things and pulling inspiration from various parts of our lives. Whenever one of my friends or I went through a bad break-up or a weird end to a relationship, we'd always joke, "This hurts like hell now, but it will make for a great poem down the line."
It's so sick.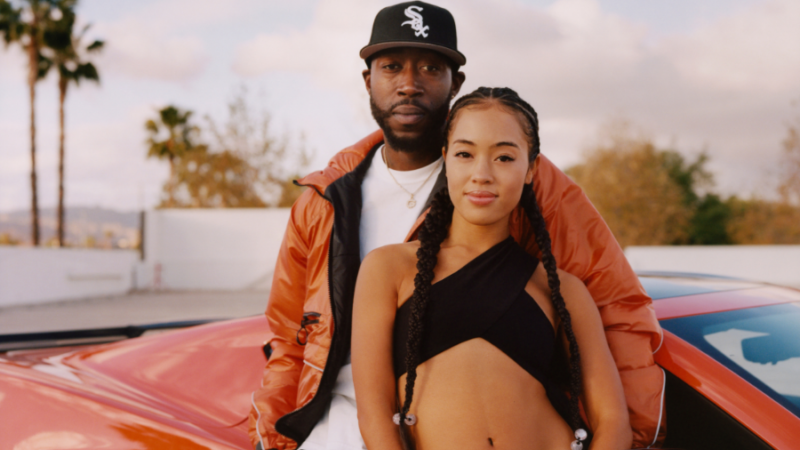 Speaking of "On One," I liked the fact that you put Freddie Gibbs and Westside Gunn on your album because those aren't the rappers that people typically put on R&B songs. It's kind of unfair at times because they are really versatile artists. How did you go about specifically choosing them to be on the album?
My A&R, Eddie Fourcell, who is also Mary J. Blige's A&R, and I love R&B and Hip-Hop. We love bringing those two styles together. I grew up listening to a lot of Missy Elliott, Mariah Carey, Mary J. Blige and Aaliyah. I don't know if I really said that. I'm just a product of what I listened to [growing up].
When I moved to L.A., I started working with rappers. I knew that I wanted to share that part of me on my debut album. I had already been on two records with Westside Gunn. So, these are artists that I'm a fan of and these are artists I've built a working relationship with already.
While I was listening to some of the songs from the album, I was thinking about who could sound good on them or who could contribute something to make it even more special. Then, I would share those thoughts with Eddie and Jasmine. That's how we were able to come up with the features on this album. There are people that I wanted to be on this album that didn't work out as well.
You have a great team around you. From Eddie to Jasmine and beyond, you have talented people around you that help it all come together. One of the people you worked with was D'Mile, who we've mentioned. Being that you grew up a fan of Brandy, how does it feel to work with someone who's worked with her and contributed to her music?
It's crazy. I feel like I'm an emerging artist who has been in the game for a couple of years, but I still have so much to learn. I'll always have so much to learn because I love learning and I love getting better each time. There are so many moments where I ask myself, "Do I belong here? Am I supposed to be here? He's worked with these people and these people." At the end of the day, I just really have gratitude for the opportunity and I understand that this is what was meant for me. I just want to make Brandy proud with the music that I make. I want to continue her legacy and that's the mindset that I have. I'm here to create the best music that I can and have the same impact that they had on people. I want to do that.
You've been influenced by Brandy, Mary J. Blige, Missy Elliott and other legendary artists as well. Over the last year, there have been a number of legendary acts like D'Angelo, Babyface, Teddy Riley, Erykah Badu and Jill Scott that have participated in Verzuz. Are there any artists that you'd like to see do a solo showcase or a battle through Verzuz?
I would love to see Mariah do a Verzuz with somebody. She has so many amazing records. I also heard that they wanted Mary J. Blige to do one. Mary and Mariah might be a good fit for a Verzuz.
That could work.
That could work. I'm not sure, but I would love to see it. I would love to see Mariah on there. I would love to see Mary J. Blige. I think it would be cool for producers like Madlib or Alchemist to do a Verzuz. One like that would be really dope. I miss the Verzuz that were like how you and I are talking though. I'm not really crazy about the new setup. It looks too clean. I liked it when Jill Scott and Erykah Badu did theirs. That was cool.
My favorite Verzuz was probably the one between Sean Garrett and The Dream. The music was good, but I was there for the antics.
Oh, my God. I'm so glad that I witnessed that.
"My goal is to make the impossible possible."
Bringing everything back to your album, I just have one last question. When your album comes out, what would a successful release look like to you? Would it be receiving a text from a friend or family member telling you how amazing it is? Would it be a certain number of streams in the first week? What does success look like to you?
I would love to host an album release party, but we're in a pandemic. I'm thinking about doing one virtually and I'm thinking about doing a full-on live performance of the whole album. I don't know how I'm going to do it, but I'm going to figure it out because I want to give people a live experience of the album with dancers and live instrumentation.
Also, I would love for my album to be nominated for "Album of the Year" at the GRAMMYs, American Music Awards, MTV Awards, Soul Train Awards, etc. I would love it if artists that I listened to like Mariah Carey or Jazmine Sullivan loved the album. That would be amazing. I want to be number one on the f*cking Billboard charts for four consecutive months, Ryan. I would love to just make the impossible possible. Some of those things seem impossible, but my goal is to make the impossible possible.
I'm just grateful to have an amazing team that has my best interests at heart and cane be honest with me. They've pushed me to be the best artist that I can be. That's how I'm able to do what it is that I'm doing. Having great music is a part of it, but having good people around you that can help you stay on track and execute it properly is really important.