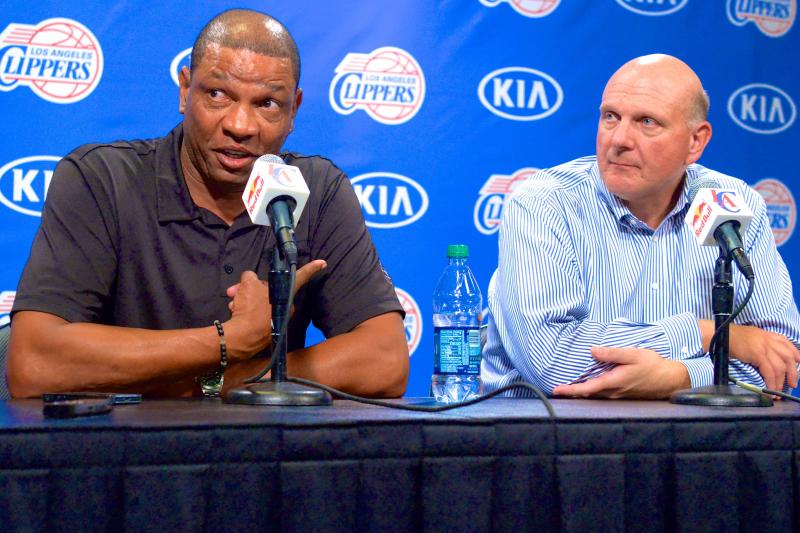 Doc Rivers and Los Angeles Clippers owner Steve Ballmer have reportedly agreed to an extension for Rivers to continue in his role as Head Coach. As rumors had been circulating around Rivers' future with the Clippers, especially in regards to filling the expected coaching vacancy with the Los Angeles Lakers next season, ESPN's Ohm Youngmisuk has made it clear that Rivers intends to stay put.
Doc Rivers puts an end to any speculation of him and the Lakers coaching job by saying that he and Steve Balmer have agreed earlier this season to a new extension that still needs paperwork to be finalized. But Rivers, who had an option out of his… https://t.co/XGT7I4iqe3

— Ohm Youngmisuk (@NotoriousOHM) March 20, 2019
Steve Ballmer and Doc Rivers did a short extension over the summer that allowed both sides a chance to escape deal in 2019. As Rivers told reporters, that's been replaced with a longer-term deal. For Rivers, Lakers were never a consideration. He wanted to crush that talk today.

— Adrian Wojnarowski (@wojespn) March 20, 2019
Doc Rivers previously signed an extension to his contract last year, which gave him the ability to opt out of his contract at the end of the current season. Given his team's success in spite of trading away their best player from the first half of the season, Tobias Harris, Rivers seems eager to stay on to oversee the development of young players such as Ivica Zubac and Shai Gilgeous-Alexander.
"I'm going nowhere. I'm going to be here until Steve [Ballmer] says get out."

– Doc Rivers comments on his future with the @LAClippers pic.twitter.com/Sni7Ig6CRF

— NBA TV (@NBATV) March 20, 2019
The Los Angeles Clippers currently sit eighth in the Western Conference with a record of 41-30, with Doc Rivers most recently making headlines for a bizarre situation in which he was ejected simultaneously with Chicago Bulls Head Coach Jim Boylen.
Doc Rivers and Jim Boylen got ejected at the same damn time ? pic.twitter.com/u4GE4eqVg7

— Def Pen Hoops (@DefPenHoops) March 16, 2019