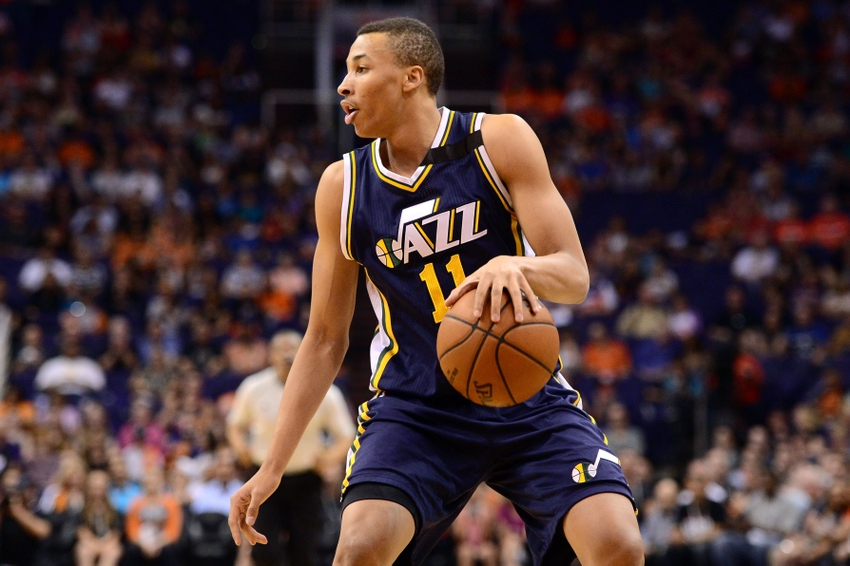 Dante Exum's young career has been plagued with injury, but the Utah Jazz are still intent on bringing him back and helping him realize his potential. Adrian Wojnarowski of ESPN reports that Exum has agreed to a contract extension with Utah on Tuesday.
Utah Jazz restricted free agent Dante Exum has agreed to a three-year, $33M contract extension, league sources tell ESPN
Exum was drafted by the Utah Jazz with the fifth pick in 2014 and played in all 82 games his rookie season. However, in 2015 Exum tore his anterior cruciate ligament in his left knee playing for the Australian national team and missed the entire 2015 season. The young guard bounced back in the 2016 season, but injury troubles bit him again in the preseason of 2017. Exum left the game after suffering a shoulder injury that required surgery. The rcovery process ate up most of last season, leaving him with only 14 games played on the year.
Despite the injuries, Exum has shown flashes of his potential on the court, and the Jazz show their belief in his potential by extending his contract past the original rookie deal. Exum is the third point guard on the roster alongside starter Ricky Rubio, and backup Raul Neto who was also extended today.
In the free agency market this off-season $11 million dollars is a commanding offer. The fact that the Jazz offered Exum such a deal in extending him shows their commitment to maintaining their core players, and strong locker room atmosphere. Behind Rudy Gobert and rookie phenom Donovan Mitchell, the Jazz will look for another playoff run this upcoming season, and with any luck Exum will be around to be a part of the entire campaign this season. Despite the injury, Exum's stats per 36 minutes were quite good, averaging 17.5 points, 6.6 assists, and 4.0 rebounds per 36. With health and an expanded role, expect Dante Exum to be a contributing role player to Utah's success.