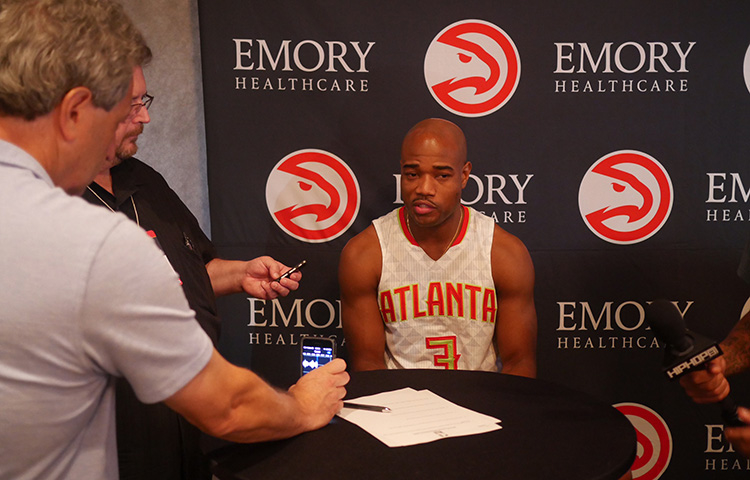 The Atlanta Hawks have waived 32-year-old point guard Jarrett Jack, reports Chris Vivlamore of the Atlanta Journal-Constitution:
The Hawks waived veteran Jarrett Jack on Thursday. The release of the veteran point guard, who has been unable to practice as he returns from torn right knee ligaments, reduced the training-camp roster to 17 players.
Jack, who tore his ACL while playing for the Brooklyn Nets last season, missed all seven of the Hawks' preseason games. Jack agreed to a one-year deal at the veteran's minimum with the Hawks this summer after being waived by the Nets.
This was viewed as a good signing for Atlanta, as they needed a backup point guard after trading Jeff Teague to the Indiana Pacers and moving last season's backup Dennis Schröder up to starter in the depth chart.
Waiving Jack seems like an odd move. He's certainly a capable player; last season for the Nets he averaged 12.8 points and 7.4 assists per game. The fact that the Hawks have given up on him so quickly may be indicative of a complication in Jack's recovery.
If he does get healthy, though, Jack will likely be snatched up by a team before long. Teams that could benefit from signing a backup point guard include the Cleveland Cavaliers, the Milwaukee Bucks, the Washington Wizards, the Oklahoma City Thunder, the Portland Trail Blazers (unless they plan on using Evan Turner in that role), and the Houston Rockets.
The Hawks will likely need a new backup point guard, as the only point guard on the roster other than Dennis Schröder is now 27-year-old rookie Malcolm Delaney.