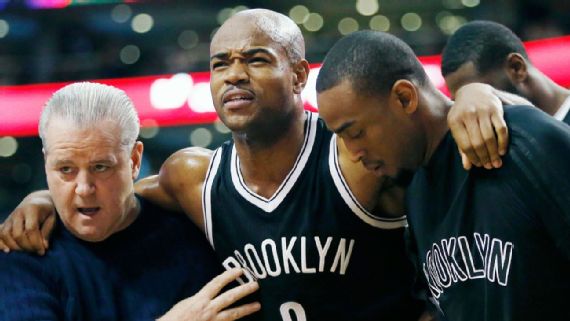 Brooklyn Nets point guard Jarrett Jack went down in the second quarter of yesterday's game vs. the Boston Celtics. Jack described it as the "worst pain [he had] ever felt," so it's no surprise that it was a serious injury. From the Nets' official press release:
Brooklyn Nets guard Jarrett Jack has been diagnosed with a torn anterior cruciate ligament and small medial meniscus tear in his right knee. The injury occurred during the second half of the Nets' game at Boston on Saturday, January 2. Jack will miss the remainder of the season and will undergo surgery on a date that has yet to be determined.
That's a tough one for Brooklyn, and you have to feel for Jack. We've seen countless players tear their ACLs, and the road to recovery won't be an easy one.
Jack's injury puts a sour note on what was a huge win for Brooklyn yesterday, beating the Celtics in Boston yesterday.
Jack had been a part of Brooklyn's team this season. He's averaged 12.8 points, 4.3 rebounds, and 7.4 assists per game as the Nets' primary playmaker. With Jack out, the team's point guard situation looks rather bleak. Their starting point guard will likely be third year guard out of Miami University Shane Larkin. Larkin, who was selected 18th over all in the 2013 draft, has a bright future ahead of him. He compensates for his lack of size with quickness and good passing instincts. However, he's not a starting-caliber point guard at the moment. The only other point guard on the roster is Donald Sloan.
I would imagine that the Nets will bring up a point guard from the D-League, for the sake of depth if nothing else. Having two active point guards on the roster probably isn't ideal.