The Atlanta Hawks are refusing to hedge their bets and undertake a rebuild with the hopes of the recouping the benefits of the process on the backend. The Hawks are entering next season – their 50th in the city of Atlanta – with a simple but powerful mantra: "tomorrow starts today."
For some teams in the league, like the Hawks, the season will be about how well they can progress in their new team strategy and team mold. The Hawks have somewhat of a luxury in being able to continue to focus on the days and years ahead while shrewdly creating a roster and environment that's an all-new venture from the norm.
"Ten years from now we're going to be looking back over the last ten years and we're going to be enormously proud of the franchise that we built," said Hawks principal owner Tony Ressler during the team's season preview celebration.
The Hawks are taking an intelligent approach to their roster reconstruction under General Manager Travis Schlenk. The measured and calculated Schlenk is not swinging for the fences with any of his personnel moves, but instead is taking a long view and is carefully putting together a roster that can foster chemistry on and off the court.
For the past decade, beginning with the drafting of All-Star forward Al Horford in 20008, the Hawks have had a level of on-court success that is hard to replicate but can easily breed complacency. When the Hawks brought in Schlenk, the vision was that the team needed a fresh view with a new direction. This new direction is right in line with the groundbreaking renovations to Philips Arena — now renamed State Farm Arena after the company bought the naming rights for the next 20 years —  and the new, young roster.
The Hawks are of no illusions that their path back to being consistent a playoff contender will be a quick one. This new Hawks paradigm will rest on the shoulders of extremely young talented players.
Second-year player John Collins, third-year swingman Taurean Prince, and 2018 fifth-overall pick Trae Young. Omari Spellman and Kevin Huerter, both of whom were also drafted this past June,  could also have a significant part in the shaping of the future of the Hawks.
Atlanta owns the Mavericks' 2019 first-round pick that is top five protected that the team procured in the Trae Young draft night deal along with the Cavaliers first-round pick that is top-ten protected.  In all, the Hawks could be looking at having three first-round picks in the 2019 NBA draft.
The Hawks have all the incentive in the world to take their time and make incremental gains as the season goes on. For the entire summer, the Hawks front office and players have preached the practice of building chemistry not just on the court but off as well and how important it is for the team to blend and be one accord.
The 2018-19 season for the Hawks will be a big one for Collins in particular. With a new coach and new offense, Collins will likely be expected to change his game under Lloyd Pierce while also setting an example for the rest of the team.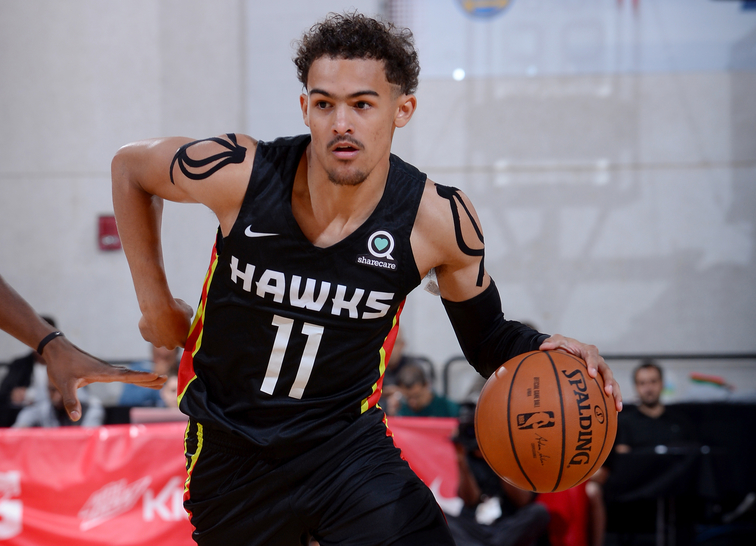 "The system coach LP has, it's a little different [from Mike Budenholzer's]," Collins said. "I mean, every coach isn't going to be the same, there's going to be some similarities. It's just about learning new terms, and new phrases, not every coach uses the same terminology as other guys so when we get that under control, everything is just gravy after that."
"He does want different stuff in the offense, I'm going to play a different way, but at this level, I got to adapt or else I can't stay on the court. Coach is going to give us some learning curve time, but we've got to pick it up."
After a generally successful rookie campaign, where he earned a spot on the All-Rookie Team, and the departure of Dennis Schroder via trade to Oklahoma City, Collins is now looked at a leader on this squad.
Deservedly so, Young will be the focus of fans and everyone who is interested in watching the fifth overall pick perform in a professional setting. It is important to note that the Hawks are not placing any pressure on Young to match his performance to his hype coming into his rookie season.
"We've seen already [in Summer League], Trae has one bad game he's a bust, then he hits seven threes and all of sudden he's an All-Star," Schlenk said while addressing the crowd during the Hawks' season preview celebration. "It took Steph Curry, when I was with Golden State, three years. It was the fourth year that he started to put it together. Every night you're going against a different style of player [and] you're learning the league."
The only thing that may be consistent about Young's season is that it will change constantly. The real test will be how he responds to those changes. In his lone year at Oklahoma, Young shot 40 percent or better for the first three months of the season. During the latter part of the year, as teams looked to defend him in different ways, his three-point shooting dipped drastically over the last two months of the year.
Young is likely to encounter a similar shift in the NBA, but on a more elevated level, especially in the event Young can get a good feel for his offense early and gets in a comfortable groove. Young noted that he is ready for those types of challenges and that his experience at Oklahoma helped to prepare him for the extra attention during his pre-draft workout in Atlanta.
"I think for  [Young] it's just to see the growth and how to handle situations," Schlenk told reporters. "Starting to learn how the game is officiated, starting to learn how different teams play defense, starting to read situations quickly before they develop. He's got a great knack for that already, but it's going to be at a different pace and getting used to the pace of the game."
One thing that Young showed at Oklahoma, and during his struggles in Summer league, was that his passing is so developed that he can lean on making plays for his team when the defense loads up on him. Schlenk, on draft night, following the trade with the Dallas Mavericks, lauded Young's playmaking calling he and Maverick Luka Doncic the "two best playmakers in the draft."
Young led the nation in assists in his one year at Oklahoma, and that was one of the determining factors in the Hawks decision to make the draft night deal to acquire the electric point guard.
"Obviously [Young] gets a lot of notoriety for his long-range shooting, but I think his ability to pass the ball is what we really liked about him," Schlenk said of Young on draft night.
Young will continue to develop as the season goes along, but the evolution of Collins will be the theme of next season.
Any stagnation or lack of measurable improvement could be somewhat concerning. Collins is a versatile big man, averaging 10.3 points, 7.3 rebounds and making 69 percent of his shots in the restricted area last season, with the potential of forming a lethal pick-and-roll duo with Young.
Collins specifically noted that his versatility is a major point of emphasis this summer for him as he looks to ingratiate himself in Lloyd Pierce's style of coaching he's bringing to the team.
"I've had a lot of time to just figure stuff out during the summer, Collins said. "I think that's what the summer is really good for after a rookie year, analyzing what you've done and going back and forth and looking at what you've got to do to move forward. And I think now I know what I have to do and now it's about executing it and getting it right for the season."
His three-point shooting is one aspect of his game that could look to see a bit of a jump. His 34 percent on a modest 47 attempts total last season is a promising foundation for the athletic forward to stretch his game and allow for the Hawks to play a more modern style of basketball.
Collins himself admitted that he is working on his shooting for next season, as well as his ability to drive to the basket and make plays for himself and his teammates. Collins told reporters that he is confident in his shooting mechanics, and is working on his confidence to shoot them in-game.
"Last year we saw John have a very productive rookie season," Schlenk said.  "He started the season mainly finishing around the basket, but by the end of the year, he was able to step out and hit corner shots. This year we're with Trae, we're going to look for the rookie and John to establish chemistry in pick-and-rolls."
Collins role off the court as a Hawks ambassador should look to be more prominent as well.
Kent Bazemore, who by all accounts, his own included, is excited about his place on the team and should be a calming factor in what could be become a whirlwind experience for the young talent.
The additions of Jeremy Lin and Vince Carter were no accident or miscalculation of how much they will be able to contribute to a team. Carter will be 41 when the season starts, and Lin is coming off the worst injury of his career that kept him away from the action for 81 games. Lin, however, is expected to start, but the starting point guard position for the Hawks is quite fluid at this point.
With both of those players, they have dealt with and have seen vast amounts of fame and the constant fluctuations of life in the NBA, but have remained consummate professionals and ambassadors for the league, and Schlenk understands the value in that. The respect they command in locker rooms across the league is an unquantifiable skill but can have an invaluable impact on a young team that is sure to be scrutinized closely.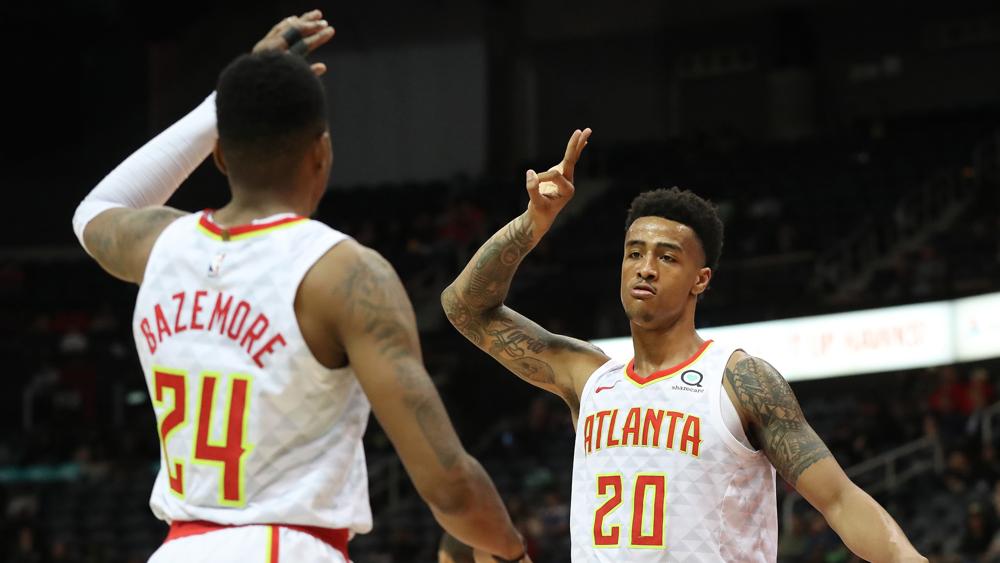 "With these older guys, it's very important to have veteran guys to teach these young guys how to be pros on the court but also off the court,"  Schlenk said. "They're thrown with so much now [that they're] out of school, [and] we ask them to be in the facility maybe five, six hours a day. That gives them maybe 18 hours a day where they have to make decisions on how to live their life."
The real achievement for the Hawks this next season would be how well they can hold each other accountable and keep each other engaged during what will likely be a season filled with more losses than wins. The organization as a whole has preached patience, and with a level of excitement entering next season that's almost unusual for a team in the early stages of a rebuild, patience from the front office to the fans will be paramount.
The Atlanta Hawks will be enjoying a resurgence of their team in ways that impact the team both on the court in State Farm Arena and with the fans in the community. Atlanta's rebuild is not one that is focused on the team itself, but one that is actively trying to rebuild its relationship with the city and fans across the country.
"We want to build to a team the city and the community the team can be proud of," Schlenk said.  "We want to have, as I've stated since I got here, we want to have high character guys, we going to get back to being involved in the community, that's very important to us. We want to play an exciting brand of basketball; we want people to come to the Arena and have fun. We're making a world-class facility, and it's our job to put a world-class product on the floor. So that's really what it boils down to."