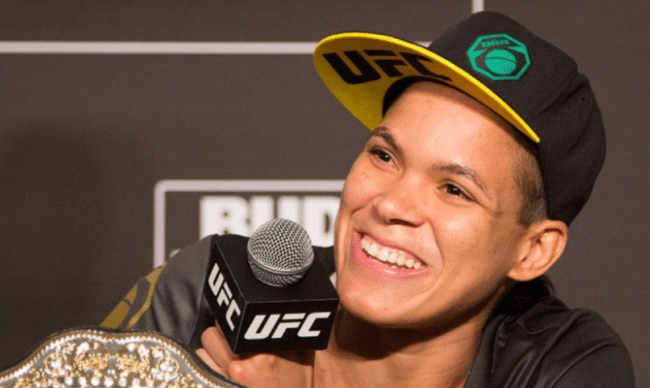 The last time we saw Amanda Nunes in the Octagon, she was defending her UFC Women's Bantamweight championship belt while giving Ronda Rousey a 48-second beat down.
Despite demolishing Rousey in December and former bantamweight champion Miesha Tate last July, many still feel Nunes has too many holes in her game to become as dominate of a champion in the division as Rousey was. Though this bothers her loyal fan base and members in her camp, the champion isn't worried about anything her critics have to say.
"I'm the kind of fighter that has to keep improving, and it's a good challenge for me to get in the gym every day and keep improving while proving each day why I'm the champion," Nunes said at UFC 213 Media Day. "No matter what people say, I've kept the same mindset as I always had to defend my belt against Ronda. Now I'm at my next fight which is another big stage that I plan on walking away with my belt once again."
Nunes hasn't basked in the glory of the best performance of her UFC career. Instead, she's been hard at work at the AMA Fight Club MMA Masters formerly known as the American Top Team training facility in Coconut Creek, Florida preparing to defend her belt against Valentina Shevchenko at UFC 213. Even though Nunes defeated Shevchenko by unanimous decision at UFC 196, she comes into her second title defense as a slight underdog.
The reason for the slight from the betting public you might ask, is because many people feel that Shevchenko will take Nunes who has a questionable gas tank into deep waters and will expose her and become a new champion. Though this has been the running narrative during "Fight Week" this week, count UFC fighter and Nunes' girlfriend, Nina Ansaroff, as one she feels won't go long and the "Lioness" will remain champ.
"I feel strongly she will finish her in the second round by strikes and we will hear "And Still" Ansaroff said. "I've never seen someone take over the role of a champion with so much determination because Amanda lives being a champion every day and will prove it again Saturday at UFC 213."