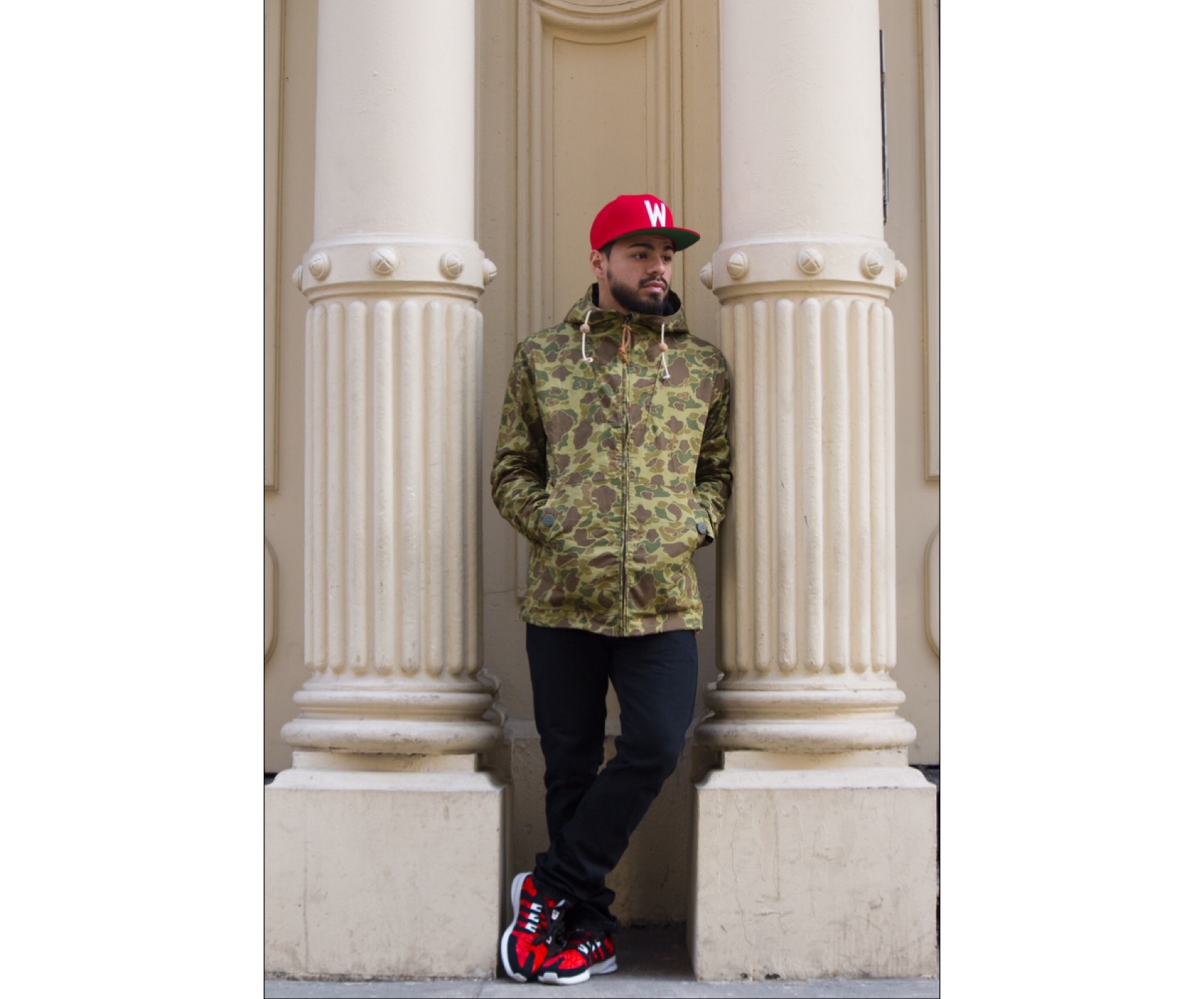 Over the past 2 years, a good brother named Swoosh has been stepping up trying to give back to the community in any way possible. Since July of 2013 Swoosh has put together three Hoops Showdown tournaments and recently the first Flag football Showdown. Recently I got a chance to sit down with the man behind the Showdown and bring you into his world.
DPR: First things first, I want to salute you on you on your journey so far, but for everyone out there not hip, who is Swoosh?
Swoosh: Appreciate that family. Swoosh is just a regular guy who's into sports and sneakers(that's how I got my nickname). I've probably called you an ugly NBA players face before (laughs). I just enjoy making people smile and laugh man. I get that sh*t from my parents.
DPR: Hoops Showdown, started in 2013? What made you go out and start Hoops Showdown up? What was that turning point for you?
Swoosh: My first Hoops Showdown actually was July 21st of 2013. I always wanted to start my own tournament but the push came from when I hurt my ankle pretty bad and couldn't play for about a year. In order to take my mind off the game a bit I attended a lot of social events my friends were hosting and thought to myself "Hmm I think I can all these people to attend my event". I met a lot of new people that spring/summer with creative minds and decided to give it a shot. I sent out a text, tweet and IG post and within a couple of weeks I had 8 teams and over 100 spectators.
That was the turning point for me. Once I saw how many spectators came out to support and have fun I knew I had something with this project. I knew I couldn't let it just slip away.
DPR: How has the support been from family to friends to fans of Hoops Showdown?
Swoosh: The support has been awesome man. From family to friends, everyone pretty much basically told me "say no more whatever you need we got you". You know, my close friends believed in me since day one so I was never scared to fail. The words of encouragement definitely help with the jitters I get the day before the tournament. As much as I love that from them it's a better feeling when someone I don't know comes up to me to introduce themselves and to thank me for having the event. It's like.. this person doesn't know me so they don't owe me anything at all so for them to show up is a great feeling. That right there is why I do this. I do it for the people.
Funny story my Spring Hoops Showdown in June of this year was in Harlem. I hired security just in case things got crazy. So during the event these 3 goons come up to me and ask "this your tournament?" and I'm saying to myself "oh sh*t they bout to press me at my own tournament" (laughs). Instead they said "yo this park has NEVER been this crowded and we appreciate you for having it here for the kids to have something to enjoy". Harlem showed me love that day, they'll always have a special place in my heart.
DPR: You were invited to State-farm's Neighborhood Sessions recently, what was that feeling like? To see some of your work paying off?
Swoosh: Yo that was crazy! To receive an invitation that had Steve Stoute and Jennifer Lopez signature on the bottom is still such a "wow" moment for me. It was held in Orchard Beach in The Bronx which I spent a lot of my childhood whether it was at the actual beach or playing/watching the Hoops in The Sun tournament. My friends saw picture on the screen before I did so they were blowing up my phone super hype. My picture
was on the Jumbotron amongst other well-known folks from The Bronx how cool is that? I won't lie I felt fake famous for like a good 10 minutes. (laughs)
DPR: Must have been a super surreal moment for you, but how happy were your parents for you and seeing your hard work paying off so quick?
Swoosh: I heard my mom teared up pretty heavy but she's too strong of a woman to cry in front of other people. My pops couldn't make it but he called me and said I look like John Leguizamo in the picture they used (I get my jokes from him) and he told me "You're picking up where your grandmother left off, I'm sure she's looking down on you extremely proud. My grandmother passed away from cancer years back and she was big on community work so you can say I'm holding it down for her.
Just like me, they cant believe how fast this whole thing has taken off. It's actually scary… Sometimes I sit in front of my whiteboard and say "Wow how am I already planning for an event that's 6 months away?". That's what comes with this territory and this is what I really want to do so I'm ready and prepared for it
DPR: You recently had your first Flag Football Showdown, how did that turn out?
Swoosh: The Flag Showdown actually turned out better than I imagined. I thought it'll be mediocre because I decided to do it very last-minute. I brought my childhood friend @RedHeadLen in with me on this one just to get another creative mind involved and it turned out great. We had four teams made up of groups that have been pretty much running the party scene for the past couple years. We had @Apt78, @BrunchBounce, @WorldFamousNYC and ITYB all participate in the tournament. World Famous which is the team I played for won the championship of course.
DPR: You did a food drive along with the Showdown, what inspired you to do that? Very dope move I must say.
Swoosh: Each of my events have had proceeds go to a charity. Since this one was so last-minute I couldn't really think of themes to use. Our friends Candace and Erika brought up the idea of doing a food drive to help feed families for Thanksgiving. I loved the idea and so did my partner Lenny. We set up drop off locations and we collected about 100lbs of food to donate to City Harvest of New York.
DPR: So every Hoops Showdown went towards a charity? Since Flag was with City Harvest/ a food drive, what did the previous three go towards?

Swoosh: My very first tournament donations went towards the American Cancer Society, second tournament we raised over $400 for Breast Cancer Awareness and the third one we were able to put three kids into 4-day basketball camp held by pro ball player Lamont "Momo" Jones. He used to play at Arizona then transferred to Iona and now he plays overseas. My boy Jus Smith plugged me in with him and I told him what I was trying to do and he was all for it. We had a contest on Instagram and had kids send in a picture of themselves and a message as to why they deserve a spot at the camp. At first we were only supposed to send one kid but all the stories were dope so I ended up sending three of them..
DPR: For anybody looking to walk along you with charities, what's the best way to contact you?
Swoosh: You can shoot me an email [email protected] or contact me on Twitter/IG @swoosh163. I'm always willing to work with others and pretty accessible so if you see me at an event you can always come chop it up with me. I'm not Hollywood, yet. (laughs)
DPR: I see you're participating in a Toy Drive for this holiday season, how did that come about?
Swoosh: Two of my friends (@PlainJo & @SpicerellaMYC) who are also big time Hoops Showdown supporters approached me about it and I thought it was a great idea. Ice skating is something I haven't done in years and its going to benefit the children of Montefiore Hospital so it's really a win-win situation. It is going to be held at Chelsea Piers Skate Ring on Dec 21st from 1-3pmthe list closes on the 19th. $20 donation gets you on the ice to show off your "Blades of Glory" moves. (laughs)
DPR: So what's next for you & Hoops Showdown? Is there a date set for the next event?
Swoosh: Hopefully the sky man.. I really want to keep the ball rolling with Hoops Showdown. Aiming to host a winter one in February and a HUGE one in May which I can't reveal details yet but it will be somewhere where there are palm trees (laughs). I just want to keep the smiles coming in and connecting people through sports and charities. That's all.