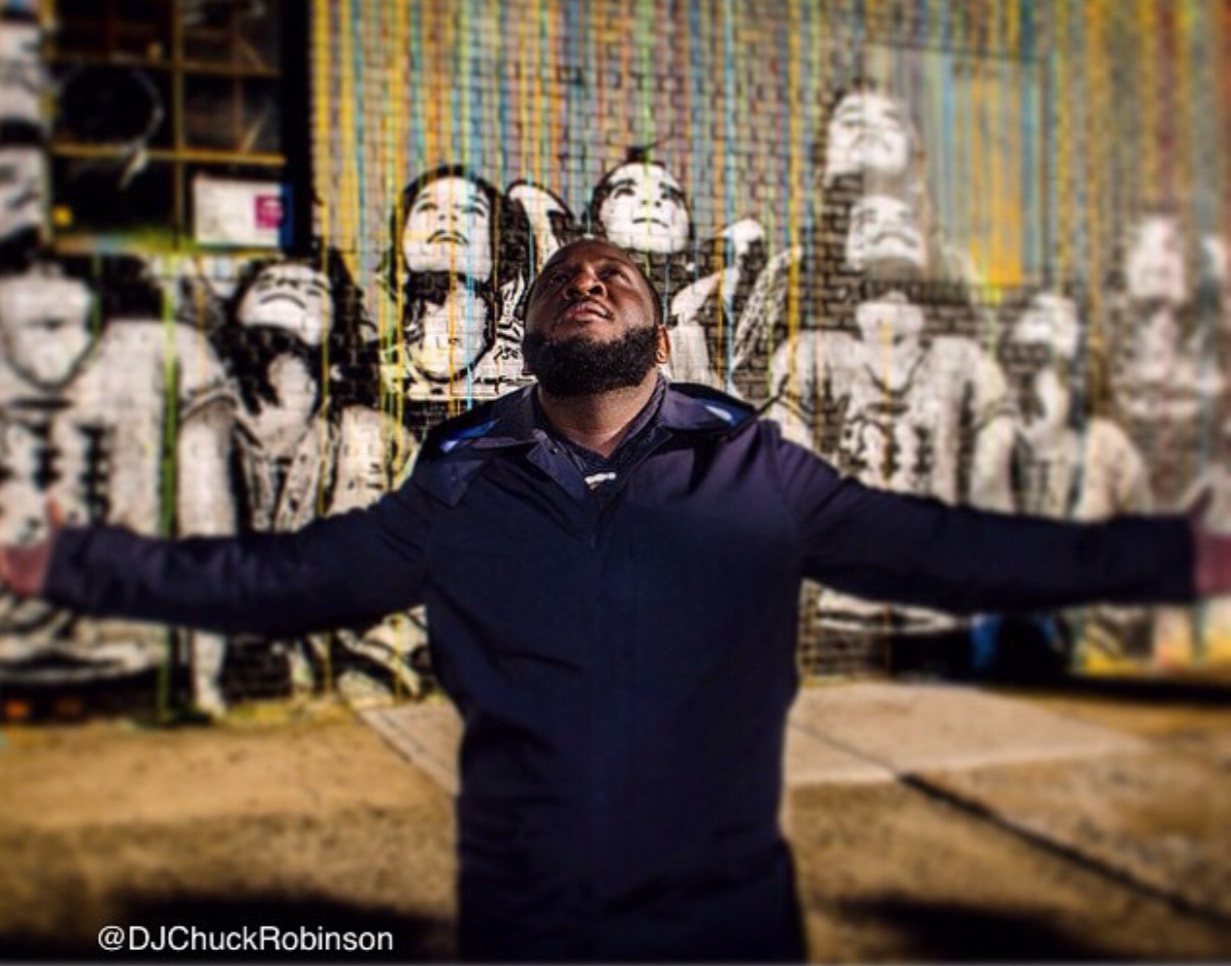 Over this past week Harlem artist, Jus Smith released two records with two different sounds. I had the pleasure of being invited to the session where these records, "Lit" and "Right Or Wrong" were recorded. After hearing the two me and Jus got together and chopped it up to talk about his journey and everything he sets out to accomplish.
DPR: For those that don't know. Who is Jus Smith?
Jus: For those who don't know Jus Smith is ambition and greatness rolled in one. A kid from the Eastside of Harlem making his dreams come true.
DPR: Alright, so what inspired you to step in the booth for the first time?
Jus: I always just had a passion for music although my first love was basketball. I used to play around rapping a lot on a karaoke machine to instrumentals with my right hand man Jamie. For whatever reason I always had the ability to rap and say crazy lines. We used to play around growing up making up fake record labels amongst us and always battle in the hood. Even though we were playing around, I couldn't help but notice how people reacted to what I was saying. Long story short, once I started going in the studio it became like a sanctuary to me and I didn't want to leave that place. I felt like I can always paint the pictures and put my side of town on the map, and be that voice.
DPR: And with being that voice, what exactly do you set out to voice?
Jus: I set out to voice everyday life, past and present. The pain we have experienced, the pain we are experiencing. The celebration of victory , the struggles, our way of life. We honestly never really had a rapper or anything of that nature make it mainstream so a lot of people don't know about our side of town when you're talking about a broad audience so why not be a first and begin a pipeline because there is definitely talent over there from rapping to basketball. At the end of the day, it's just painting that picture so that people can get a understanding of our way of thinking and living.
DPR: Now, let's come to the present day, at the end of October you dropped 'No Playbook', a crazy record, how did that come about?
Jus: No Playbook came about pretty much at random kinda. Var was working on the beat already and just hit me like " yo you, Dave East and Tips on this beat I'm working on." I got the beat, I hit Dave and Tips, booked the session, they came through as they said they would, cooked up right there and the rest is history.
DPR: Will we be getting a visual for No Playbook?
Jus: Yes, there will be a visual for "No Playbook". Its pretty much a matter of schedule but it'll be done.
DPR: You recently went on a little musical hiatus, was that planned or did it just happen?
Jus: The hiatus for the most part just happened. For one Var Ez moved out of NY, even tho we're still able to do things now with him being away, nobody couldn't replace what he brought to the table. Besides that it became a real tough year for me personally, probably was the toughest of my life thus far. I never lost the passion for music but my head just wasn't there at the time. Then you add on not having any solid producers around to even make music, I didn't want to make music just cause. Settling is something I don't do. So I just focused on getting myself back on the right track mentally and getting my life right as well.
DPR: That's good to hear, now last week you dropped two records, one being 'Lit', how have the fans been receptive to it?
Jus: The fans are showing me a lot of love right now for "Lit". One of the things that I'm loving is how people are noticing my growth as an artist because I honestly feel that right now I'm making the best music I have ever made. They're noticing how my flow is improving, wordplay. So it's been all positive reviews for "Lit"
DPR: You think you can chalk up your growth & your best music at the moment to the hiatus & things you've had to deal with over the last year or so?
Jus: Without a doubt I can credit my growth to the hiatus. I don't write my music so therefore when I'm listening to a beat and preparing my verses, I start to relive those moments that I'm talking about. Furthermore it gives me more to talk about and allows me to show my versatility and give the listeners an array of topics coming from me.
DPR: The second song you dropped was "Right Or Wrong", how did the concept come about?
Jus: Right Or Wrong was produced by Drethaoneda fresh from Compton. He's been rocking out with me since about my second mixtape. So he basically just sent it over told me he had a crazy one for me and I went to work on it. Soon as I got it I already knew what to do with it and I think I actually finished it like within the hour that he sent it to me. It was like a perfect lob man. Everyone I let hear the record couldn't believe that somebody from Compton made that.
DPR: Real reminiscent of that NY sound people have been craving for to come back to hip-hop, talk about the fans reception to that record.
Jus: Like you said its definitely very reminiscent of that NY in the 90's sound. All of the fans feel like this is my best work yet and that I'm starting to find the alley I need to go up in. I didn't get not one negative piece of feedback on the song and everyone feels its that "IT" song for me and that my flow and bars are gradually continuing to progress. I can definitely say while i was recording it I felt it without a doubt so now its just about continuing to get better and pushing out that great quality of music.
DPR: To change gears, what do you set out to accomplish with your music? What do you want fans to take away from your music?
Jus: I want to be great and legendary. I want to put the Eastside (Lex Ave) on the Globe and give back to my community. I want to provide the opportunity for my family to see the world and live with no worries. I want my fans to be able to grow with me, cry with me, laugh with me, party with me, feel my pain and smile with me. One of the main things they can take away is never giving up and continuously striving for greatness. Them just knowing and feeling that I'm giving it my all whenever i step in that booth.
DPR: Aside from getting your family to a better life, it seems as putting on for Lex Ave is a main focus. What does Lex Ave mean to you? And how do you see yourself giving back?
Jus: Lex Ave means everything to me. Lex Ave is who I am, from the way I speak to the way I leave my laces untied in my footwear. Lex Ave raised me and taught me so much whether I had to learn it the hard way or the easy way. From the laughs to the tears, Lex Ave runs in my veins. I honestly want to give back by building a community center and fixing up some of our not so glamorous parts of the hood. Giving back on holidays, helping put kids through school, just showing them that you can make it out.
DPR: Alright, so what's next for Jus Smith? What does the future hold?
Jus: Next for Jus Smith, I'm just going to keep applying pressure with the music and most of all just having fun with it. I don't really want to date or label anything, just want things to come to me naturally without trying to force it and make great music.
DPR: Before we wrap this up, what are some of your thoughts on the non-indictments of police officers killing unarmed civilians?
Jus: My thoughts… Its a mixed range of emotions man. Frustration, disappointment and sadness. The Mike Brown situation honestly hit me. I'm a father to be now so I analyze situations differently. So I couldn't imagine being the parent of these victims and not getting any type of justice. I found myself thinking if I have a son, what do I tell him? How do I protect him? How do I tell him those who are supposed to protect and serve are more than likely to harm him just cause? I can go on for days but it just shocked me as to how they can just get away with so much and its as if we don't matter. Its just sad because its not much we can do about it not even when we react peacefully. So I'm not even mad at how people are reacting. It's just scary to know that there will more than likely be more of these situations with a life lost and no consequence.