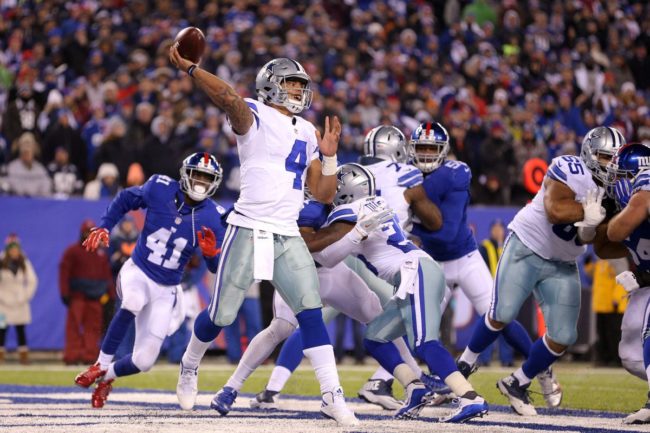 With the recent natural disasters and horrendous events caused by mother nature, it seems unreasonable to focus on something as simple as sports and the NFL regular season. But isn't that what sports are…a fun distraction? If by reading this I have distracted for you merely a few minutes, then it's worth it.
The 2017 NFL regular season kicked off with a bang. Week one was filled with remarkable catches, impossible leaps, and tough-nosed tackling. However, it should be noted that overall the league played extremely sloppy – it felt like another week of preseason games.
In addition to the latest news and observations, at the end of each recap, I include a Def Pen Sports "mini-mailbag". If you want your questions answered in the "mini-mailbag", tweet them to @the7threport. I select a few questions each week to answer and provide thoughtful analysis and insight on.
Below is everything you missed from week one.
NFL Week One Injuries
An unhealthy amount of NFL players went down in week one. For a complete list of players and their injuries, read here. In addition to this list, Caleb Sturgis, kicker for the Philadelphia Eagles, will reportedly miss several weeks.
#Eagles K Caleb Sturgis is expected to miss several weeks with a quad strain in is plant leg, sources say. Kicker workouts coming.

— Ian Rapoport (@RapSheet) September 11, 2017
The official ruling has surfaced about Reuben Foster's injury as well.
#49ers rookie LB Reuben Foster had a high-ankle sprain, based on the preliminary diagnosis, per sources. More tests coming. Will miss time

— Ian Rapoport (@RapSheet) September 11, 2017
Add another player to this list – Jonathan Cyprien. According to Jim Wyatt at Titans Online, Cyrpien is expected to miss "several weeks" due to a hamstring injury. Cyrpien is in his first season with the Titans after playing several years for the Jacksonville Jaguars.
Week One Awards
Offensive Player of the Week: Kareem Hunt – RB – Kansas City Chiefs
The offensive player of the week is Kareem Hunt, rookie running back for the Kansas City Chiefs. In his first play from scrimmage, Hunt fumbled with New England recovering. Can you blame the guy? A rookie running back playing in the opening game of the regular season against the reigning Super Bowl champions – that's a tall order.
He clearly learned from his mistake. Hunt finished with 246 yards from scrimmage and found the end zone three times.
HAVE A DAY, @Kareemhunt7! #ChiefsKingdom #KCvsNE pic.twitter.com/d8grCluXzQ

— NFL (@NFL) September 8, 2017
Well done, @Kareemhunt7! #ChiefsKingdom pic.twitter.com/1rBN9KzJ2B

— NFL (@NFL) September 8, 2017
Defensive Player of the Week: Calais Campbell – DL – Jacksonville Jaguars
Calais Campbell has played in over 147 games in his NFL career. On Sunday, he did something that he nor any player in the entire Jaguars franchise has ever eclipsed before – record four sacks in one game.
Calais Campbell shined in his Jaguars debuthttps://t.co/KJashtVdCP pic.twitter.com/CDRekoCHmZ

— Pro Football Focus (@PFF) September 12, 2017
He tallied six total tackles in the Jacksonville Jaguars 29-7 win over the Houston Texans.
Offensive Honorable Mentions:
Alex Smith – QB – Kansas City Chiefs (28/35 passing for 368 yards and 4 touchdowns)
Ezekiel Elliott – RB – Dallas Cowboys (24 rushing attempts for 104 yards, 5 receptions for 36 yards)
Antonio Brown – WR – Pittsburgh Steelers (11 receptions for 182 yards)
Dalvin Cook – RB – Minnesota Vikings (22 rushing attempts for 127 yards, 3 receptions for 10 yards)
Defensive Honorable Mentions:
C.J. Mosley – ILB – Baltimore Ravens (8 tackles, 1 for loss, 1 interception)
Terrell Suggs – OLB – Baltimore Ravens (6 tackles, 2 sacks)
T.J. Watt- DE – Pittsburgh Steelers (7 tackles, 2 sacks, 1 interception)
Best/Worst Plays from the Weekend
This weekend was filled with exciting, exhilarating plays. With that being said – with the good comes the bad. Here are some of the best/worst plays from the weekend.
Best
Cole Beasley had one of the most interesting catches I have ever seen.
RT if you also had to watch this clip over & over to witness all the awesomeness that is this @Bease11 catch. pic.twitter.com/VjD1nvVFWk

— Dallas Cowboys (@dallascowboys) September 11, 2017
Adoreè Jackson is the other play of the week. He leaps from his own 27 yard line and lands on the 35. He was in the air for eight yards!
Adoree' Jackson (@AdoreeKnows) got UP ?? today #TitanUp pic.twitter.com/C6Cu6715tY

— Tennessee Titans (@Titans) September 10, 2017
How was that humanly possible? Here are the worst plays of the weekend. Somehow they are in the same game…committed by the same team.
Worst
It's very simple. When the ball goes into the end zone on a kick off, take a knee.
Shades of 0-16 pic.twitter.com/FHwIqQfSHG

— Barstool Sports (@barstooltweetss) September 10, 2017
Unfortunately, Kasey Redfern gets injured at the end of this play, but it's what happens before he gets hit that makes it bad.
"Oh crap oh crap oh crap oh crap" pic.twitter.com/43f6VHKPhq

— Barstool Sports (@barstooltweetss) September 10, 2017
Somehow, despite those two plays, the Detroit Lions beat the Arizona Cardinals 35-23 on Sunday.
Unlikely First Place Teams and Divisional Standings
At the end of each week, we will take a look at the divisional standings around the league. Here is what they look like after the opening week in the NFL.
AFC East
Buffalo Bills (1-0)
Miami Dolphins (0-0)
New England Patriots (0-1)
New York Jets (0-1)
AFC West
Denver Broncos (1-0)
Oakland Raiders (1-0)
Kansas City Chiefs (1-0)
Los Angeles Chargers (0-1)
AFC North
Baltimore Ravens (1-0)
Pittsburgh Steelers (1-0)
Cleveland Browns (0-1)
Cincinnati Bengals (0-1)
AFC South
Jacksonville Jaguars (1-0)
Indianapolis Colts (0-1)
Tennessee Titans (0-1)
Houston Texans (0-1)
NFC East
Philadelphia Eagles (1-0)
Dallas Cowboys (1-0)
New York Giants (0-1)
Washington Redskins (0-1)
NFC West
Los Angeles Rams (1-0)
Seattle Seahawks (0-1)
Arizona Cardinals (0-1)
San Francisco 49ers (0-1)
NFC North
Minnesota Vikings (1-0)
Detroit Lions (1-0)
Green Bay Packers (1-0)
Chicago Bears (0-1)
NFC South
Carolina Panthers (1-0)
Atlanta Falcons (1-0)
Tampa Bay Buccaneers (0-0)
New Orleans Saints (0-1)
Who would have thought the Bills, Jaguars, Rams, and Vikings would all lead their respective divisions after week one? Not exactly how we thought week one would go, but it's still early. Stay posted for standings after week two.
News Around the NFL
Ezekiel Elliott Update
On September 8, the Texas Court released a statement saying that Ezekiel Elliott did not receive a fundamentally fair hearing. Ezekiel Elliott is granted his request of a preliminary injunction. As of now, it appears Zeke will play the entire season.
BREAKING:

The federal court in Texas has granted Ezekiel Elliott's request for preliminary injunction.

DETAILS
? | @MikeGarafolo pic.twitter.com/5eLftPcQPI

— NFL Network (@nflnetwork) September 8, 2017
Asked meaning of judge ruling that Ezekiel Elliott "did not receive a fundamentally fair hearing", source texted, "Zeke plays all year."

— Adam Schefter (@AdamSchefter) September 8, 2017
Michael Bennett Update
Last week, Michael Bennett, Seattle Seahawks star defensive lineman, released a statement that he was unlawfully racially profiled by Las Vegas police on August 26, 2017.
Equality. pic.twitter.com/NQ4pJt94AZ

— Michael Bennett (@mosesbread72) September 6, 2017
Later in the day on September 6, the video emerged of Michael Bennett being handcuffed by the Las Vegas police department.
Here is the video of Michael Bennett being handcuffed by Vegas PD, calling the officer "sir" as he asks why. https://t.co/sHldG010jn

— Ian Rapoport (@RapSheet) September 6, 2017
The Commissioner of the NFL, Roger Goodell, released a statement shortly after the event supporting Michael Bennett.
Roger Goodell on the Michael Bennett situation. Well done, @nflcommish. ?? pic.twitter.com/N8ItsK3lq7

— Jim Trotter (@JimTrotter_NFL) September 6, 2017
Where is this case now? The union submitted a letter from the Las Vegas police department asking Roger Goodell permission to investigate Michael Bennett and this incident.
#BREAKING: letter from union for @LVMPD officers to @nflcommish requesting investigation into Michael Bennett @mosesbread72 @LVPPA @8NewsNow pic.twitter.com/B7tdqgag7K

— Vanessa_Murphy (@Vanessa_Murphy) September 7, 2017
Obviously there are two sides to every story, but one thing is very clear – as a society, we must come together and unite to do something against racism.
NFL Hire Full-Time Officials
Something NFL fans have complained about for years is the lack of full-time officials. While I'm not sure this will improve situational calls, which is the biggest complaint from fans, it may improve the overall quality of calls.
The @NFL has hired 21 full-time game officials pic.twitter.com/8mBzpuHOwo

— Michael Signora (@NFLfootballinfo) September 6, 2017
Deshaun Watson Named Starter
Throughout the offseason, Texans head coach Bill O'Brien continued to emphasize Tom Savage as the starting quarterback. We saw how "committed" he was to that logic on Sunday when the Jaguars feasted on the Texans offensive line.
O'Brien was so "committed" to Tom Savage that he benched him at halftime for rookie Deshaun Watson. Watson came in and led the Texans to the end zone. It appears that Watson was injured during the game but it looks like he will remain the stater barring any setbacks.
If #Texans QB Deshaun Watson's ankle makes it through today's practice OK, he'll be named the starter vs the #Bengals on TNF, I'm told.

— Ian Rapoport (@RapSheet) September 12, 2017
Jason Witten Becomes Dallas Cowboys All-time Leading Receiver
On Sunday night, Cowboys fans had a great deal to cheer about – Ezekiel Elliott playing, their defense shutting down the Giants, and Jason Witten becoming the Dallas Cowboys all-time leading receiver. Michael Irvin held this record for nearly two decades before being passed by Witten.
Jason Witten now has the most receiving yards in #DallasCowboys history. He passes Michael Irvin as he moves to 11,906 yards ???? pic.twitter.com/EQ6H8fFLnU

— Def Pen Sports (@DefPenSports) September 11, 2017
The 7th Report: Mini-Mailbag
Here are the questions you had for me this week.
Who has a better rookie season? Christian, Mixon, or Cook?

— Ben Hansen (@Benson_Four_3) September 10, 2017
HH: Even before last night I selected Dalvin Cook. Dalvin Cook is the only starter of the three mentioned so by default, he will get more opportunities and touches. It's hard to believe he fell to the second round after a dominant performance last night, albeit it was against the Saints. After week one, Cook carried the football 22 times and added three receptions, McCaffrey carried it 13 times and added five receptions, and Mixon totalled eight carries and three receptions. I imagine McCaffrey gets more involved in the offense, but Mixon is among two other running backs that look to committee the load. The rookie's running backs listed will finish in this order – Dalvin Cook, Christian McCaffrey, and Joe Mixon.
"Did the Cowboys send a message to the NFC East last night, saying they're back??!!" – E.J. Francis via Facebook
HH: Yes they did. The New York Giants were the only team that saw consistent success against the Cowboys a season ago (probably because they played twice). They delivered two of the three Cowboys' losses in 2016. The Giants looked completely lost without Odell Beckham Jr. If I am him, I use this as major leverage to get a massive contract. The biggest surprise was the Cowboys defense. I thought with the defensive loses the Cowboys endured they would struggle mightily. While it's still early in the season, the Cowboys look like the team to beat once again in the NFC East.
Thank you for taking the time to ask me questions! If you want your questions answered in the "mini-mailbag", tweet them to @the7threport. See you at the same time for week two of the NFL regular season.