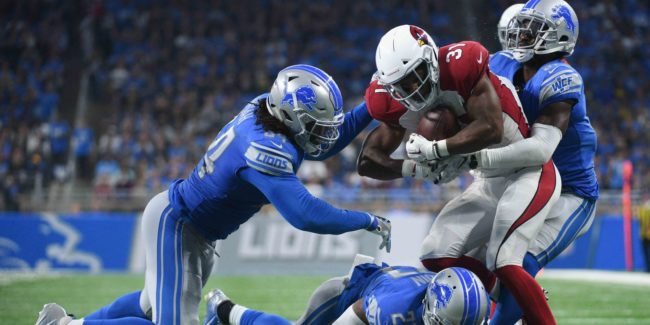 There seemed to be an unusually high amount of big name injuries in week one of the NFL regular season. Here is the latest update on NFL injuries.
David Johnson – RB – Arizona Cardinals
David Johnson caught a 24-yard pass down the far sideline but injured his wrist on the play. Here is the play.
Palmer to David Johnson for a First-down, Johnson in pain, but seems to be okay — Thankfully. pic.twitter.com/UeLHu6Ajlk

— AZCardinalsNation (@AZCardinalsNtn) September 10, 2017
Chris Mortensen first reported that David Johnson's wrist injury will keep him sidelined for "a few weeks". Johnson has a scheduled MRI on his wrist today.
Allen Robinson – WR – Jacksonville Jaguars
On the third play from scrimmage, Allen Robinson hauled in a 17-yard pass for a third down conversion. After the play, Robinson stayed on the ground unable to move. Jacksonville's medical staff eventually helped him off the field and into the locker room. Later, Ian Rapoport confirms what most already believed.
The #Jaguars make it official: WR Allen Robinson has torn his ACL. He's out for the season. Awful. In a contract year, too.

— Ian Rapoport (@RapSheet) September 11, 2017
Danny Woodhead  – RB – Baltimore Ravens
Last season, Woodhead missed the entire year due to an ACL tear. He also missed the last two preseason games due to a hamstring injury and it appears to have been aggravated again.
What do you think of Danny Woodhead doc? @ProFootballDoc pic.twitter.com/EeqNWrmjva

— Rudy Garcia (@rudygarcia_) September 10, 2017
The Baltimore Ravens have not commented on Danny Woodhead's injury timetable.
Ronald Darby – CB – Philadelphia Eagles
Right before the season kicked-off, the Philadelphia Eagles pulled some strings trading for Ronald Darby. The thought being the Eagles needing more depth at the cornerback position. Well, it seems like they are back to square one as Ronald Darby appears to have dislocated his ankle. Trust me – I'll spare you the video.
An MRI on Monday will determine whether Eagles CB Ronald Darby's dislocated ankle will require season-ending surgery, per @mortreport.

— Adam Schefter (@AdamSchefter) September 10, 2017
Stephon Tuitt – DE – Pittsburgh Steelers
On Saturday, the Pittsburgh Steelers inked Stephon Tuitt to a 5 year/$61 million extension. Fast forward to Sunday, and according to the Steelers, Tuitt suffered a torn biceps. He is scheduled for an MRI today that will reveal more.
Steelers DE Stephon Tuitt signed $61M deal Saturday. Today team fears he tore his biceps. Monday is MRI. If torn, his season would be over.

— Adam Schefter (@AdamSchefter) September 11, 2017
Kevin White – WR – Chicago Bears
Kevin White cannot catch a break. On Sunday's game against the Atlanta Falcons, Kevin White broke his collarbone and will need season ending surgery.  Since being drafted in the first round in 2015, White has only played in five NFL games. The Bears have a decision to make on his fifth-year option next offseason.
Reuben Foster – ILB – San Francisco 49ers
On Reuben Foster's attempt to tackle Christian McCaffrey, his leg seemed to stick and he immediately grabbed at his right ankle. Foster was carted off to roaring chants of his name. X-Rays of Foster's ankle returned negative, but further tests will be conducted.
Reuben Foster talks with #49ers medical staff on sideline. ? @JCGar75 pic.twitter.com/ihV1T5nTrs

— Matt Maiocco (@MaioccoNBCS) September 10, 2017
Reuben Foster is testing his right leg with the 49ers medical staff on the sideline. He is legit trying to come back into this game.

— Joe Fann (@Joe_Fann) September 10, 2017
Hopefully, we see Reuben Foster back on the field very, very soon.
Other Notable Injuries
Orlando Scandrick – CB – Dallas Cowboys (Left-Hand Injury)
Brian Cushing – ILB – Houston Texans (Concussion)
Kasey Redfern – P – Detroit Lions (Significant Injury – Undisclosed)
D.J. Humphries – OT – Arizona Cardinals (Knee Injury)
Michael Johnson – DE – Cincinnati Bengals (Concussion)
C.J. Fiedorowicz – TE- Houston Texans (Concussion)
Trey Hopkins – OG – Cincinnati Bengals (Left-Knee Injury)
Ryan Griffin – TE – Houston Texans (Concussion)
Thursday Injuries
Dont'a Hightower – ILB – New England Patriots (MCL strain)
Danny Amendola – WR – New England Patriots (Concussion)
Eric Berry – SS – Kansas City Chiefs (Torn ACL)
Stay tuned for more updates.