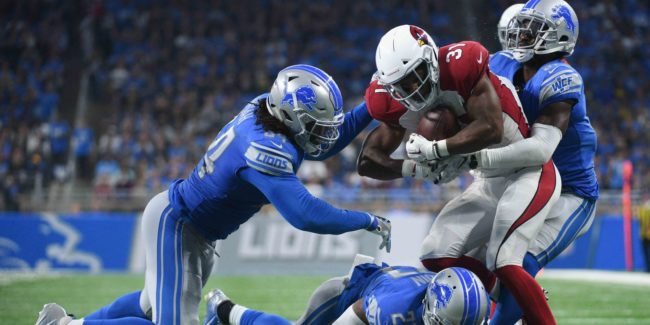 In most fantasy football leagues, David Johnson was the first player taken in your draft. Just weeks later Johnson owners everywhere held their breath as they received the update that he wouldn't return against the Detroit Lions on Sunday.
At the time of the injury, Johnson recorded 23 rushing yards on 11 attempts, and 68 yards receiving on six catches.
According to Adam Schefter, here is the latest update.
As @mortreport has said since Sunday, it could be 2-4 weeks for David Johnson, 3-4 months still possible. Depends on doctor recommendations.

— Adam Schefter (@AdamSchefter) September 11, 2017
Cardinals are calling David Johnson's injury a dislocated wrist. He's going to miss time; question is how much. Surgery possible.

— Adam Schefter (@AdamSchefter) September 11, 2017
Cardinals RB David Johnson meeting with wrist specialists and surgery is possible, per source. Decision expected in 24-48 hours.

— Adam Schefter (@AdamSchefter) September 11, 2017
It appears at this time that Johnson's timetable is uncertain. To watch the play where he gets injured, see below.
Carson Palmer really threw David Johnson into triple coverage and might've cashed his season ? pic.twitter.com/gZYskyG2YC

— Nick Breezus ? (@NickBrownHD) September 11, 2017
As Adam Schefter tweeted earlier, the recovery after surgery could be anywhere from 2-4 weeks to 2-3 months. Who is likely to replace Johnson over the ensuing weeks? Would the Arizona Cardinals invite Chris Johnson back for a stint?
UPDATE:
David Johnson will undergo surgery on his injured wrist, as reported by ESPN's Adam Schefter. This injury will sideline Johnson for two-to-three months at the earliest for a return. The Cardinals will place him on the IR and hope for a return this season.
Cardinals' RB David Johnson is having wrist surgery this week and is expected to miss 2-3 months, source tells ESPN.

— Adam Schefter (@AdamSchefter) September 12, 2017