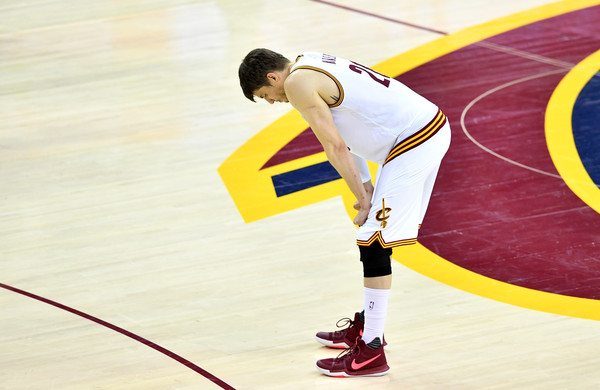 The Philadelphia 76ers and Cleveland Cavaliers have discussed a trade to send Kyle Korver to Philadelphia, reports Keith Pompey of the Philly Inquirer:
According to a league source, the #Sixers have had discussions about trading Jerryd Bayless to the #Cleveland #Cavs for Kyle Korver.

— Keith Pompey (@PompeyOnSixers) July 20, 2018
Apparently, Pompey's tweet doesn't necessarily mean that discussions have occurred between the two teams, but that these discussions may have existed solely internally in Philadelphia.
Please correct this inaccurate tweet. I tweeted the Sixers had discussions. https://t.co/kMJ5b7STlU

— Keith Pompey (@PompeyOnSixers) July 20, 2018
According to Marc Stein of the New York Times, this potential deal is possible but far from a sure thing:
A trade sending Cleveland's Kyle Korver to Philadelphia in exchange for Jerryd Bayless is "possible" but also "far from certain," according to one league source briefed on the talks.

— Marc Stein (@TheSteinLine) July 20, 2018
The 76ers could use some extra shooting after failing to sign sharpshooter Nemanja Bjelica. Korver is one of the best outside shooters in the league. The 76ers have another guard who fits that description in J.J. Redick.
Korver's value is greater than that of Bayless, so, at the end of the day, Philly would likely have to give up more than just Bayless to acquire Korver – a second-round pick might do the trick.