We are roughly a month into the college basketball season, almost two months in the NBA season and players' stocks are fluctuating every week. Not only that, but NBA teams are taking notice and planning their seasons accordingly. The time is now for our first 2019 NBA mock draft.
New players are emerging onto draft boards and some are already slipping down lists. This NBA mock draft is our first of the season as players are nearing the 10-game mark of the season and NBA teams approach the 30 games played mark.
2019 NBA Mock Draft
The draft order is based on the NBA records as of December 9.
1. Phoenix Suns
Zion Williamson: Combo Forward- Duke
Williamson has taken the country by storm through the first month of the season. The star freshman is in the 96th percentile for total offense (via Synergy) and has displayed an all-around offensive game that is rare at his age. The 6-foot-7, 285 pound Williamson takes most of his field goal attempts at the rim but can get there at will due to his incredibly unique combination of size, athleticism, and IQ. Questions remain about his shooting as well as guarding the perimeter, but his explosive athleticism along with the passing ability and touch at the rim is on an outlier level.
2. Chicago Bulls
RJ Barrett: Wing- Duke
While RJ Barrett has not gotten off to the dominant start many expected of him, he has shown flashes that backed up why he had top-pick buzz. The fit was shaky early, but Barrett has shot above .500 from the field and from deep in each of the last three games. His primary struggle has been finishing around the rim and taking smart shots. We have seen Barrett chuck some questionable shots, especially early on; and while he can get to the rim smoothly, he has really struggled to finish through contact. The key for Barrett will be using his physical tools to put the flashes of skill together at a high level consistently.
3. Atlanta Hawks
De'Andre Hunter: Combo Forward- Virginia
Redshirt sophomore De'Andre Hunter has been heavily under the radar thus far coming off an injury that ended his strong first season with the Cavaliers. The methodical Hunter is currently shooting 48 percent from deep while displaying the ability to guard four positions. Hunter also possesses explosive athleticism attacking the rim on straight-line drives, which he has consistently shown off this season. The key to for him to become the truly great two-way player his upside suggests he can be lies in the development of his offensive creation off the bounce. The Hawks have a chance to grab their defensive cornerstone under Lloyd Pierce.
4. Cleveland Cavaliers
Nassir Little: Wing- North Carolina
The ACC trend continues with the explosive Nassir Little. The Cavaliers could use just about anything, at this point and adding a secondary creator to pair with Collin Sexton would be ideal. Little has had an odd role for the Tar Heels, coming off the bench and playing just around half of each game. The 6-foot-6 freshman is explosive off the dribble, with a scoring arsenal that requires respect at all three levels. Defensively, Little has shown he can guard multiple positions despite some shortcomings when guarding off the ball. Look for him to improve that aspect as well as getting his 3-point shot falling at a more consistent rate.
5. New York Knicks
Cam Reddish: Wing- Duke
Cam Reddish has not gotten off to the start that he would have hoped. An all-around scorer, Reddish has been resigned to being primarily a spot-up shooter. While he has been helpful in this role (39% from three), he has rarely been able to showcase his ability to create his own offense. Reddish has been fairly inefficient overall, though- largely due to his struggles around the rim. The Knicks could use a wing player with the scoring tools that Reddish possesses, but it will be up to the player himself to develop his creation ability to reach a consistent basis.
6. Brooklyn Nets
Sekou Doumboya: Combo Forward- Poitiers (France)
Sekou Doumboya remains the largest unknown in the top ten. The 6-foot-9 forward is an ideal mold for the modern power forward. Doumboya can space the floor at times as well as put the ball on the floor and create some of his own offense. He also possesses the ability to switch on screens and guard the perimeter in some cases. Doumboya is one of the youngest players in the class, and as is often the case with young international players- his abilities have been in shown in flashes. The Brooklyn Nets have shown a patience approach and willingness to draft international players, so this could be a great match for both sides to develop the Guinean talent into a bonafide high-level prospect.
7. Miami Heat
Bol Bol: Big- Oregon
The Bol Bol experience has been great fun through the first month at Oregon. Bol is shooting 50 percent from deep while displaying even more functional mobility than he did in high school. Pair that with his incredible handle for his size and you have a player who resembles a Kristaps Prozingis-lite. Bol remains a question mark defensively; as his small frame likely means players can finish through his contact easier, and he often falls asleep guarding off the ball. Despite that, the physical tools are undeniable and a great foundation to work with. Bol could be a great compliment to the dynamic Adebayo in Miami.
8. Washington Wizards
Jarrett Culver: Wing- Texas Tech
Without knowing exactly what direction the Wizards franchise is heading, the best idea is to simply take the best player available. In this case, that is Jarrett Culver. Culver was once regarded as little more than a 3-and-D candidate but has vastly improved his ability to impact the game off the dribble this year. The sophomore ranks in the 92nd percentile for PPP as a PnR ballhandler while also doubling his assist rate from last year. He may lack explosive athleticism, but his elite feel for the game and mature skill set sets a high floor.
9. Houston Rockets
Ja Morant: Lead Guard- Murray State
While it is unlikely that the Rockets finish the season in this spot, it is hard for them to go wrong with a top ten pick. Sophomore Ja Morant is the best player available at this stage, and he adds two-way ability while serving as a long-term successor to Chris Paul. Morant is incredibly explosive and has shown elite-level passing ability. Learning behind two top-tier guards can only help Morant, who struggles with decisiveness and turnovers.
10. San Antonio Spurs
Romeo Langford: Wing- Indiana
Romeo Langford has had a rollercoaster start to the year. Known for his scoring ability, Langford has struggled mightily from 3-point range, yet has thrived inside the arc. At 6-foot-6 with a 6-foot-11 wingspan, Langford can guard a couple of positions and has been a terrific on-ball defender. He ranks in the 90th percentile for finishing around the basket and the 80th percentile for all jumpers off the dribble. Should he get his deep jumper on track, Langford will likely be one of the best scorers in the class.
11. New Orleans Pelicans
Kevin Porter Jr: Wing- USC
The Pelicans will want to add scorers to the wing to solidify their depth and there are few scorers quite like Kevin Porter Jr. Porter Jr has dazzled many with his mature scoring moves and ability to create space for himself. Along with that, the freshman often showcases impactful passing ability. A key for him will be improving shot selection, as he takes too many long two-pointers and contested shots. While he can make the tough shots, we have often seen guys with this skill set become unimpactful black holes at the next level.
12. Utah Jazz
Darius Garland: Lead Guard- Vanderbilt
Darius Garland will be sidelined for the season due to a torn meniscus, but a full recovery should keep him firmly in the first round. Garland has a legitimate jumpshot to his game, as he can spot-up and score or break down a defender and create offense for himself as well as others. At 6-foot-3, Garland possesses ideal size for a point guard. He ranks in the 88th percentile in overall defense, allowing just .595 PPP. His athleticism is a weak point along with his ability around the basket. While this caps his ceiling to an extent, Garland has the makings of an impactful NBA point guard.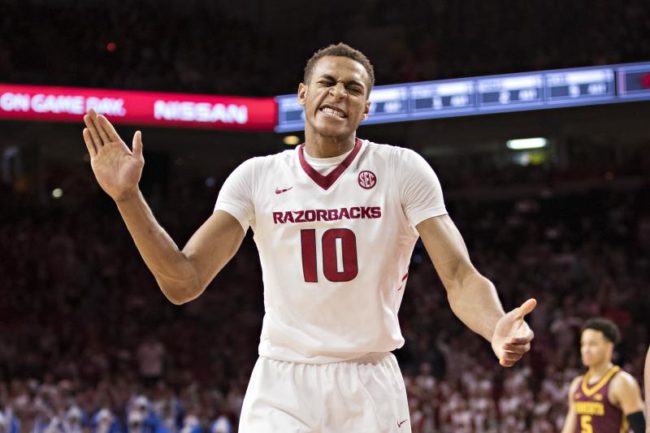 13. Minnesota Timberwolves
Daniel Gafford: Big- Arkansas
The Timberwolves will want to shore up their defense while likely moving on from Gorgui Dieng and an aging Taj Gibson in the near future. Gafford is the prototype rim protector and rim diver on defense and offense respectively. The uber-athletic 6-foot-11 center provides a player who can slice defenses with basket cuts and finish strong around the rim. Defensively, Gafford is a disrupter around the rim, allowing just .333 PPP around the basket. While his archetype is somewhat limited in skill set, it has become a valuable piece for good teams who can space the floor.
14. Boston Celtics
Naz Reid: Big- LSU
Freshman big man Naz Reid has experienced a turbulent start to the year, scoring less than 10 points in 4 of his last 5 games. Despite the up-and-down beginning, Reid has sprinkled in flashes of his smooth skill as a big man. Reid has unusual creation ability at 6-foot-10, possessing a handle that allows him to break down opponents and a jump shot that requires respect. His defense also comes mostly in flashes, as he has the quickness to shuffle his feet in rotations or guarding in space, but does not always do it or rotate in time. The skill and upside are there, so it could be worth it for a Celtics team who can afford to have some patience.
15. Orlando Magic
Tre Jones: Lead Guard- Duke
It seems like the Orlando Magic's search for a franchise point guard has gone on forever. Enter Tre Jones, a 6-foot-2 do-it-all lead guard. Jones won't likely ever be an all-star guard, but he has the high levels of composure and IQ that all great guards have. He has only committed 12 turnovers this season while having 56 assists. Jones also loves playing defense, often suffocating opposing guards at the point of attack. With his ability to score some at all three levels, Jones is an ideal steady hand at point guard; despite some of his physical shortcomings.
16. Charlotte Hornets
Keldon Johnson: Wing- Kentucky
The Hornets get a bit of a steal with this pick and are in a great spot as a team to add depth to their wings. Keldon Johnson is an energetic slashing wing who has been pesky on defense. Johnson welcomes contact when attacking the basket and has the level of passing vision that could make him a viable secondary creator for an offense. He'll need to add more to his scoring package further from the basket to become a complete wing prospect, though.
17. Atlanta Hawks
Charles Bassey: Big- Western Kentucky
Charles Bassey is the type of mobile big man that NBA teams value. Bassey ranks in the 99th percentile in transition offense and in the 93rd percentile when cutting to the basket. However, the rim diving style of offense is just about all Bassey has, right now. While there is value there, his ceiling will be capped if his ball skills lag behind. Defensively, Bassey projects as a valuable rim protector with the mobility and length to cause problems in space.
18. Detroit Pistons
Nickeil Alexander-Walker: Wing- Virginia Tech
Nickeil Alexander-Walker has shown tremendous growth in his second year as a Hokie. Alexander-Walker has become a force off the dribble. He has become one of the best PnR ballhandlers in the country and is in the 83rd percentile for jump shots off the dribble. Firing at a 44 percent clip for deep, Alexander-Walker requires respect at all levels on offense. Add to that a budding passing ability, and the sophomore is nearing a complete offensive package. He also displays a great feel for the game on both ends, using his 6-foot-9 wingspan to guard multiple positions.
19. Portland Trail Blazers
Jontay Porter: Big- Missouri
Jontay Porter is missing the year due to an ACL injury, but what we have seen from him likely warrants a first-round selection. Porter is a versatile big who has flashed the passing ability that draws comparisons to Nikola Jokic. Along with that, Porter has shown some ability to space the floor and knock down jumpers, while using his length to score around the rim at times. Defensively, his IQ and wingspan allow him to smartly rotate and help, making up for athletic shortcomings. Porter will need to work on his body and athleticism, which should enable him to take his skills to the next level.
20. Boston Celtics
Luguentz Dort: Wing- Arizona State
Luguentz Dort has taken college basketball by storm with his attacking mentality. Dort is a 6-foot-4, 215-pound physical specimen who does not hold back on offense. Often playing downhill, Dort uses his physical gifts to get to the rim and welcomes contact. However, Dort has a tendency to play out of control at times. His general inefficiency in scoring and turning the ball over will need to improve as his feel for the game grows.
21. Boston Celtics
Coby White: Lead Guard- North Carolina
The Boston Celtics will likely want to add depth to their backcourt next summer. Coby White has taken the reigns in Chapel Hill and has been dominant at times offensively. White has great burst paired with a mature array of dribble moves that allow him to get to his spots virtually at will. The freshman is picking out passes on the move at a high level as well, displaying an ability to easily manufacture offense for himself and his teammates. With a pure shooting stroke, White will need to develop his IQ and shot selection to become a more complete package.
22. Los Angeles Lakers
Jaxson Hayes: Big- Texas
The Lakers have their team built as a team who would benefit greatly from a rim diver/protector archetype center. Jaxson Hayes fits that mold perfectly. Hayes has seemingly come out of nowhere after not being ranked in the Top 100 of this freshman class. The 6-foot-11 center is uber-athletic with an energizer bunny motor. Still visibly raw, Hayes is averaging 5 blocks per game per 40 minutes while ranking in the 90th percentile for finishing around the basket.
23. Indiana Pacers
Brandon Clarke: Big- Gonzaga
Brandon Clarke is another surprise player forcing his name onto 2019 NBA mock drafts. Clarke has been a defensive anchor for Gonzaga, guarding out in space and protecting the rim at a high level. His dynamic athleticism and elite feel for the game lend Clarke a high floor at the next level. Developing his face-up and scoring package will be his key to growth, however, he will be 23 years old at the start of the 2019-20 NBA season, so his ceiling may be limited.
24. Boston Celtics
Luka Samanic: Big- Olimpija Ljubljana
The Celtics have their fourth pick of this draft, this time thanks to the Los Angeles Clippers. Here they select international stretch-four Luka Samanic, who is a possible draft-and-stash candidate. Samanic fits the bill of a modern power forward, possessing fluid mobility and ball skills along with a workable jump shot. Extending his range and defending better in space will be the areas to watch for his development.
25. Brooklyn Nets
Louis King: Combo Forward- Oregon
Louis King has only recently made his season debut after suffering a preseason injury. King went 3-4 from deep playing primarily in a spot up role, scoring 11 points in 17 minutes. King's budding three-level scoring ability is tantalizing given his 6-foot-9 frame and a 7-foot wingspan. Those physical tools offer upside on defense, where he has previously been shaky and come up looking lost. As he gets back to playing full time, he is a potential high-upside name to watch.
26. Milwaukee Bucks
Rui Hachimura: Big- Gonzaga
Rui Hachimura appears to fit the mold of a modern power forward. He is athletic, strong, and has a viable jump shot. Hachimura is 6-foot-8 with dynamic athleticism and mobility, which allow him to show off quickness in face-up situations. He will need to quell questions about his defense, feel for the game, and jump shot range in order to become a successful NBA player. However, his upside is clear and he continues to learn the game.
27. Oklahoma City Thunder
Jaylen Hoard: Combo Forward- Wake Forest
Wake Forest freshman Jaylen Hoard is the type of versatile forward that teams are beginning to truly covet. While he likely will operate best at the four, his athletic propensity and ability to put the ball on the floor makes him a viable wing player in certain situations. His jumper is a major work in progress, as he is shooting just 20 percent from deep and gets the bulk of his points around the rim. He positions himself well defensively but does struggle at times on closeouts with moving his hips to stay in front of his man. A raw prospect, Hoard offers flexibility with an impactful upside.
28. Philadelphia 76ers
Ignas Brazdeikis: Combo Forward- Michigan
Freshman Ignas Brazdeikis has captured the attention of the national media. The Canadian has looked like a seasoned veteran at times, showing off elite basketball IQ and feel for the game. He is seemingly always making the right decisions. Along with that, Brazdeikis is scoring well at all three levels including 39% from deep. At 6-foot-7, he can play some small-ball four at the next level, as he does not have the typical athleticism we see often from full-time NBA wings.
29. Golden State Warriors
Jalen McDaniels: Big- San Diego State
Jalen McDaniels is a raw big who has shown improvement in his jumper this season. However, McDaniels still relies on his athleticism and over 7-foot wingspan. Luckily, the Warriors are a team that can afford to be patient as he continues to polish his game.
30. San Antonio Spurs
KZ Okpala: Combo Forward- Stanford
KZ Okpala is a budding 6-foot-8 power forward who possesses a valuable skill set for today's big forwards. Okpala has begun showing improvements in his ball handling and creation ability, becoming a more complete offensive player. Most of his offense comes from spot-up situations right now, but he is shooting 48 percent from deep. Still clearly a project on both ends, the Spurs could use his shooting ability while polishing the rest of his game.