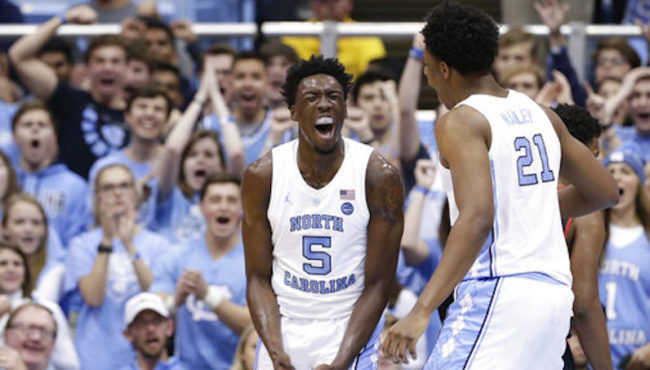 The North Carolina Tar Heels are fresh off a 17-point beat-down at the hands of the Michigan Wolverines, just their second loss of the young season. For the most part, despite a lack of minutes for stud freshman Nassir Little, the Tarheels have dominated and overwhelmed their opponents with their frontcourt size and high-level execution on offense.
That was until a Thanksgiving loss to Texas, which was UNC's strongest opponent to that point. Nassir Little played just 21 minutes that night. And while that was on par with how Roy Williams' rotations have been set up, Little's absence became a real issue since it played a role in the loss.
Fast forward six days as the Tar Heels take on Michigan in Ann Arbor in the ACC-Big Ten challenge. Nassir Little plays just 16 minutes in a loss. As that game progressed, Michigan's stalwart defense exposed a major problem in UNC's plan. The Tar Heels lack a secondary initiator on offense, someone who can score on his own or draw enough gravity to open up looks for others. The Tar Heels lacked Nassir Little.
Nassir Little, a 6-foot-6, 220-pound wing player, is also being touted as a top NBA Draft prospect in 2019. Currently, Little is playing just a shade under 20 minutes per game, good for fifth on the team and he is UNC's fourth-leading scorer taking the fourth most shots on the squad. In other words, he is not much of a priority for Roy Williams. The freshman was the third-ranked recruit in the country coming out of high school before committing to UNC, yet he is being treated as a fourth option in Chapel Hill.
In his fairly limited minutes, Little is averaging just under 12 points per game on 8.8 shots per contest. However, if you look at a points-per-possession basis, the freshman ranks 2nd on the team at 1.093 PPP via Synergy. Of players in the rotation who play at least 15 MPG, Little commits the fewest turnovers per game and shoots the second-highest field goal percentage. The overall efficiency in his game is hard to ignore- especially considering that he does most of his damage off the dribble. When attacking the basket, Little averages 1.261 PPP finishing at the rim. Looking at all jump shots off the dribble, he averages 1.364 PPP, good for the 95th percentile in the country.
This skill-set as a secondary handler who can initiate high-level offense is a stark contrast to what the rest of the starting lineup provides. The four starters not named Coby White all rely on having offense created for them – thriving in spot-up and basket cut situations. While White is a dynamic lead guard, there is only so much of the load he can carry. Cam Johnson and Kenny Williams, the two wing players, both average less than 1 PPP at the rim and produce the bulk of their offense off the catch. Garrison Brooks only operates within the paint, and Luke Maye typically does damage in the post or mid-range off the catch.
The formula to defend North Carolina without Little becomes clear. Suffocate Coby White at the point of attack and force the other to make plays. As we saw against Michigan, White was forced to take almost exclusively heavily contested shots. While White was able to knock these down, off-ball rotations and closeouts were made much simpler without the threat of a secondary ballhandler.
Enter Nassir Little and his versatile skill set. In the ideal lineup, he replaces Garrison Brooks; moving Cam Johnson to the power forward spot. Little's threat of playmaking immediately bends defenses. For example, defenses are more often forced to decide between helping on Little and leaving a shooter like Williams or Johnson open, or staying home and having Little get by the one-on-one defender. Even in his minutes with reserves, we have seen this already. The length and athleticism provided also adds a boost to the Tarheels' inconsistent defense. On-ball especially, Little has the ability to guard multiple positions. For a UNC team that has been abused by the pick-n-roll, his switchability is sorely needed.
As the season progresses, UNC's best interest appears to be starting Little and getting his minutes up to around 28 per game. When you have a player who is as talented and versatile as Little, the choice is clear. Despite Roy Williams' love for a traditional two-big lineup, Little is simply too talented to not play. It is not every day that you have a future top-10 NBA Draft pick on your team. Logical thinking says to use him.