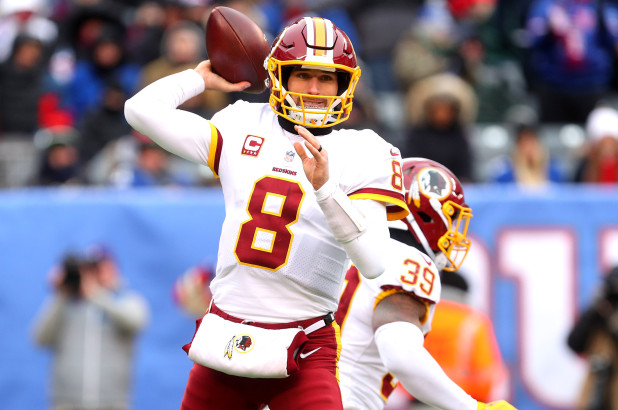 The new NFL season is just around the corner. When March 14 comes, all trades and signings that have been agreed upon in recent weeks will become official. This date also kicks off the beginning of NFL free agency. For everyone that needs a new place to play come August, this is their time to chose where they would like to go. Here are some of the top free agents of the 2018 class and potential teams they could play for next season.
2018 NFL Free Agency
Kirk Cousins (QB)
Potential Teams: Broncos, Jets, Vikings, Browns, Jaguars
Kirk Cousins will be the n0.1 quarterback on the market this year (technically Drew Brees is a free agent but there is no way he leaves New Orleans). The Broncos, Vikings, and Jaguars seem to be the best candidates if Cousins wants to win a Super Bowl. Though the Jags signed Blake Bortles to a contract extension, he has not been the most reliable quarterback. It is still possible they could trade Bortles and sign Cousins.
The Browns and Jets seem like a stretch to sign Cousins. The Jets can give Cousins a lot of money, but he potentially finds himself in a worse situation than he did in Washington. The Browns are just a mess, so Cousins should just stay away no matter what.
The Broncos seem to be the top candidate to land Cousins. They have a solid defense and Cousins could find himself competing for a Super Bowl very soon with Denver.
Sammy Watkins (WR)
Potential Teams: Rams, Ravens, Cowboys, Jets, 49ers, Browns
Sammy Watkins spent just one year with the Los Angeles Rams and some reports say he was not happy about his role with the team. Still, staying with the Rams and quarterback Jared Goff means he is on a young team who seems to have nowhere to go but up. The same argument could be said about the 49ers. Quarterback Jimmy Garoppolo seemed to instill confidence in a 49ers team that was winless when he came along. Both Garoppolo and Goff are young quarterbacks who need a strong no.1 option to help them.
The same goes for the Cowboys. The Cowboys missed the playoffs this past year, but that does not mean that they will never go back. Most of the polish from Dak Prescott wore off and the suspension of Ezekiel Elliott did not help things. The Jets have a lot of money to throw around and could probably offer him the most money. The Browns and Ravens are long shots, but if the Browns play their cards right they could attract Watkins with promises to improve in the Draft.
Andrew Norwell (G)
Potential Teams: Panthers, Giants, Falcons, 49ers
Norwell is not just one of the best offensive linemen for Carolina, but he is one of the best guards in the NFL. Unfortunately for the Panthers, they may not have the cap room to resign him. They have shed some veteran contracts, but it may not be enough. It would be a huge loss if the Panthers cannot resign Norwell.
The other teams that could be in the running for Norwell are the Giants, Falcons, and 49ers. Giants quarterback Eli Manning would much appreciate the help, who seems to be under more pressure than any other quarterback in the league. Norwell would be a major upgrade for the Falcons and 49ers. Both teams are contenders for an NFC title and their quarterbacks need protection. Norwell can help tremendously.
Malcolm Butler (CB)
Potential Teams: Rams, 49ers, Browns, Seahawks
One of the biggest stories to come out of Super Bowl 52 was the benching of Malcolm Butler. No one really knows for sure why Butler was benched, but it all but assured that he would not return to the Patriots in 2018. Butler was a top 10 cornerback the past two seasons.
The Rams and the 49ers have the most to benefit from Butler. The Browns will always be in consideration for big players. The Seahawks, after cutting longtime cornerback Richard Sherman, will be in need of some veteran leadership on the defense.
Case Keenum (QB)
Potential Teams: Vikings, Bills, Cardinals, Dolphins
Case Keenum had one of the biggest surprise performances in the 2017 season. He led the Vikings to a 13-3 record and made it to the NFC Championship game. It was a great run until they got trashed by the Eagles in the NFC Championship game. It is possible the Vikings give Keenum a new deal, but it is unclear what they want to do with Sam Bradford and Teddy Bridgewater. Having three starting quarterbacks on your team is a good problem to have, but someone has got to go.
If Keenum does not return to the Vikings, then the Bills, Cardinals, and Dolphins seem like nice candidates for him to start/backup. The Dolphins still do not know when Ryan Tannehill will be back from injury, so signing Keenum could be a good insurance policy. The Bills are in need of a quarterback since they traded Tyrod Taylor and the Cardinals after Carson Palmer retired. Keenum could be able to walk in and easily take the starting job without any real competition.
Allen Robinson (WR)
Potential Teams: Jaguars, 49ers, Panthers, Ravens
Robinson will be the second most sought-after receiver after Watkins. In a surprising move, the Jaguars did not franchise tag Robinson when they had the chance. It is still possible the Jaguars can re-sign Robinson, but now other teams will have the ability to lure him away.
If the 49ers or Ravens are not able to snag Watkins, then Robinson would be a good back up plan. The 49ers need another target to give Garoppalo and the Ravens just need a reliable receiver. The Panthers are in the same boat. They need a solid option to give Newton the ability to make plays with his arms and not just his legs.
Trumaine Johnson (CB)
Potential Teams: Jets, Cowboys, Browns, Seahawks
Johnson is an above average defensive back but is still one of the better ones in this free agency class. He was a major player for the Rams defense, but his use came to an end when the Rams trading for Marcus Peters and Aqib Talib.
It is reported that the Cowboys have shown some interest in Johnson. The Jets and the Browns are other teams that have given some interest in signing Johnson. He will not put any of these defenses over the edge, but that does not mean he cannot contribute. Since there are a lot of teams with cap space and not many corners on the market, expect Johnson to have a big payday.
Jimmy Graham (TE)
Potential Teams: Dolphins, Jaguars, Titans, Packers, Saints
The past few seasons have been disappointing for Jimmy Graham. He was an absolute stud in New Orleans and looked like a future Hall of Famer. I feel Graham was not properly used with the Seahawks and a new setting will do him some good.
There has been a lot of rumors surrounding a reunion with New Orleans. It would be a nice story for Graham and the Saints made a nice run this past year.
Report: Saints expected to have interest in Jimmy Graham reunion https://t.co/4L8gmnejeb

— ProFootballTalk (@ProFootballTalk) March 5, 2018

The Dolphins have had some bad luck with tight ends and someone will the skills of Graham may finally help fill that position. The Titans are a rising team with a young quarterback. Getting quarterback Marcus Mariota a reliable tight end like Graham gives him a big option to throw to in the red zone. The Packers and Jaguars are playoff teams. If Graham wants to make an immediate run for a title, then these two teams should be at the top of his list.
Teddy Bridgewater
Potential Teams: Vikings, Bills, Jets, Patriots
Teddy Bridgewater is two years removed from a devastating leg injury that he just recently recovered from. Before that, he was a promising young quarterback and it seemed the Vikings had found their franchise quarterback. It is still unknown what direction the Vikings will go when it comes to the quarterback position.
If the Vikings decide to move on, there are a few places where Bridgewater can go. The Bills and the Jets, as of now, have no real answer for who will be their next quarterback. Bridgewater, though out for two years, is still a skilled NFL veteran. The Patriots could take a chance and groom Bridgewater as their quarterback of the future. Tom Brady shows no signs of slowing down, but injuries do happen. Brady will not play forever (though it feels like it) and the Patriots need to find a quarterback to help bridge (pun possibly intended) the gap between now and the future.
Carlos Hyde
Potential Teams: Colts, Redskins, Buccaneers, 49ers.
Carlos Hyde has had an up and down career so far. For every fantastic game he has, he has another game where he is just terrible. The 49ers could resign Hyde, but if they do not there are other teams that are willing to take the risk on him.
The Colts and the Buccaneers I fell are the frontrunners to sign Hyde. Both teams are without an answer at running back. Maybe Hyde can turn into a long-term option for them if signed, but I feel it would just be more of the same. The Redskins are going through massive changes on offense. Hyde could be a decent compliment to quarterback Alex Smith in a relatively weak class of running backs in free agency.