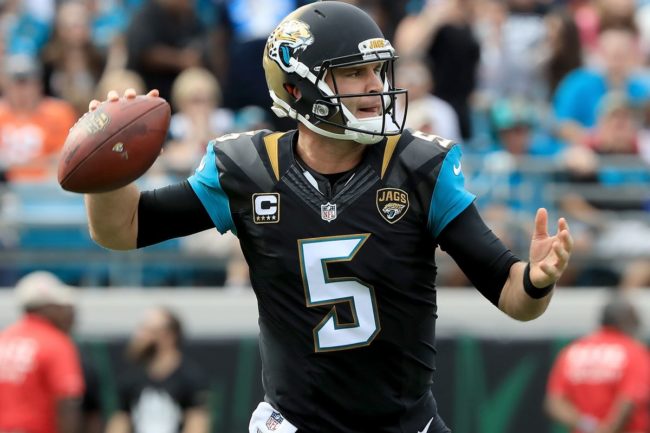 The Jacksonville Jaguars have signed starting quarterback Blake Bortles to a three-year extension worth around $54 million. Adam Schefter shared the news on Twitter.
Jacksonville's three-year, $54 million deal with Blake Bortles essentially serves as a bridge for both:

It allows Bortles time to shine and try to earn another lucrative extension – or for the team to have added time to find another QB.

— Adam Schefter (@AdamSchefter) February 25, 2018
The deal will keep Bortles around through the 2020 season. According to Schefter, Bortles has the opportunity to earn over $60 million with incentives.
Jaguars are giving QB Blake Bortles a new three-year, $54 million deal, worth up to $66.5M with incentives, that includes $26.5M guaranteed, tying him to Jacksonville through the 2020 season, per source.

Jacksonville out of QB market.

— Adam Schefter (@AdamSchefter) February 25, 2018
Bortles has had a rough time during the beginning of the season. At one point, the quarterback position was open for the taking. However, Bortles earned the trust of head coach Doug Marrone and played the entire season. Bortles completed 60.2 percent of his passes for 3,687 yards and 21 touchdowns with 13 interceptions.
Bortles helped lead the Jaguars to a 10-6 record, which was good enough to win the AFC South. Bortles played well in the playoffs and the Jaguars were just a few plays away from being in the Super Bowl.
The Jaguars organization seems to have confidence in its personnel. They recently signed vice president of football operations Tom Coughlin, general manager Dave Caldwell and head coach Doug Marrone to contract extensions.
This signing comes with some questions. Though Bortles had a decent year this year, he has had lackluster years leading up to it. Some thought that Kirk Cousins would have been the team's main target. Though Bortles has signed this deal, it does not mean Jacksonville is out of the quarterback hunt.