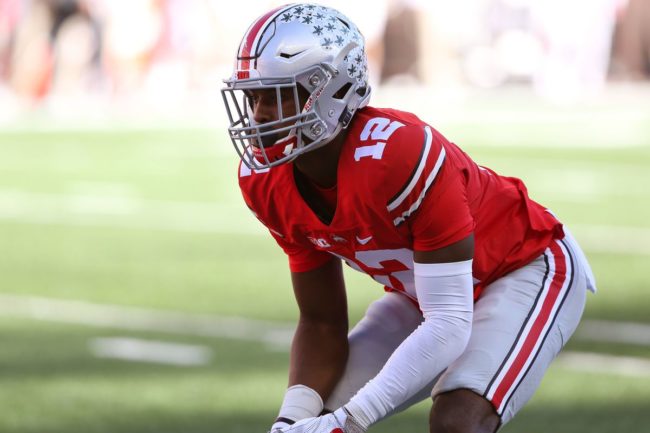 Two games were on tap for me in week 8 of the college football season. It turned out to be one of the craziest 3:30 Saturday slate of games with Penn State at Ohio State and N.C. State at Notre Dame. The N.C. State – Notre Dame sort of got out of hand down the stretch but the other matchup was must-see TV. Most importantly, we got to see a lot of future NFL players on the field.
The 2018 NFL Draft focus for this week will be between those four teams. It's been a long time since I can say these four programs have a stock of elite talent. Three of the four teams, Penn State, Ohio State, and Notre Dame still have a shot at the college football playoff. Who's stock got better or worse as we look into the 2018 NFL Draft?
Penn State Vs. Ohio State
Ohio State stormed back to snatch a 39-38 victory after trailing by 18 in the fourth quarter. Ohio State is an interesting team because most of their talent is on the defensive line. Superstar running back Saquon Barkley only rushed for 2.1 yards per carry on 21 attempts because of how dominant this Buckeyes defensive line is. The tough part is picking out which players are having the most impact.
Nick Bosa, brother of Joey, might be the best of the bunch but he's only a true Sophomore and isn't draft eligible. Ohio State as a team recorded 13 tackles for loss which is an absurd number. At this point, it's hard to say who the man is along that defensive line but some names to watch are Tyquan Lewis, Dre'Mont Jones, and Sam Hubbard.
My favorite Ohio State prospect is turning into Denzel Ward. Ohio State has been a bit of a defensive back factory after Gareon Conley and Marshon Lattimore were drafted in the first round in 2017. Ward might be the best of that bunch and appears to be a shutdown corner. Ward allowed that weird touchdown that was initially ruled an interception but overruled by both players having possession. Outside of that, I'm not sure he allowed a reception as Penn State went out of their way to throw to his side of the field. Ward is 5-foot-11, 190, with plus speed and great movement skills.
Penn State was sort of a bad matchup for Ohio State as most of their key players are skill position guys. Saquon Barkley, DaeSean Hamilton, and Mike Gesicki. Penn State's defenders were the focus last week but it was apparent Ohio State had the speed advantage on Saturday.
Hamilton was stifled by the Ohio State corners for much of the game but did haul in a touchdown on his only catch. I'm not sure how Penn State does it but every year they are fantastic at winning the 50/50 ball. Check out Hamilton's catch below.
Gesicki is a guy who is enormous at tight end. Geskicki comes in at 6-foot-6 and wins a ton of plays just based on his size. In a weak tight end class, Gesicki could be a name to watch. He caught 6 passes for 57 yards on Ohio State able to win with pure size.
Finally, the lingering question of whether Saquon Barkley is worth a top 5 pick continues. Let's be honest, it's impossible to find a 230 pound back that moves like that. Is Barkley's return skills valuable in the NFL? I'm not sure a team would risk injury there despite taking one back to the house against Ohio State. How much can a back change a culture? This one is worth keeping an eye on. 36 of his 44 total rushing yards came on this touchdown below.
NC State Vs. Notre Dame
This game got ugly towards the end with a 35-14 win for the Fighting Irish. Bradley Chubb, the talented pass rusher from NC State was as good as advertised tallying 8 tackles, 3 for loss, and a sack. It was clear that the Wolf Pack don't have the players to compete with Notre Dame as Brian Kelly might be one of the most underrated coaches in college football.
Despite being plagued with bad quarterback play, Notre Dame has won with the grown men along the offensive line. Last week I was a bit unsure about Josh Adams but I'm starting to think the running back is just a good football player. He leads college football in rushing yards after contact. You can't be a slouch to do that. Adams rushed for 207 yards on 27 carries. The left side of the offensive line deserves a lot of that credit. Quenton Nelson could be the next Zack Martin. Mike McGlinchey, I'm more unsure about after seeing Georgia humiliated him earlier in the season. I mean just look at the holes this offensive line creates.
As I mentioned above, finding a tight end could be difficult in the 2018 NFL Draft. 5th-year Senior Durham Smythe could be on teams radar and comes in that Kyle Rudolph mold of former Notre Dame tight ends. Is he as good as Rudolph? Probably not, but Smythe has shown good route running skills. He caught 3 passes for 52 yards and a touchdown. His teammate, wide receiver Equanimeous St. Brown, had another disappearing act which was unfortunate.