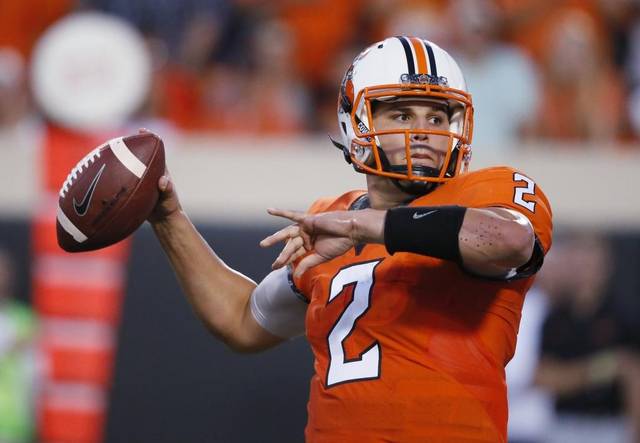 We are now in the heart of the college football season where the non-conference games have pretty much wrapped up. Week 4 wasn't the most exciting week as there were only two games between ranked teams. The 2018 NFL Draft isn't until May, but it's never too early to get the latest on the draft's top tier prospects.
This week we will examine NC State vs. Florida State, TCU vs. Oklahoma State, Alabama vs. Vanderbilt, Penn State vs. Iowa, and Mississippi State vs. Georgia. As of now, my top four standings projecting the college football playoff includes Alabama, Clemson, Penn State, and USC. Who stood out for better or worse in week 4?
NC State vs. Florida State
NC State pulled off a stunning upset over 12th ranked Florida State. The Seminoles appear to be reeling for a couple of reasons. Could the lingering effects of the hurricane cause the Florida State lack of effort after not playing since week one? Rust could play a big part as well as the season-ending injury to their quarterback Deondre Francios. Therefore, I didn't grade Florida State too harshly for the loss.
What I wanted to do is focus on the positives. Two players stood out in a big way for NC State, Jaylen Samuels, and Bradley Chubb. Starting with Samuels, he is a man without a true defined position. Samuels lined up at running back, fullback, tight end, and wide receiver during the game. Oh yeah, he even completed a pass too.
Samuels is listed at 5-foot-11, 223 pounds. Samuels was responsible for two touchdowns in the game. One was him being the goal-line vulture tailback. The other was catching a touchdown pass in the red zone. At this point, I'm not sure what Samuel is but I'm very intrigued. It's hard to find go to targets like Samuel. He finished the day with 12 catches for 54 yards. He also had four touchdowns on the ground this year.
Chubb is the real star of the show for the Wolfpack. While the media is caught up in the fact that he spit on the Seminoles logo at midfield to close out the game, Chubb's draft stock has risen considerably. Chubb notched 7 tackles, two sacks, and was a nightmare all afternoon. Check out some of his highlights from the game below.
Chubb was a force the entire game. His 8 quarterback pressures speak to a larger volume. You will notice Chubb bends around the edge with ease. At this point, he's probably cemented himself as a first-round pick. The question is, will teams starting double teaming him with more frequency in the future?
TCU vs. Oklahoma State
I did not see this one coming. TCU upset Okie State after the Cowboys had the look of a playoff contender to start the season. This game peaked my interest for one reason; to see if Mason Rudolph was the real deal. Newsflash! He is not.
First, I have to mention, this is the Big 12. Nobody plays defense in this conference. Also factor in that the last Oklahoma State quarterback that was overhyped was Brandon Weeden. Well, maybe that was just incompetence on the Browns for taking a 29-year old college quarterback in the first round. That's a story for another day.
Rudolph had a poor day overall turning the ball over three times. Rudolph has a good, not great arm. Rudolph has good size (6-foot-5, 230), but isn't particularly mobile. Maybe he's the next Bryce Petty, that's about all I'm seeing. Below is the best throw he made all game. A strike to James Washington. By the way, Washington is a guy who will be playing on Sundays with extraordinary speed.
Alabama vs. Vanderbilt
It's a joke that anyone thought Vandy had a chance against Alabama. In fact, it's a joke that Vegas only had this as an 18 point spread. Since I figured the game would be a blowout, I really wanted to focus on Bama's running game. Their offensive line and running backs were the sole focus.
Damien Harris has really got lost in the shuffle but is probably the team's most reliable runner. Harris averaged 7.2 yards per carry last year and so far has upped his season total to 8.1. Harris just looks like a pro and displayed excellent vision waiting for his blocks to set up. Everyone wants to talk about Bo Scarbrough, but Harris is probably better than he is. Josh Jacobs is also on the radar. Najee Harris is the guy to watch in the future as a former top-notch recruit.
The left side of the offensive line is dominant for the Tide. Jonah Williams is the next big thing at left tackle. He's got first round pick written all over him. Left guard Ross Pierschbacher and center Bradley Bozeman are also draft caliber players.
Penn State vs. Iowa
It was finally time to get my first look at Saquon Barkley in 2017. Barkley went to hs about 15 minutes away from me and had no idea who he was at the time. Now, Barkley is the best running back in all of college football. For a guy his size around 230, he possesses rare traits. His balance, vision, and ability to make defenders miss is beyond exceptional. Barkley ran for 211 yards on a pretty solid Iowa defense, he was just better than everyone else. Like Ezekiel Elliot and Leonard Fournette, Barkley will go in the top 5 in 2018.
Mississippi vs. Georgia
Georgia has cemented themselves as a top-tier team in college football. After a 31-3 beatdown over the 17th ranked Bulldogs, the real Bulldogs in Georgia need to start being taken seriously. Georgia has ten returning starters on defense and has some real players which include Roquon Smith, J.R. Reed, Lorenzo Carter, and others.
Having said that, I wanted to see how Miss State's offensive line would hold up. Despite the humiliating loss, they played well. Left Tackle Martinas Rankin is the best of the bunch. With Connor Williams and Orlando Brown a top of my tackle board, Rankin is starting to make a name for himself.
Finally, Georgia's running back's continue the ground theme. Nick Chubb links closely to Jordan Howard as a workhorse tailback. He's had to overcome some injury struggles to his medicals will be something to monitor. Before the injuries, Chubb is just as talented as his former teammate Todd Gurley and could be a player to keep an eye on. They also have Sonny Michel who is more of a pass-catching back. D'Andre Swift is a freshman sensation who is also a fantastic player.