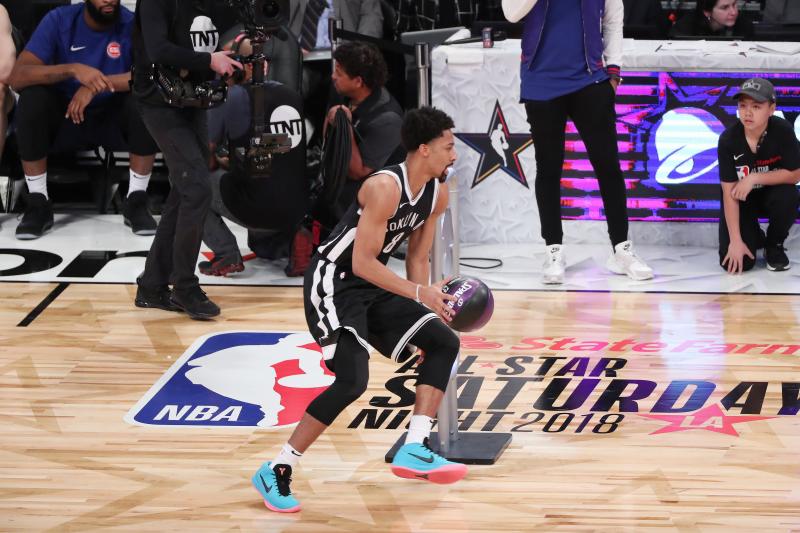 The 2018 NBA Skills Challenge was the fourth iteration of the bracket era, which showcased the unique talents of guards, forwards and centers alike. The competition featured Brooklyn Nets guard Spencer Dinwiddie, Philadelphia 76ers center Joel Embiid, Los Angeles Clippers guard Lou Williams, Chicago Bulls forward Lauri Markannen, Denver Nuggets guard Jamal Murray, Boston Celtics center Al Horford, Detroit Pistons center Andre Drummond and Sacramento Kings guard Buddy Hield. Hield and Drummond replaced Donovan Mitchell, who withdrew due after becoming an injury replacement in the Slam Dunk Contest, and Kristaps Porzingis, who is done for the season after tearing his ACL.
In the bigs bracket, Embiid charged for a come-from-behind win over Horford after struggling during the passing portion of the competition. Embiid spotted Horford a full-court lead, who missed four consecutive 3-pointers before Embiid nailed his second attempt to advance to the semifinals.
Markkanen, having poured in 100-career 3-pointers compared to Drummond's five, entered the competition with a clear advantage and cruised to the semifinals, nailing his first pass and 3-point attempt as Drummond.
Lauri Markkanen is moving on to the finals!#NBAAllStar pic.twitter.com/SF4qjARkyz

— Def Pen Hoops (@DefPenHoops) February 18, 2018
For the guards, both Dinwiddie and Hield battled the passing station, missing their first attempts. Yet after converting his second, Hield raced down the floor and launched a trey before Dinwiddie that clanked off the rim. Dinwiddie stepped into a 3-pointer, knocked it down and cemented his spot in the semifinals.
Murray netted his first pass of the evening, but left the door ajar for Williams, missing his first two 3-pointers. But as Williams approached the arc, attempting his first shot from deep, Murray cashed the 3-pointer and moved on to challenge Dinwiddie with a berth in the finals on the line.
In the semifinals, Embiid pulled out some trickery against Markkanen, advancing past the passing junction despite failing to land any of his passes.
You tried it @JoelEmbiid! pic.twitter.com/hr3NC2sAme

— Def Pen Hoops (@DefPenHoops) February 18, 2018
Though it was to no avail as Markkanen swished his lone 3-pointer of the round, emerging victorious in the battle of the bigs.
Making a habit of it, Dinwiddie was the comeback kid against Murray, again landing his first 3-point attempt after his opponent raced ahead at the passing station before struggling beyond the arc.
In the finals, a pair of players representing bottom-feeding teams went to battle in Markkanen and Dinwiddie. Markkanen encountered significant trouble with his passing and was never a factor as Dinwiddie cruised to the crown.
#Nets guard Spencer Dinwiddie wins the 2018 #TacoBellSkills challenge!

(via @clippittv) pic.twitter.com/3ogXxlBmbO

— Def Pen Hoops (@DefPenHoops) February 18, 2018