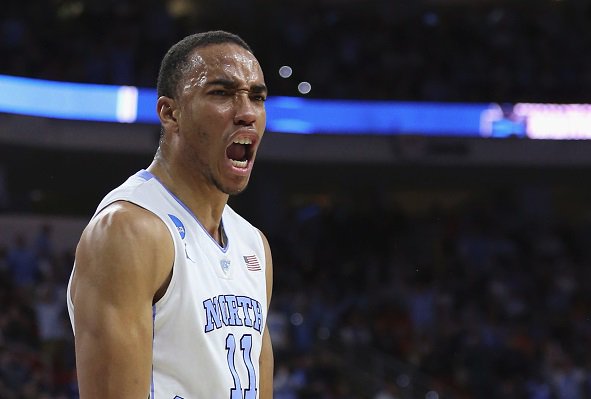 The Round of 32 got underway on Saturday, officially the third day of the 2016 NCAA Tournament and many fans were hoping for some big upsets. Day one of the 2016 NCAA tournament had seven upsets on the day and day two had six so there was some anticipation for some interesting storylines. Unfortunately for those who believed in the 'cinderella' story, most of the top teams were looking to end these fantasies. One double-digit seed did come out on top and sent home a major contender for the Final Four.
3 Miami Hurricanes DEF 11 Wichita State Shockers 65-57
Miami led by as many as 21 points in the first half but watched Wichita State erase the deficit and briefly take a lead in the second half. However, the Hurricanes rallied over the final 10 minutes of the game to knock off the upset-minded Shockers and advance to the 2016 NCAA Tournament Sweet 16. Miami shot 55.3 percent from the field, while Wichita State shot just 33.9 percent. Wichita State forward Shaquille Morris and guard Fred VanVleet led the Shockers with 12 points each. Miami shot 7-of-12 (58.3 percent) from 3-point range as a team. Wichita State had 18 turnovers after entering the game averaging just 9.7 turnovers per game. Miami guards scored 58 of the team's 65 points. After surrendering the lead for the first time all day, the Hurricanes got it back for good with 9:29 left in the game on an alley-oop dunk by Sheldon McClellan that made it 44-43 and that play energized Miami, who finished the game on a 23-14 run. Miami guard Angel Rodriguez led all players with 28 points on 9-of-11 shooting, including 3-of-4 from 3-point range and he added five assists, four steals and two rebounds.
4 Duke Blue Devils DEF 12 Yale Bulldogs 71-64
After building a 27-point lead in the first half, Duke held off a furious Yale comeback and did enough to move on to the Sweet 16 which made Coach K the first coach to win 90 NCAA tournament games. Two days after picking up its first NCAA Tournament win in school history, the Bulldogs bowed out of the 2016 NCAA Tournament as their late rally fell short. Duke guard Grayson Allen led all scorers with 29 points, hitting 5-of-7 3-point shots and 10-of-15 overall from the field. Brandon Ingram added 25 points and five rebounds for the Blue Devils. The Blue Devils shot 17-of-28 in the first half, including 9-of-15 from 3-point range — those numbers fell to 6-of-22 and 2-of-8, respectively, in the second half. Yale outrebounded Duke 38-28 and had an 18-5 edge in offensive boards. Duke advanced to the Sweet 16 for the second consecutive year, which is something they had not done since 2010 and 2011. Brandon Sherrod led Yale with 22 points, while Justin Sears added 12 points and a game-high 11 rebounds.
5 Indiana Hooisers DEF 4 Kentucky Wildcats 73-67
The most anticipated potential matchup in the first weekend of the 2016 NCAA Tournament came on day three when border rivals Indiana Hoosiers and Kentucky Wildcats squared off. In a back-and-forth battle between two of college basketball's fiercest rivals, fifth-seeded Indiana used an impressive final five minutes to edge No. 4 seed Kentucky. The Hoosiers' seventh win in eight games moved them within a victory of their first Elite Eight appearance since 2002 while the Wildcats failed to advance to the Sweet Sixteen for the first time since 2008. Hoosiers guard Yogi Ferrell had 18 points, five rebounds and four assists and the senior finished 6-for-13 from the field in his 21st double-digit scoring effort in the last 22 games. Hoosiers center Thomas Bryant scored a team-best 19 points on 6-for-8 shooting. Both teams struggled from beyond the arc, where Kentucky shot 25 percent (4-for-16) while Indiana shot 28.6 percent (6-for-21). Indiana improved to 2-3 all-time in the NCAA Tournament against Kentucky and dropped the Wildcats to 23-5 under coach John Calipari in NCAA Tournament game with Calipari suffering his first Round of 32 loss at Kentucky. The Wildcats' star backcourt of Jamal Murray and Tyler Ulis combined for 43 points on 17-for-38 shooting and seven assists but no other Kentucky player scored more than 7 points or made more than two field goals. Indiana improved to 17-1 when holding opponents to fewer 70 points.
4 Iowa State Cyclone DEF 12 Arkansas-Little Rock Spartans 78-61
The No. 4 seed Cyclones advanced to the 2016 NCAA Tournament regional semifinals for the second time in three years, and will head to Chicago after handling another 2016 NCAA Tournament cinderella in 12th seed Arkansas-Little Rock in the second round. The Trojans failed to duplicate their late heroics of the opening round, falling behind in the game's opening 90 seconds and never recovering. Cyclones forward Georges Niang led the way with 28 points, hitting 11-of-18 field goals including 3-of-5 from 3-point range and he also added six rebounds and three assists. Iowa State guard Matt Thomas added 16 points, hitting 4-of-8 3-point shots, while also chipping in four rebounds, four assists and two steals. Iowa State shot 56.6 percent from the field, and hit 11-of-21 3-point shots. Arkansas-Little Rock was 20-of-54 from the field and 8-of-25 from beyond the arc. The Cyclones committed only six turnovers and Arkansas-Little Rock had only eight. Roger Woods led the Trojans with 19 points and had a game-high 10 rebounds. Forward Lis Shoshi was the only other Trojans player in double figures, totaling 10 points.
1 Virginia Cavaliers DEF 9 Butler Bulldogs 77-69
After being held to 23 points in the first half, No. 1 seed Virginia exploded for 54 points in the second half, which was its largest since November 2010, and they were able to hold off ninth-seeded Butler's upset bid in the Round of 32. The Cavaliers' seventh win in eight games sent them to their second Sweet Sixteen appearance since 1995 while the Bulldogs lost in the second round of the NCAA Tournament for the third time in four years. 2016 ACC Player of the Year Malcolm Brogdon led the Cavaliers with 22 points, five rebounds and five assists. Cavaliers forward Anthony Gill scored 19 points, including 15 in the second half, for the second straight game. Virginia's bench outscored Butlers' by a 22-7 margin. The guard shot 8-for-14 from the field in his 18th 20-point performance of the season. Virginia, which has not advanced to the Final Four since 1984, improved to 11-4 as a No. 1 seed in the NCAA Tournament. Virginia improved to 26-5 when holding opponents under 70 points. Bulldogs forward Andrew Chrabascz scored a season-high 25 points on 9-for-13 shooting, including a career-best four 3-pointers. Butler guard Kellen Dunham and forward Kelan Martin, who entered the game averaging a combined 32.5 points per game, were held to 14 total points on 5-for-16 shooting. The Bulldogs shot 46.7 percent (7-for-15) from beyond the arc while holding the Cavaliers to 20.0 percent (2-for-10).
1 Kansas Jayhawks DEF 9 Uconn Huskies 73-61
A scoring surge late in the first half was enough to see Kansas through to the 2016 NCAA tournament regional semifinals, the Jayhawks' first trip beyond the tournament's opening weekend since 2013. Connecticut mounted a minor second half rally, but poor shooting doomed the Huskies to their first second round exit since 2005. Kansas forward Perry Ellis shot 9-of-12 from the field and hit a pair of 3-pointers to finish with 21 points and he added eight rebounds. Kansas shot 49 percent from the field, including a 15-of-27 performance in the first half. The Jayhawks dominated the boards, outrebounding Connecticut, 44-24. Connecticut shot 10-of-22 from 3-point range, but only 33.9 percent overall. Sterling Gibbs led the Huskies with 20 points, while Rodney Purvis added 17. Kansas had 22 free-throw attempts to Connecticut's 11, hitting 17. Wayne Selden Jr. led the Jayhawks with 22 points while adding seven rebounds and three assists. Kansas forward Landen Lucas scored only 6 points, but had a game-high 11 rebounds to go with four assists and three blocks.
11 Gonzaga Bulldogs DEF 3 Utah Utes 82-59
An impressive first half 3-point shooting display was enough to see Gonzaga to its second upset of the tournament, cruising past No. 3 seed Utah into the regional semifinals next week. The Bulldogs advanced to the Sweet Sixteen for the seventh time overall and second consecutive year. Gonzaga forward Domantas Sabonis compiled his second double-double of the tournament, hitting 8-of-12 field goals to finish with 19 points and 10 rebounds while adding three assists and two steals. Gonzaga hit 8-of-12 3-pointers in the first half, and shot 9-of-19 overall. Bulldogs guard Eric McClellan led all scorers with 22 points on 9-of-12 shooting. Gonzaga shot 55.7 percent from the field, hitting 18-of-35 in the first half and 16-of-26 after halftime. Utah star forward Jakob Poeltl was held to 5 points on 2-of-5 shooting and Kyle Kuzma led Utah with 15 points. Gonzaga had seven steals and forced 13 Utah turnovers.
1 North Carolina Tar Heels DEF 9 Providence Friars 85-65
After a tightly-contested first half, top-seeded North Carolina used a dominant second half to topple No. 9 seed Providence on the way to its record 33rd trip to the Sweet Sixteen. The Tar Heels' seventh straight win inched them closer to their first Final Four visit since 2009 while the Friars failed to advance past the Round of 32 for the fifth straight NCAA Tournament appearance. National Player of the Year candidate Brice Johnson recorded his 21st double-double with 21 points and 10 rebounds. The Tar Heels' forward shot 7-for-9 in his eighth 20-point performance of the season. The Tar Heels have won their last eight NCAA Tournament meetings against Big East teams. North Carolina improved to 4-1 all-time against Providence. The Friars' star duo of guard Kris Dunn and forward Ben Bentil combined for 50 points on 17-for-33 shooting and only one other Providence player scored more than 2 points. Tar Heels guard Joel Berry II scored in double figures for the 10th straight game with 15 points. North Carolina outrebounded Providence by a 42-24 margin. Providence shot 40.4 percent from the field, marking the 27th straight game North Carolina held its opponent under 45 percent. The Tar Heels improved to 22-1 when scoring 80 points. North Carolina finished 19-for-21 (90.5 percent) from the free-throw line while Providence made 14-of-23 (60.9 percent).