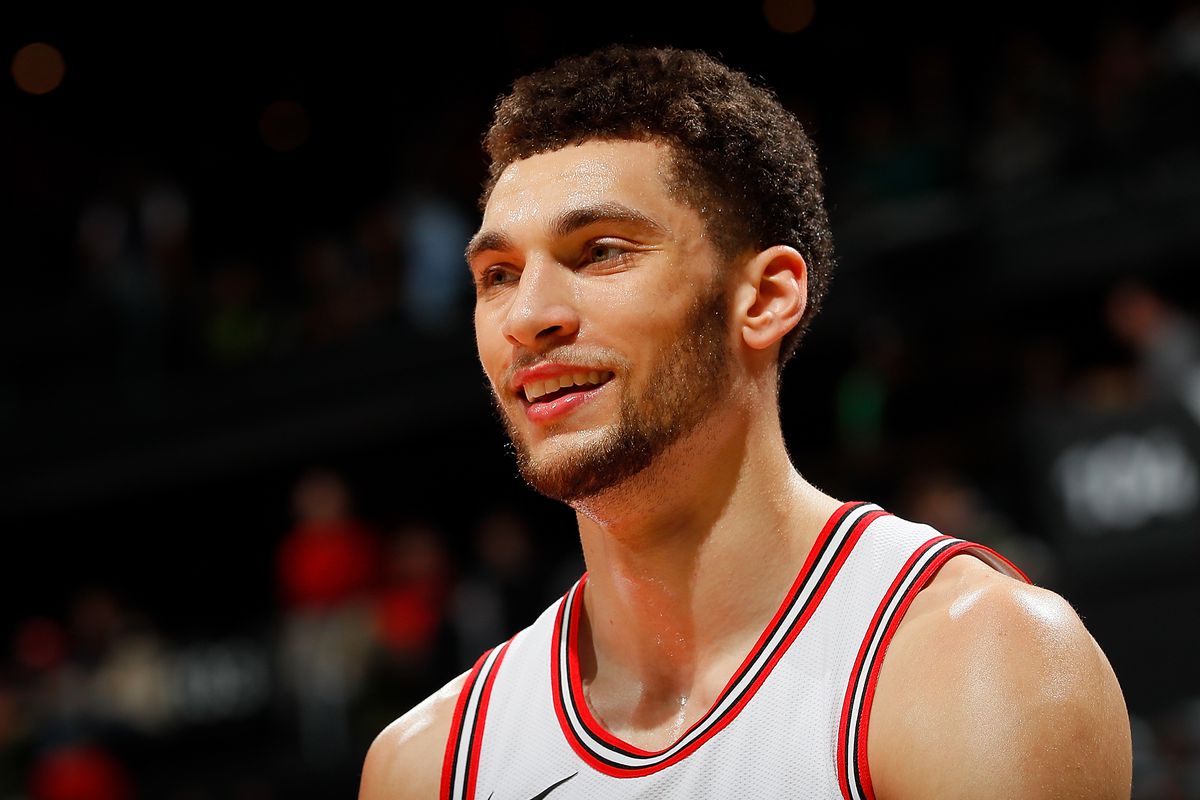 When Zach LaVine signed his four-year, $78 million contract this summer, there was plenty of skepticism around the basketball community. Not only was he coming off an ACL tear, one of the most debilitating injuries sport has to offer, but his budding scoring ability clearly wasn't enough to offset the fact that he struggles to facilitate properly on offense or register a pulse on defense.
While the often disastrous Sacramento Kings front office put forth the original offer to LaVine, the restricted free agent, it was extremely on brand for the equally bad Chicago Bulls brass to match the hefty offer. The move will keep the 6-foot-5 shooting guard in the Windy City for the foreseeable future.
With his pockets full, it wouldn't be unprecedented to see LaVine rely on his game the way it was already constructed. We have seen it plenty of times before. Former Minnesota Timberwolves teammates Andrew Wiggins and Karl-Anthony Towns have both stagnated since signing huge deals. Miami Heat center Hassan Whiteside and Dallas Mavericks wing Harrison Barnes are in the same sinking boat, too.
Instead of hitting the brakes on his development, Zach LaVine added more horsepower and slammed his foot on the gas pedal.
He may still struggle staying awake on defense, and he is somehow averaging more turnovers than assists, but the two-time dunk champion has taken his offensive game to a level that is starting to compensate for his problems.
Over the first seven games of the season, he is averaging a mouth-watering 28.1 points, 5 rebounds and 3.1 assists per game. The best part of LaVine's scintillating start is the effectiveness in which he is scoring — the fifth-year guard is nailing 51.9 percent of his field goals and 38.6 percent of his triples.
In his final season with the Wolves — the last time he was fully healthy — LaVine excelled as a spot-up shooter, but he struggled when tasked as a ball-handler. With his health back in good stead and the backing of coach Fred Hoiberg to lead his squad, LaVine has raised his offensive game multiple levels.
He put up 0.85 points per possession (PPP) in pick-and-roll play in the aforementioned 2016-17 season in Minnesota, registering a feeble 47 percent effective field goal percentage in such plays. He has one of the quickest first-steps in the league, combined with bounce that most players can only fantasize about. Nonetheless, his lack of strength and tendency to try and avoid contact made life difficult for him at the coalface.
When he wasn't bricking good looks at the rim, he would pull up for misfired jump shots. With the clear abundance of talent he has, it was enough to make any hopeful Bulls fan pull their hair out. However, LaVine has completely turned the tables this year. He is picking his spots to launch his pretty looking jumper with much more care while using added strength, a tighter handle, and quicker moves to finish at the rim with grace and efficiency.
The statistics back up his fun-filled eye-test, too. After Monday's game against the Warriors, LaVine graded in the 88th percentile for pick-and-roll ball handlers, boasting a sizzling 58.5 percent effective field goal percentage.
Take a look at the variation of smart, effective moves we are becoming accustomed to seeing from him below:
When he decides to take matters into his own hands via isolation, the 23-year-old looks like he is earning a masters degree in the Kobe Bryant college of bucket-getting. He dazzles crowds with his pull-ups, dunking exploits and layups, but he is also developing a turnaround post jumper that is reminiscent of the Lakers legend himself.
It's not the shot that most coaches and pundits love to see players jacking up, but so far he has punished smaller defenders with the delightful-looking move:
The scoring is beautiful to watch, but to fully earn the massive number that has been put on his head, LaVine is going to have to do more than just score. He will need to drastically improve his output on the end of the floor that grabs less attention — defense.
LaVine hardly ever slides through screens effectively, keeping him more than one step behind when he is guarding potent ball-handlers. Perhaps even more concerning is his reputation of completely disregarding his man when situated off the ball, a habit which is even more pronounced with other incompetent defenders like Jabari Parker and Lauri Markkanen (when he returns from injury) sharing the floor with him.
For the young season, LaVine is giving up 1.24 PPP as a primary defender, which is worse than 94 percent of the entire league. A number that ranks below noted turnstiles like Derrick Rose, Devin Booker, and Kevin Love. If he doesn't change his attitude on that end, it will be very tough for him to restore his tarnished reputation.
Even with the horrible defensive return, Zach LaVine has taken huge leaps on the offensive end. Only time will tell if those leaps are big enough to live up to his pricetag. Right now, it's easy to enjoy his flamethrower scoring ability, especially since Chicago is set for another season of tanking their way into the lottery.
If the Bulls are ever going to get back to the dizzying heights that the fan base had become accustomed to during the Michael Jordan, prime Derrick Rose and Jimmy Butler years, their number one option had better become an all-round stud. Until then, LaVine and his squad will have to settle for little more than an entertaining League Pass option.