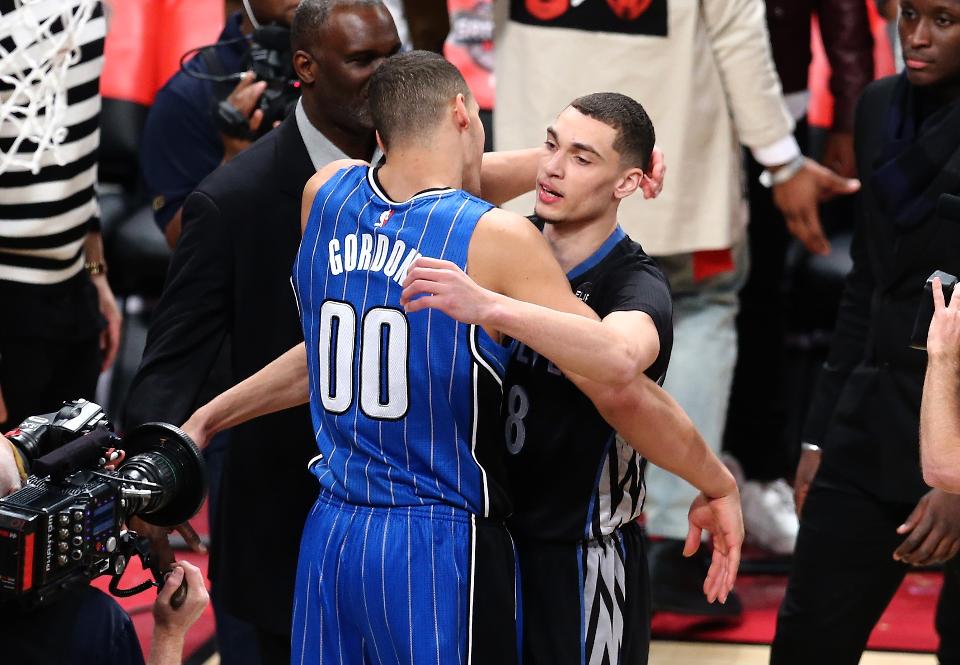 Orlando Magic power forward Aaron Gordon, who put on one of the most memorable performances in Slam Dunk Contest history last All-Star Weekend, plans to try again this year, reports Oliver Maroney of Basketball Insiders:
Orlando's Aaron Gordon is "planning" to participate in the Slam Dunk contest on All-Star Weekend, league sources tell me.

— Oliver Maroney (@OMaroneyNBA) January 25, 2017
In 2016, Gordon lost in a tight contest to Minnesota Timberwolves guard Zach LaVine, who won for the second consecutive year. This year, though, Gordon should be considered the odds-on favorite to win the Contest, as LaVine is unlikely to pursue his third straight title:
As of now, it sounds as if the back-to-back Slam Dunk champ Zach LaVine will not pursue a three-peat.

— Chris Haynes (@ChrisBHaynes) January 25, 2017
In other Dunk Contest news, Pacers' Glenn Robinson III will participate, but Boston Celtics rookie Jaylen Brown will not – despite having received an invitation. Lakers' Larry Nance Jr. will also probably not participate if invited.
Haynes also reports that Suns rookie Derrick Jones has been invited:
Phoenix Suns high-flying rookie Derrick Jones received an invitation to enter Slam Dunk Contest, league sources tell ESPN. He's considering.

— Chris Haynes (@ChrisBHaynes) January 25, 2017