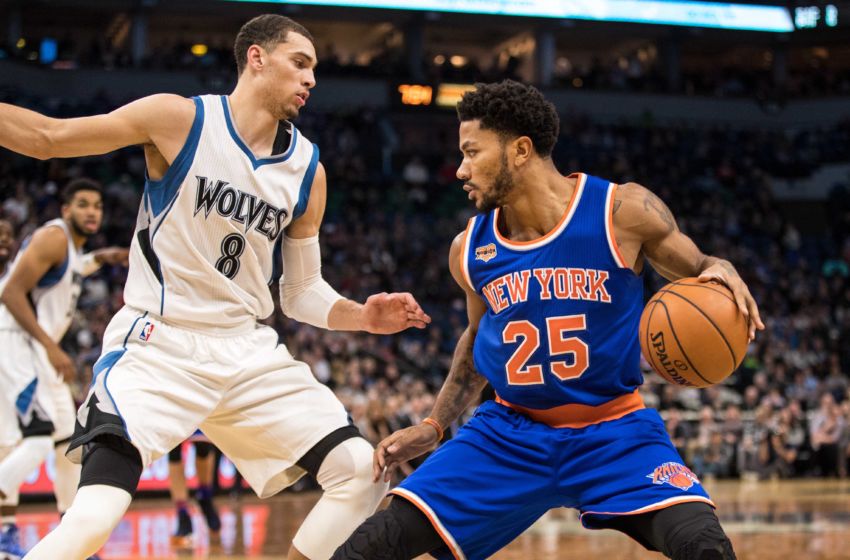 After a rollercoaster ninth NBA season, New York Knicks point guard Derrick Rose can now move on if he would like as the former-MVP is slated to become a free agent this coming summer. While Rose put up respectable numbers for most of the season, his fit in Phil Jackson's triangle offense has usually been an incompatible one and his relationship with Knicks management has grown rocky at best.
Despite there reportedly being mutual interest between Rose and the New York front office on a potential deal, the possibility of him walking remains very real. If Rose were to bolt New York, a possible reunion with his old head coach Tom Thibodeau could be a possibility, as the Timberwolves view the veteran as a free agent target according to ESPN's Ian Begley:
The Minnesota Timberwolves view Derrick Rose as a potential free-agent target this summer, league sources told ESPN.

Rose, 28, will be a free agent for the first time in his career after spending last season with the New York Knicks.
With the Timberwolves seemingly ready to move on from Ricky Rubio, Rose could work as a potential fit alongside Zach LaVine and Andrew Wiggins, though that wouldn't make for the best spacing.
The Wolves aren't the only team that has been linked to Rose already, as the San Antonio Spurs could somewhat surprisingly make a run for the guards services as well according to Begley:
It is unclear at this point which other teams besides the Timberwolves view Rose as a potential free-agent target. Some rival executives believe that the San Antonio Spurs may have interest in Rose, depending on how the free-agent market for point guards develops.
Both Minnesota and San Antonio share a cloudy future at the point guard position. As stated earlier, Rubio could be out the door in Minnesota and 23-year-old Kris Dunn is still a question mark at this point in his career, though he has mostly seen reserve minutes.
For the Spurs, Tony Parker hasn't aged particularly well and Rose could serve as either his successor or play a bench role. Either way, Kawhi Leonard is going to need some help for the Spurs to keep pace in the Western Conference and Rose will at least be able to provide a scoring boost.
Whether Rose remains an awkward fit in New York's rebuild or goes elsewhere, his free agency situation will be one to keep an eye on all summer.