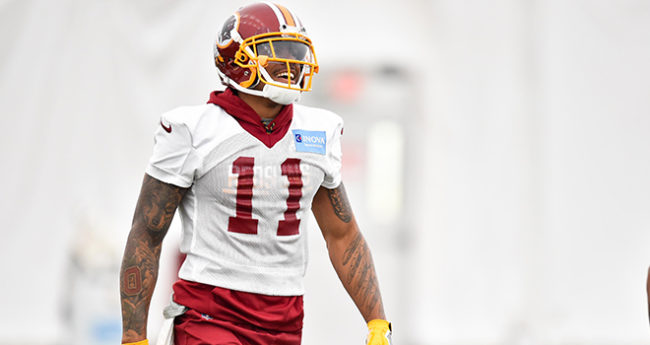 How well have the Redskins done this offseason? I would venture to say they had the best draft in all of the NFC East. Although the front office seems to be crumbling and lacking leadership, the roster has more talent than it did a year ago.
Let's take a look at the key losses for this team.
Key 2017 Losses:
DeSean Jackson (WR) – Tampa Bay Buccaneers
Pierre Garçon (WR) – San Francisco 49ers
Chris Baker (DT) – Tampa Bay Buccaneers
All three of these departures will negatively affect the team's performance. However, when things are lost, it provides new opportunities for someone else. How did the Washington Redskins make up for these three losses in free agency?
Key 2017 Additions:
Terrelle Pryor (WR) – from the Cleveland Browns
Terrell McClain (DT) – from the Dallas Cowboys
Stacy McGee (DT) – from the Oakland Raiders
D.J. Swearinger (FS) – from the Arizona Cardinals
Jonathan Allen (DE) – 2017 NFL Draft (Alabama)
Ryan Anderson (OLB) – 2017 NFL Draft (Alabama)
The Redskins opened training camp with four players on the Physically Unable to Perform (PUP) list: DeAngelo Hall (S), Houston Bates (LB), Kendal Thompson (WR), and Jordan Reed (TE). Here's what you should keep up with during the Washington Redskins training camp.
3 Position Battles to Watch
1. Running Back
Last season the Redskins took a committee approach when it came to running back. Rob Kelley logged 168 rushing attempts and 12 receptions, Chris Thompson had 68 rushing attempts and 49 receptions, and Matt Jones carried the football 99 times with 8 receptions. Now, the Redskins add rookie Samaje Perine to that list. Last season, the Redskins used these running backs in phases. The first quarter of the season they stuck with Matt Jones, then they shuffled Chris Thompson in as a change of pace back. But when the schedule hit late November, the Redskins turned to Rob Kelley. Throw Samaje Perine into the mix and the Redskins have serious competition at the running back position.
2. Tight End
When the news struck that Jordan Reed was placed on the PUP list, Redskins fans stopped breathing. With Jordan Reed out, the Washington Redskins turn to Niles Paul, Vernon Davis, and rookie Jeremy Sprinkle to fill his void. After the departures of Garçon and Jackson, Kirk Cousins is left without weapons on the outside (other than Terrell Pryor). Jordan Reed has always been Cousins' security blanket. Which tight end will rise to the occasion?
3. Weakside Linebacker
Ryan Kerrigan has been a dominant force in this league for some time now. He has feasted on weakside tackles and rushing the quarterback. However, the Redskins drafted another outside linebacker in Ryan Anderson. This offseason, the Redskins added very valuable and talented pieces to this defense. If Anderson does have an impressive camp, do not be surprised if they move him to the SAM (strong side linebacker) position. It is a tough task to beat out Ryan Kerrigan but can rookie Ryan Anderson do it?
Ready To Break Out: D.J. Swearinger
Last season D.J. Swearinger had a career year with the Arizona Cardinals. He improved in all areas of the game and received a grade of 86.1 according to Pro Football Focus. Where he did most of his damage was in the box: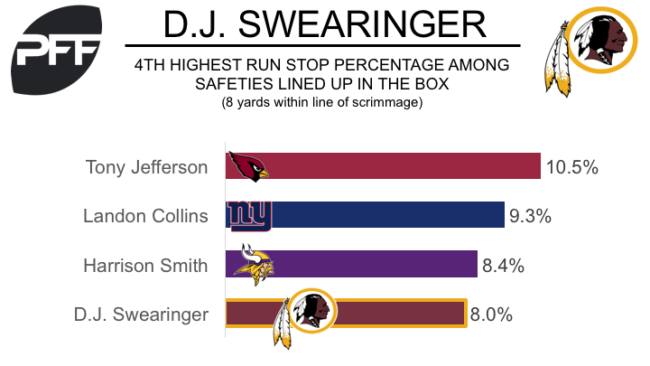 While he dominated in the box, the Redskins have him at free safety. There are not many free safeties in this league that line up that close to the line of scrimmage. Wherever the Redskins choose to put him, he will excel.
Fantasy Sleeper: Rob Kelley
There is tight competition at the running back position but if I had to choose, Rob Kelley is the winner. The Redskins finally handed him the football and he showcased his talent. When Kelley rushed for over 50 yards, the Redskins record was 5-1-1. It is crucial to the Washington Redskins record to get this man the football. With the lack of receivers the Redskins have, they will run the football more often.
Rookie To Watch: Jonathan Allen
Jonathan Allen was a steal of a pick at 17th overall. He was projected by many analysts to go top 10, but a "lingering injury" hampered his chances. A few days ago, Allen said this at the Washington Redskins press conference:
"Right now I'm just focusing on doing what the coaches are asking me to do. If that's rushing the passer, so be it. Playing the run is definitely the biggest emphasis that I feel like because you can't rush the passer without stopping the run. We're just taking it day by day. I'm not worried about the expectations of others because I feel like no one can put more expectations on me than myself. So, I mean, we're just grinding as a unit right now."
Allen is going to be one of the anchors in this defense just like he was at Alabama for years to come.
The Washington Redskins are in a tough spot. Their defense is much better than it was a season ago, but the offense took a significant step back. The Redskins do not have enough pieces on offense to dominate other defenses and it will be their downfall. Because of how good Philadelphia, New York, and Dallas are, the Redskins are likely to finish last in the NFC East.