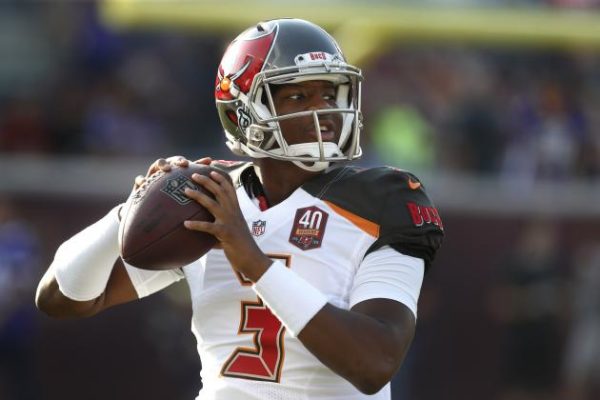 Top to bottom, this Tampa Bay Buccaneers roster may be one of the most talented in the National Football League. They improved tremendously at key positions in free agency and through the draft. With the new weapons around Jameis, this will be a very fun team to watch.
Key 2017 Losses:
Mike Glennon (QB) – Chicago Bears
Not a bad place to be in when your only significant loss was your backup quarterback. However, 18 of 32 teams started multiple quarterbacks last season. So while the loss does not seem impactful, it could affect the Buccaneers more than we know.
Key 2017 Additions:
DeSean Jackson (WR) – from the Washington Redskins
Chris Baker (DT) – from the Washington Redskins
J.J. Wilcox (SS) – from the Dallas Cowboys
O.J. Howard (TE) – 2017 NFL Draft (Alabama)
Justin Evans (FS) – 2017 NFL Draft (Texas A&M)
Here's what you should keep up with during the Buccaneers training camp.
3 Position Battles to Watch
1. Tight End
The Tampa Bay Buccaneers got a steal of a draft pick in O.J. Howard at 19th overall. However, according to the depth chart, the starting tight end is Cameron Brate. This is an intriguing camp battle. Last season, Brate hauled in 57 receptions for 660 yards and eight touchdowns. While those numbers are impressive, Howard brings a different level of play to the tight end position. By the beginning of the preseason, O.J. Howard will start at tight end. Teams do not draft players 19th overall for them not to impact the team right away.
2. Free Safety
Recently, the Buccaneers have been shaky at the safety position. However, when they signed J.J. Wilcox on March 11th, they solidified their strong safety role. Last offseason, the Bucs drafted Ryan Smith in the fourth round. This offseason, they drafted Justin Evans out of Texas A&M in the second round. Two young bucks duking it out during training camp. While Evans is the more talented of the two, Smith currently sits atop the depth chart. The Buccaneers become a better team when Evans plays.
3. Wide Receiver
This is one of the team's greatest strengths. Mike Evans is coming off his third 1,000-yard season and DeSean Jackson shows no sign of slowing down as the ultimate deep threat. Additionally, they drafted O.J. Howard in the first round. But it did not stop there. In the third round, the Bucs selected Chris Godwin out of Penn State. Currently, he is fourth on the wide receiver depth chart behind Adam Humphries. Can Godwin do enough in training camp and preseason to become the third option for this offense?
Ready To Break Out: Vernon Hargreaves III
Outside of quarterback, cornerback is the toughest position in football. Hargreaves III is coming off a seesaw rookie campaign. There were times when he showed his dominant peak and there were times he showed his deepest valleys. Almost every rookie goes through a learning curve when coming into the league. After having a season under his belt and entering his second training camp, Hargreaves III knows more than he did a year ago. This will allow him to be more comfortable, play faster, and go after the football.
Fantasy Sleeper: O.J. Howard
After seeing Cameron Brate's numbers from last season, it is clear the Bucs like to target their tight end in the end zone. Last season, in the end zone, Jamies Winston targeted Mike Evans 17 times for eight receptions and seven touchdowns. He targeted Cameron Brate 16 times for 10 receptions and eight touchdowns. Brate had more catches and touchdowns in the red zone than Evans. Once O.J. Howard becomes the starting tight end, he will be another red zone target for Winston.
Rookie To Watch: Justin Evans
Justin Evans has outstanding range at the safety position. Having veterans such as J.J. Wilcox and Brent Grimes will help him grow as a player. Under good veteran leadership, young players seem to grow faster and thrive more often. This is a very good Buccaneers defense and Justin Evans becomes the cherry on top.
The Buccaneers are biting at the heels of the Atlanta Falcons. It will be a close finish, but because of the better leadership in Atlanta, the Buccaneers will finish second in the NFC South once again.