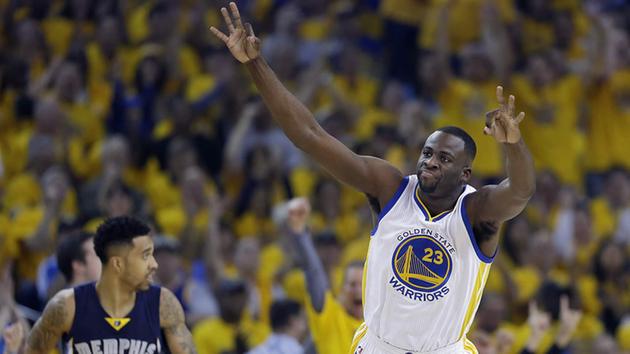 The Golden State Warriors were well rested and ready for this game, they had about a week of rest, after sweeping the Pelicans. The Grizzlies didn't have much trouble either, as they beat the Blazers in 5 games. Despite the Grizzlies getting some rest, Mike Conley was not able to suit up today, as he is still dealing with pain in his face due to the fracture in the Blazers series. Conley was crucial to tearing the Blazers apart, and they would need him in this series in order to even have a chance. It was obvious in game one how much he was missed.
The 1st half & 2nd half were all Warriors. Stephen Curry finished the game with 22 points and 7 assists, Klay Thompson had 18, and Draymond Green had 16 points and 4, 3 pointers. Gasol and Randolph combined for 41 points and 18 rebounds, but they could not do it without Conley. They extended the lead to as much as 20 points in the game, and they essentially showed the world, why they are the best NBA team. The Grizzlies didn't necessarily have a bad game, and if Mike Conley was in the game, they may have been closer, but the team did not step it up enough. When your star point-guard is missing, especially in the Playoffs, everyone on the team MUST step up.
Jeff Green has struggled throughout the Playoffs and the Grizzlies seem lost at this point. They made only 2, 3-pointers in the game, while the Warriors made 13. The Grizzlies shouldn't expect to beat the Warriors at their own game, but they need to slow down the pace to these games. The pace of the Warriors doesn't help the Grizzlies in order to set up their defense and to run their offense. They even got out-rebounded 36-33. How? You have two monsters in Gasol and Randolph.
All Dave Joerger and the Memphis Grizzlies can hope for is that Mike Conley will be back for the Grizzlies in Game 2 on Tuesday. They can't afford to mis him anymore, because Tony Allen and Nick Calathes can not run the offense. The next game is on Tuesday, where the Grizzlies will look to even up the series.